Setting spray can instantly help you create a vibrant look while keeping your makeup in place for hours. Mattifying setting spray can dull the shine on oily skin, while the dewy setting spray can instantly give dry skin a luminous boost. The correct setting spray can keep your makeup in place until you wash it off at the end of the day, but using your spray the right way is the only way it will work. These setting spray tips will help you learn everything you need to know.
I participate in affiliate programs, including Amazon Affiliates, and may earn a small commission if items are purchased through links on the site
What Does Setting Spray Do?
Setting spray does several things. First, it's best known for helping your makeup last longer. Setting spray can quickly help you look last for up to 16 hours.
In addition to that, setting spray makes your makeup look better. Using a setting spray can make your eyeshadow or eyeliner appear more vibrant. It helps the colors melt together for a more natural and blended appearance.
Choosing The Right Setting Spray
Using a setting spray is essential, but it's always best to know what you want in a setting spray. If you use the wrong setting spray, it can make your face look like a mess. For example, if you have a natural shine due to oily skin, using a luminescent setting spray will make your face look like an oil slick. Consider these setting spray tips and tricks to pick the perfect setting spray for yourself.
Picking A Setting Spray Based On The Look You Want
Before going shopping, think about the look that you want. Do you want a dewy, naturally sunkissed look? Or are you a maven with a thing for matte? This will help you pick the ideal setting spray for your makeup look.
Consider Your Skin Type When Choosing Setting Spray
Knowing your skin type is critical for anyone shopping for a setting spray. This is one of the most important setting spray tips to remember. Those with oily skin should opt for a matte setting spray to dry up excess sebum. Dry skin is known for looking lackluster, making a dewy setting spray a necessity. You'll also need to make sure that you use a gentle setting spray if you have sensitive skin. These are some of our favorite setting sprays.
Awesome Matte Setting Sprays
Matte Makeup Setting Spray By NYX Cosmetics ($9.50)
NYX Cosmetics is known for bringing you professional quality products at affordable prices. Its Matte Finish setting spray is a best-seller, and there are a few reasons it stays a fan favorite.
Why You'll Love It
Reduces the shine that goes hand in hand with oily skin
It helps makeup stay in place for up to 16 hours
Available in a mini-size
Absorbs quickly
Urban Decay All Nighter Ultra Matte Setting Spray ($16-36)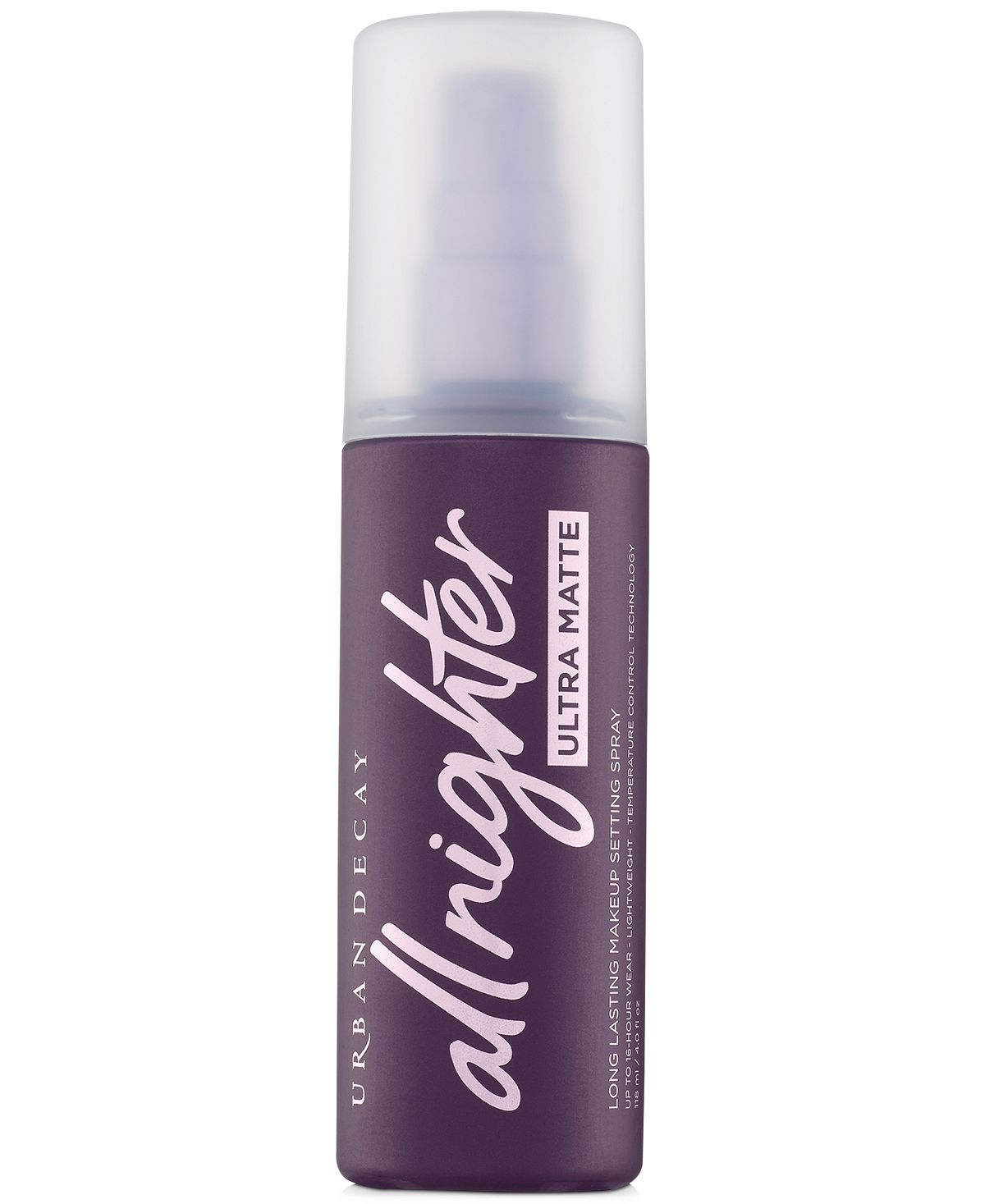 Urban Decay is well-known for its holy grail line of setting sprays, especially its mattifying makeup setting spray. It helps lock your look in place while preventing excess oil from taking over. You can pick it up in a mini-size for around $16 or a full-size.
Why You'll Love It
Vegan and cruelty-free
Helps keep makeup in place for up to 16 hours
Urban Decay gives excellent setting spray tips, like using this with metallic eyeshadow for a foil look
Absorbs quickly
Wonderful Dewy Setting Spray
Milani Make It Dewy Setting Spray ($9.59)
Milani setting sprays are some of the best market drugstore sprays. They offer the results that you want at a price you can afford!
Why You'll Love It
Vegan and cruelty-free
Hydrating setting spray
Give you a naturally radiant appearance
It helps makeup last up to 16 hours
Setting Spray For Sensitive Skin
e.l.f. Dewy Coconut Setting Mist
e.l.f. Cosmetics go above and beyond to exclude several toxic ingredients from their products that can irritate their skin. This Coconut Setting Mist is specially formulated to give your skin a refreshing dose of hydration that's gentle on your skin.
Why You'll Love It
Vegan and cruelty-free
Green tea extracts soothe the skin
Conditions the skin for a smooth feel you'll love
Hydrating Setting Sprays
Dewy Finish Setting Spray By Cover FX ($31)
As the final step in your makeup routine, a few sprays of this fine mist will help your makeup last all day long without smudging or creasing. There are quite a few things to love about this setting spray.
Why You'll Love It
Vegan and cruelty-free
Prickly pear extract hydrates the skin
Dewy finish
Gluten-free
Too Faced Hangover Replenishing Primer+Setting Spray ($36)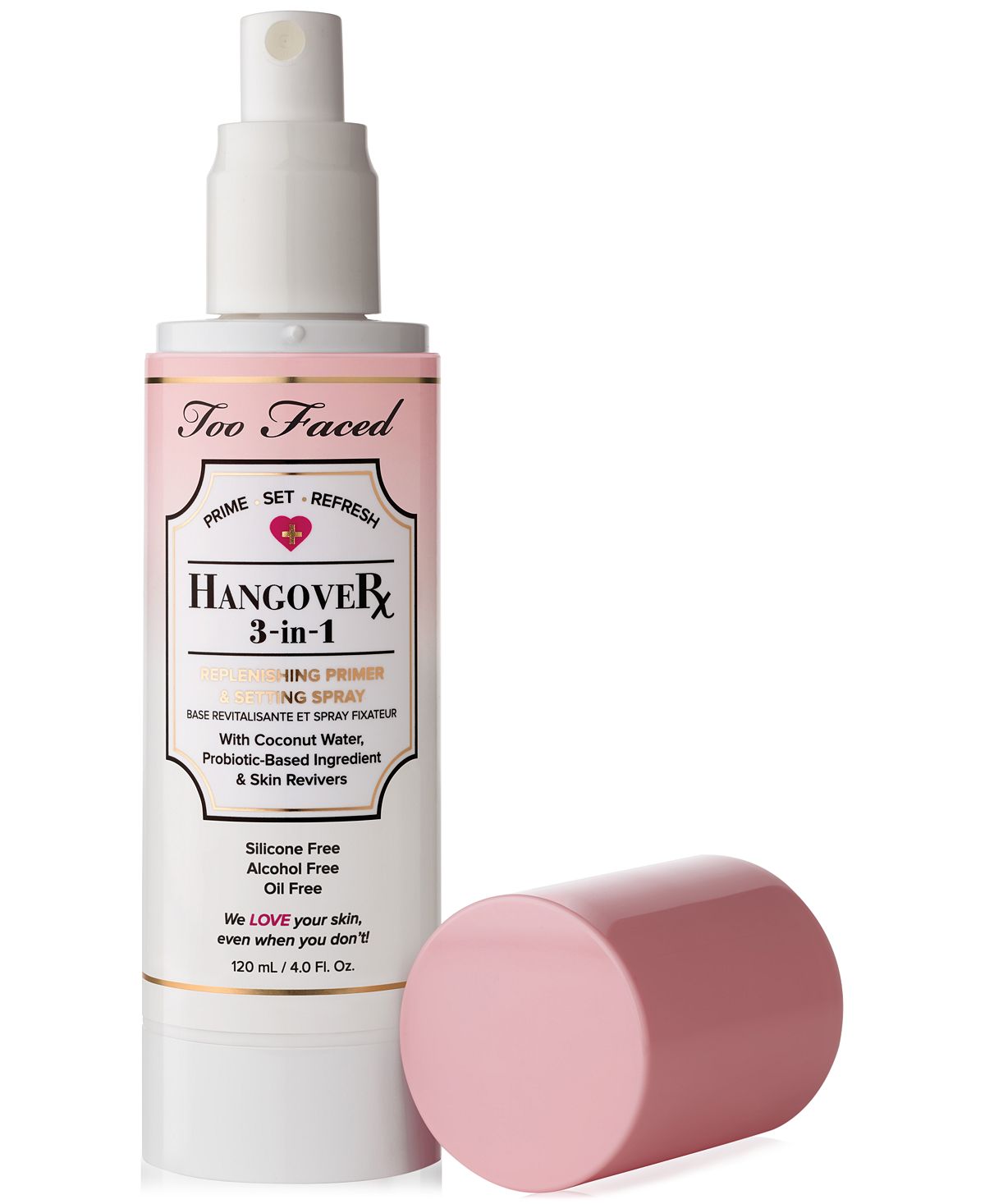 A 3-in-1 setting spray that can prime your skin before makeup, hydrate your skin and then lock your look in place.
Why You'll Love It
Cruelty-free
Infused with good-for-your-skin ingredients like coconut water
Hydrating
Brightening
Shake The Bottle First
Have you ever seen a YouTube video of someone applying setting spray? They constantly shake the bottle first.
That's because the ingredients can settle in the bottom of the bottle. Shaking the bottle guarantees that everything is mixed perfectly and applied evenly. You can wind up with a splotchy application when you don't shake the bottle.
Hold The Bottle Six Inches Away
If you hold the bottle too close to your face, two things will happen. First, you'll spray too much on your face. Too much of anything is a bad thing. Second, you'll use a lot more products, which will hurt your wallet. Setting spray is not always cheap.
Use A T Or X Formation For Spraying
Spraying in the shape of a T or an X instantly sprays your entire face. You want to ensure that you spray your face without over-spraying any particular area. This method accomplishes that perfectly.
Let It Dry
If your setting spray takes longer to dry, use a fan or fan with an envelope to speed up drying time. Whatever you do, hang out and let it dry. If you attempt to get dressed, you can wipe off some of your setting sprays. When your setting spray is holding your makeup in place, you don't want to miss patches of setting spray. You'll also wind up with patches of your makeup wearing away.
Use Setting Spray To Make Eyeshadow Colors Pop
Setting spray is designed to make your makeup last longer, but that's not the only thing you can do with it. This is one of the coolest setting spray tips. To instantly make your eyeshadow colors more pigmented, spray your brush with setting spray before using your pressed powders.
Spray It On Your Beauty Sponge For Longer Lasting Looks
If you're searching for setting spray tips to make your makeup last longer, this one is a must-try. Before using your beauty blender to buff out your foundation, spray it with setting spray for longer-lasting makeup.
Beware Of Setting Spray With Alcohol If You Have Sensitive Skin
Most mattifying setting sprays have alcohol in them. While this is an excellent ingredient for drying up excess oil on your face, it can be too harsh for sensitive skin. If you have sensitive skin, opt for a gentle setting spray that doesn't have alcohol in it, like e.l.f. Coconut Setting Mist.
Use Setting Sprays To Prep The Skin Before Makeup
Setting sprays are more than capable of prepping the skin before makeup application. Some setting sprays are specially designed to be 3-in-1 products that can be used as primers and setting sprays. However, basic setting sprays can also get the job done if you're in a pinch and out of primer.
Setting Sprays Help Blend Cream And Powder Makeup Products After Application
Wearing a combination of cream and powder makeup products isn't always recommended, but sometimes you have to use certain products. Or maybe you have a favorite new cream blush but can't let go of your powder foundation. Whatever the case, a good setting spray will help the two formulas melt together for a natural look that isn't muddy.
Setting Spray Can Substitute Eyebrow Gel
Setting spray tips go far beyond using a setting spray to make your foundation last longer. It can also be used if you're out of eyebrow gel. Do your brows as you usually would, and then skip the brow gel. Make sure you get your eyebrows when applying the setting spray.
Use Setting Spray To Create DIY Eyeliner
Creating your colored eyeliner is as easy as getting out your setting spray and your favorite pressed pigments. Spray an angled brush with setting spray, and dip it in your powder eyeshadow. Then, apply it as you would any other eyeliner!
Wear It Alone For Skincare Benefits
Setting sprays are packed with benefits for your skin. Pore-minimizing setting sprays reduce pores' appearance, while nourishing sprays give dry skin the hydration it desperately needs. Wear your setting spray alone to enjoy the skincare benefits, even on no-makeup days.
In Conclusion
Setting spray tips go far beyond just using the correct technique to cover your entire face in setting spray. You need to ensure that you have the right setting spray for your skin type to achieve the look you want. Then, take your setting spray game to the next level by learning all the other ways you can use it! Check the rest of the blog for more tips, tricks, and product reviews!
Related Articles
Urban Decay All Nighter Setting Spray Review
NYX Matte Setting Spray Review
How To Use Setting Spray For Makeup