Silk is the most prized and sought fabric in the history of mankind. Known for its luster and durability, silk is considered the epitome of luxury. However, there are quite a few benefits of a silk pillowcase aside from being made from a luxurious material.
Today, silk is considered the queen of fabrics. One feels like a royal while using it as a clothing or bed cover. It's rare to come across silk bed sheets and covers in homes because, first of all, it's costly compared to other fabrics, but secondly, people need to be aware of the benefits of a silk pillowcase. So what are you waiting for? Let's get started and find out what the deal is about!
I participate in affiliate programs, including Amazon Affiliates, and may earn a small commission if items are purchased through links on the site. 
Benefits of a Silk Pillowcase
Who likes to compromise on their sleep? Nobody. People try out a variety of teas and yoga practices to improve their sleep cycle. Some wear eye masks and light-scented candles to drown themselves in the sea of undisturbed sleep. Unfortunately, it doesn't work in most cases. If you have insomnia, we won't claim that a silk pillowcase would resolve it because, in all honesty, insomnia needs expert attention. But if you're finding it hard to sleep or unable to decide whether to buy silk pillow covers or not, scroll further. Silk pillowcases aren't a new thing, but their benefits are! Unlike most fabrics, silk carries properties that add quality to your lifestyle and sleep cycle. Here are some benefits you must look out for:
Reducing Wrinkles Is One Of The Main Beauty Benefits
Celebrities, Instagram influencers, and some hair stylists have insisted on buying silk pillowcases to reduce wrinkles. Beauty and wellness experts have stressed that this fabric's smooth texture keeps your skin soft and smooth. Silk covers are made for you if you're a stomach or side sleeper like us. Since your cheeks are constantly in contact with a smooth fabric rather than a hard one, it prevents creases that get more profound with time. As the fabric glides over the face rather than pulling it, it's a relatively safe option as a pillowcase.
Silk Is Known For Fighting Frizzy Hair
Fight off the never-ending battle with frizzy hair with a silk pillowcase. It's super hard to tame frizzy hair no matter how many moisturizers, conditioners, and expensive hair care products you use. The products are neither pocket-friendly nor hair-friendly in the longer run- after all, your hair can tolerate chemicals for a specific time limit. Using silk covers while sleeping does help with frizzy hair to an extent. Silk covers don't pull your hair as cotton pillowcases do. Silk plays a massive role in retaining hair moisture; we know this is extremely important for frizzy hair. Rather than buying multiple hair products that contain the infamous silk protein sericin, buy a silk pillowcase that naturally contains it in abundant quantities. You can also buy silk scrunchies or silk head scarves for better results.
Our Favorite Silk Products
Blissy Pure Silk 4 Piece Silk Dream Set ($118)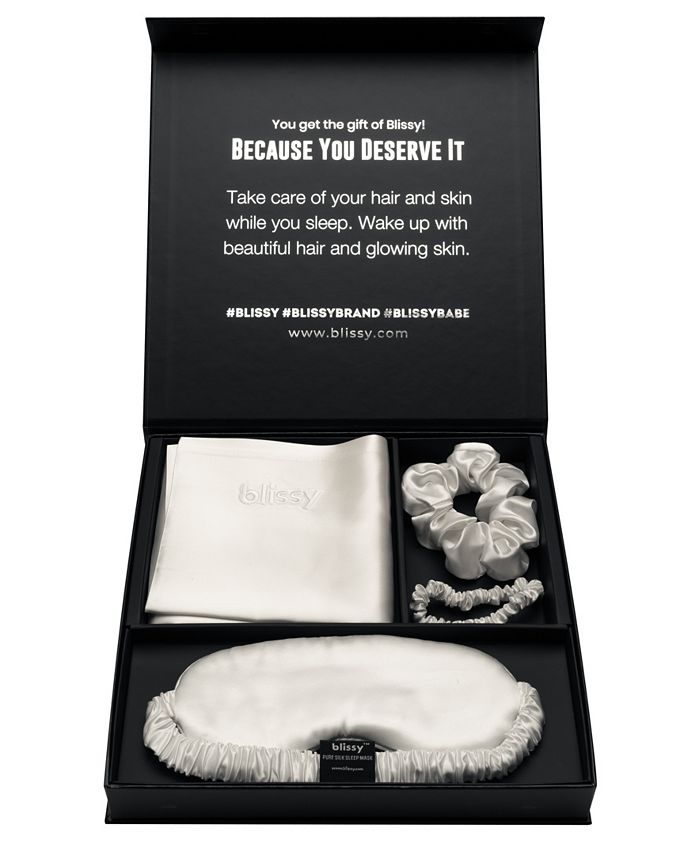 The Blissy pillowcase is an award-winning pillowcase you're going to love. You'll also get a sleep mask and two silk scrunchies to help you get a restful night's sleep! In this article, a reporter details how the award-winning Blissy silk pillowcase helped clear up her acne!
Comes in five colors: white, black, silver-tone, pink, and tie-dye
Machine washable
The perfect gift to give to someone that needs one or for yourself!
Silk Scrunchies From Beauty Of Orient ($34)
This beautiful selection of 25 momme Mulberry silk scrunchies will make you realize all of the benefits of silk scrunchies. These:
They are available in three packs of various colors
Don't stretch out
Don't pull on the hair
Check out the beautiful color selections offered here!
Helps Keep Skin Moisturized
As mentioned earlier, silk helps in retaining skin moisture. It doesn't allow sleep creases on the face, hence preferred by people with delicate or sensitive skin. Compared to rough fabrics like cotton, silk is frictionless without any abrasion. It keeps the skin hydrated and keeps moisture intact. You can sleep on your silk pillowcase after your nighttime skincare routine without worries.
Temperature Regulation
According to the Associate Director of the Good Housekeeping Institute Textiles Lab, Ms. Lexie Sachs, silk fabric regulates temperature. This might be shocking for you! But what does temperature regulation mean, and how does using silk fabrics help with it? It means you'll stay cool in summer and warm in winter. The luxuriously soft fabric of the silk pillowcase will always feel soft and cool to the touch, automatically putting you in a peaceful sleep.
Luxurious Feel
We love luxury. Luxury makes us feel good, and nobody can deny that! Using silk pillowcases is the easiest and safest way to feel luxurious while enjoying various others benefits without throwing away the money. You're investing in a luxury that lasts long, provides multiple benefits, and, most importantly, makes you feel good at the end of the day. Trust me! The feeling of lying on cool silky sheets at the end of an exhausting day is unmatched. Snuggling the soft frictional silk surface is way better than any other fabric that often causes itchiness and allergic reactions.
Prevent Acne
We are not claiming that silk fabric cures acne. However, it retains moisture, keeps your skin hydrated, and makes you look fresh with glowing acne-free skin. On top of that, silk is known for absorbing less dirt and bacteria when compared to other pillowcases. The combination of all of these benefits helps to reduce breakouts. 
Helps with Sunburn
Your burning, irritated skin will not feel good against a rough, cotton material. However, the smooth surface of silk can give you the relief you need to get a good night's sleep. It will help soothe your dry skin, especially your facial skin. 
Prevents Dust Mites
We hate bugs and dust mites. They're horrible for your skin health. Did you know your cotton bedsheet and covers carry hundreds and thousands of them, including dead skin cells that shed from your face every night? These dust mites often cause unprecedented allergies you didn't think of. Tightly woven silk fabric with natural fibroin is inhospitable to allergens and mites; it doesn't host any of them, making silk covers safe for sleep.
Varieties of Silk Pillowcases
Silk is available in a variety. From high quality to low quality, you will come across many types.
Charmeuse weave is among the best silk quality known for its smooth and lustrous surface that provides all benefits of silk pillowcases mentioned above. Then comes the momme count and 100% Mulberry silk. 
Do silk pillowcases make a difference?
Yes! Silk pillowcases make a difference in keeping your skin hydrated, preventing creases, and dealing with frizzy hair. If you have curly hair, you'll fall in love with a silk pillowcase! They can also help prevent hair breakage. If you suffer from acne, sensitive skin, or other skin conditions that cause red, irritated skin, you'll find the relief you need to get your beauty sleep when you opt for a silk pillowcase. 
Are there any downsides to silk pillowcases?
Like any other thing, Yes. Silk pillowcases have their downsides, and here are some of them.
Washing A Silk Pillowcase
Washing silk pillowcases could be an ordeal because they're best recommended to be hand washed or dry-cleaned. Machine washing could be problematic for your pillowcase; hence, it must be prevented.However, modern silk pillowcases are machine washable. Check the instructions on your pillowcase before purchasing it to see if you can toss it in the washer. If not, taking it to a professional cleaner is always an option. When all else fails, you may have to handwash it. 
How To Handwash A Silk Pillowcase
Handwashing sounds like a huge chore, and it does take more time than tossing a pillowcase in the washer, but it's not that bad. To handwash a silk pillowcase: 
Fill a basin, sink or even bathtub with cold water
Add a few drops of gentle detergent
Dip the pillowcase in the water to make sure it is covered in soap and water
Agitate the pillowcase with your hands
Rinse it with cold water, and hang it up to dry
Silk Pillowcases Are Expensive
Silk is a luxurious item, and silk pillowcases are pricey, like silk clothes and silk handkerchiefs. It's not pocket friendly, and as the silk quality increases, the price increases too. Therefore, despite the enticing advantages, people prefer buying cotton or satin pillowcases to save money.
Silk Fibers Are Easily Stained
The fabric often gets stained, especially if you're into heavy beauty routines like slugging. The stains might not come off, leaving a permanent ugly mark you'd hate seeing every night.
In Conclusion
Buying silk pillowcases is not a bad idea. The awesome advantages of picking up a Mulberry silk pillowcase include helping reduce wrinkles, preventing acne, and protecting your face against dust mites and microbes that cause allergies. Moreover, no other fabric makes you feel more luxurious than silk. However, as luxurious as it is, remember that silk fabric doesn't cure all skin or hair issues. It should complement the rest of your beauty routine instead. Don't forget to check out the rest of the blog for more tips, tricks, and product reviews!
Related Articles
Marc Anthony Deep Nourishing Conditioning Treatment Review