Having small eyes can be such a blessing. They're beautiful; you can pull off one makeup look after another. However, there are quite a few things to keep in mind. You don't want to make your eyes look smaller when applying eye makeup. You can unintentionally do this in several ways, like putting black eyeliner around your eyes. Instead, you want to use eyeliner to make them pop. You can also use other tips and tricks to make them look larger! These eyeliner tips for small eyes will do just that!
I participate in affiliate programs, including Amazon Affiliates, and may earn a small commission if products are purchased through links on the site.
Eyeliner Tips For Small Eyes
If you have small eyes, learning about eye shapes is essential. You may have almond-shaped eyes or downturned eyes. Hooded eyelids are seen in both big and small eyes. These are general eyeliner hacks for people with small eyes, but they might not work for every eye shape. It's important to remember that to ensure that you always look fabulous!
Put White Or Nude Liner On Your Lower Lid
Light-colored eyeliner will be your best friend when you're worried about eyeliner tips for small eyes! It instantly helps open your eyes more to appear larger instead of smaller. If you aren't a fan of white eyeliner on the top and bottom, put a thin line on the bottom. This is a trick that makeup artists love!
Recommended White And Nude Liners
Stila All Day Liquid Liner ($24)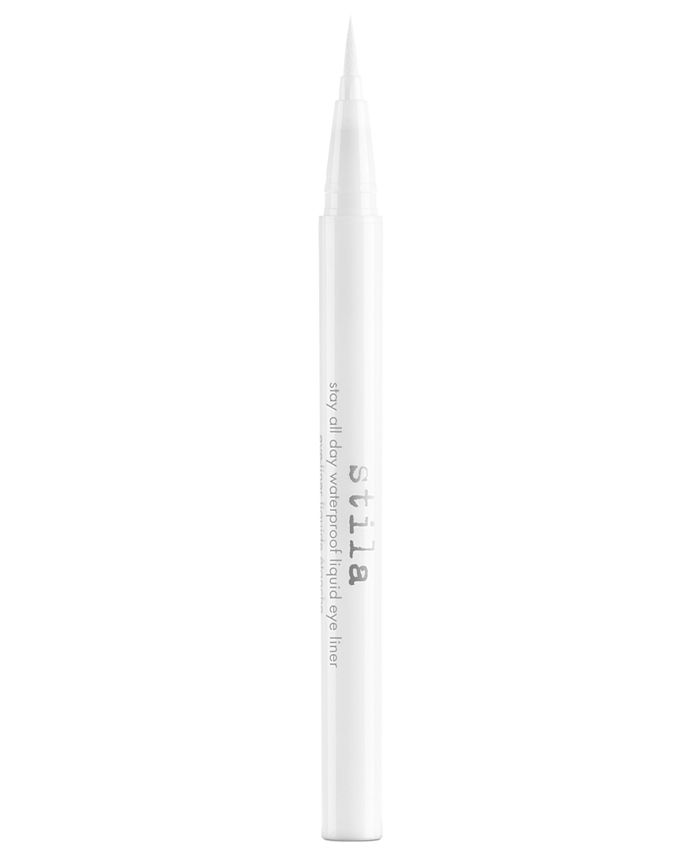 This eyeliner has a flexible tip perfect for thin lines, thick lines, and the perfect winged eyeliner. Easily create your favorite looks with a simple flick of your wrist! It glides on smoothly, without tugging on the delicate skin of your eyelid. 
When Pencil Met Gel All-Day Waterproof Liner By Julep ($12)
A unique wax blend helps this gel eyeliner pencil slide smoothly across your lids without tugging or pulling on them. It creates the perfect amount of pigment, while the light shade of nude shimmer helps make small eyes appear wider and brighter. This pencil liner is long-lasting like a gel liner, waterproof, and available in one gorgeous shade after another. 
Only Use Dark Eyeliner On Part Of Your Lid
Avoid using dark or black liners on the inner corners of your eye. Instead, only apply dark liner on the outer third of your eyelid. It doesn't make the eyes appear smaller but lets you enjoy your favorite dark eyeliner colors!
Use Only Nude Liner
Ditch the dark liner to seriously brighten your eyes. Pick up a nude eyeliner, and use that on both your top and bottom lid. This is a trick makeup artists use to make eyes appear larger or more awake. 
Apply Light Colored Eyeliner To Your Inner Eyelid
Use lighter-colored eyeliner on your inner eyelid, such as rose gold, white or nude. Then, use a brush to smudge the colors together to eliminate harsh lines.
If you're not a fan of that idea, consider using an angled brush to dab a touch of light-colored eyeshadow, highlighter, or concealer in the area. It will have the same eye-opening effect.
Stick With Thin Lines
When you use thick lines of eyeliner, it makes your eyes look smaller. Instead of medium or thick lines of dark eyeliner, you want to use thin eyeliner lines. This is especially important when you're using dark-colored eyeliner. You want to make sure that there is plenty of space between your eyeliner and brow bones. When the two are closer, it can make your eyes appear smaller. 
Smudge Out Your Eyeliner
This is an excellent idea for using nude or brown eyeliner. Thick, harsh lines can make your eyes appear more narrow. Instead, take the time to smudge your eyeliner to create a softer look. This is a great way to enjoy a darker brown shade without making your eyes look smaller. Ensure you only apply the dark liner to the outer corner of your eye. 
Use A Light Hand
When applying eyeliner for small eyes, it's always crucial that you don't overdo it. For liquid eyeliner, carefully apply thin lines. When using eyeshadow as eyeliner, ensure you don't put too much product on your angled eyeliner brush. This is especially important if you're using a dark shadow. You still want to use a light hand if you're using a light color. Applying too much product can make your eyes look smaller. 
Winged Eyeliner Makes Your Eyes Look Larger
You want to create a small wing that is not very long. The extra bit of eyeliner will make your eyes appear larger. You can put a touch of black eyeliner on the outer portion of your lower lid for this, but make sure it is a thin line that slowly gets larger when you get to the wing.
Use Transfer Free Eyeliner
Some eyeliner can wind up underneath your eyes as the day goes on. It makes it look like you have bags under your eyes even though it's just from eyeliner. Bags or dark circles under your eyes will make your eyes look smaller.
Tips To Make Small Eyes Look Larger
Small eyes are stunning, but there's nothing wrong with wanting to make your eyes look more prominent. The wonderful thing about makeup is that you can use it to create almost any illusion. Just like you can contour your face to change your face shape, you can use these tips to create the illusion of having larger eyes. 
Use Highlighter On The Inner Corners
Grab your angled eyeliner brush and put a few dabs of highlighter on the inside corner of your eyes. You can use liquid highlighter for a glow that lasts all day or powder highlighter. Either way, it will instantly make your eyes look more glamorous and prominent. 
Get Rid Of Undereye Circles
Surrounding your eye with any dark color will make it look smaller. That includes the dark circles underneath your eyes. Dark circles can instantly make your eyes look smaller, make you appear more tired, and impact your self-esteem. A good under-eye cream designed to eliminate under-eye circles is a great idea. 
You can also use a full-coverage concealer to cover them up. If your under-eye circles are hereditary, there's a chance that eye cream won't work. In that case, pick up a concealer that matches your skin tone. 
Best Products For Undereye Circles
Dr. Brandt No More Baggage 2.0 ($48)
Dr. Brandt has taken it's amazing No More Baggage eye cream and revamped it. It goes above and beyond to treat your most common eye concerns. The gel-like formula helps decrease puffiness to slowly decrease undereye bags while visibly brightening the appearance of dark circles for brighter eyes you'll love. 
Phyto-Cernes By Sisley Paris ($100)
Phyto-Cernes by Sisley Paris is much more than just another under-eye concealer. It is doing triple duty. First, the concealer coverage helps conceal dark circles under your eyes. Then, it works hard to help decrease puffiness and smooth the area around the eye for a visibly brighter appearance. The creamy formula is easy to apply and offers a natural finish that doesn't settle into fine lines and wrinkles. 
Use Light-Colored Eyeshadow
The more darkness you have around your eyes, the smaller they will look. This applies to any eye makeup, including eyeshadow. Opt for lighter colors around your eyes to make your eyes appear larger. If you're not a fan of neutral colors, play with metallics and shimmer colors to create a pop of color without making your eyes look smaller. 
Avoid Long False Lashes
Surrounding your eye with anything dark will make your eyes look smaller, including false eyelashes. Instead, stick with smaller falsies and use the rest of these eyeliner tips, so your eyes don't look too small. For your lashes, you can also pick up a lash curler to curl your natural lashes to get a glam look that complements your eyes.
Curl Your Lashes
Curling your lashes is a great way to make your eyes pop, and help them appear larger. When your eyelashes are weighed down or hanging down over your eye, it makes your eyes look as though they are half-closed. Instead, curl your lashes for a gorgeous look that shows off your pretty eyes!
Final Thoughts
Small eyes are never bad, but you don't want to make them appear smaller accidentally. When you do, it creates the illusion that your eyes are too small for your face. Instead, use plenty of eyeliner hacks for small eyes to make them look larger. 
Related Articles
Can You Use Lip Liner As Eyeliner