Contouring is a makeup hack that never goes out of style. It can easily help you correct a crooked nose, hide a double chin or instantly give you model-like cheekbones. However, it's easy to mess up contouring. For example, if you use a shade that is too warm, it can wind up looking like you have a little bit of mud on your face. If that's you, pick up a contouring stick with cooler undertones. Then, check out the rest of these contouring tips for beginners to get your desired look. 
I participate in affiliate programs, including Amazon Affiliates, and may earn a small commission if items are purchased through links on the site
What Is Contouring?
Contouring began as a makeup trend that a few people loved. However, it quickly took the makeup world by storm, instantly helping everyone up their makeup game. Light and dark colors help slim down certain features or make others more prominent. 
Use Pictures As Guidelines, They Are Not The Law
You often see people that are contouring, and they do it exactly like it is done in the pictures online. You know, the pictures that show you exactly where to put which product. While these are great for contouring for beginners, they don't always work.
We all have different face shapes. Likewise, we all have different features. These pictures don't consider that. Instead, try to remember the way that color works. When you use the darker color to contour, it helps push that part of the face backward. Lighter contour colors bring it forward.
For example, I have a larger forehead that looks massive when all of my hair is pulled back. Because of that, I don't want to put as much highlighter, concealer, or lighter colors on my forehead because that will bring more attention.
Check out some YouTube videos to learn how to contour for your specific features and face shape. The result will look much better than using the pictures online that tell you where to put each color.
Know Your Face Shape
To learn your face shape, stand in front of the mirror. Then, trace the outline of your face with a bar of soap. After you're done, take a step back to look at the shape in the mirror. This will help you learn where to apply contour to your face. A person with a round face shape will want to apply light and dark colors in different places than a person with a square face shape. This article shows you where to place contour makeup according to your face shape, with a picture for every face shape. 
Blend, Blend, Blend
When you apply contour, it will look like stripes on your face. You need to blend to the point that it looks natural. However, it's also important not to over-blend. When you blend cream contour, you can over-blend it down to nothing. Instead, blend with a few brush strokes and look at the results. Continue to do this until your face has the look that you want. 
Hunch Your Shoulders To Find Your Collar Bones
If your collarbones don't stick out, hunch your shoulders. This will make your collar bones pop up so you can determine the perfect place to apply contour. 
How To Blend When Contouring
Whether using your foundation brush or a beauty blender, using the correct blending technique is essential. Do not rub the contour in. This can smear it, and you want the colors to stay where you put them, not wind up halfway down your face. They stay in that place better for a chiseled appearance when blended using a tapping motion.
You want to slightly blend in an upwards motion when you're blending your dark lines in to prevent harsh lines, though. You need to practice and find that perfect combination.
Try Cream Contouring
Powder contouring is a great idea, but cream contouring is a little easier, especially for beginners. You can pick up cream contour sticks that make it simple to draw lines on your face when compared to using powder contour and a brush. Cream contouring requires less blending than powder contour. 
Our Recommended Cream Contouring Products
e.l.f. Cream Contouring Palette ($9)
This cream contour palette has the perfect shades to help you sculpt your way to flawless features. Warm and cool-toned shades ensure that something in this cream contour palette is perfect for you. It's long-lasting, doesn't feel heavy on your face, and is unbelievably easy to blend. 
Watch YouTube Videos About Contouring
Contouring takes practice, especially if you want to master it. There are specific ways to contour various face shapes, nose shapes, lips, and even collar bones. This makeup trend is the perfect way to complete a full glam look, but watching other people contour can help you get the hang of contouring. 
Always Prep Your Skin
Don't forget to prep your skin before applying any makeup, including contour makeup. You should always wear a primer to create a smooth base for makeup application. 
Contour Before Foundation For A Softer, Natural Look
If you try contouring and find that you don't like how harsh the lines look or that it doesn't look natural enough, try mixing things up. Apply your contour as the first step in your makeup routine. Putting your foundation and other face makeup on top of your contour will help dim your contouring, making it look more natural. 
Set Your Makeup
It doesn't matter how much makeup you wear or not wearing; setting your makeup is always important. This is especially true when it comes to contouring. Makeup, especially cream makeup, can slide on your face as the day progresses, resulting in your contour winding up in the wrong spot. When you're done, set your makeup with a setting spray or a setting powder. 
Powder Contouring May Be Perfect
Cream contouring can be perfect for some people because a cream contour stick is easier to draw on your face. However, consider powder contour products if you're consistently messing up your contour or can't stop it from sliding down your face. These are more challenging to mess up, and you won't have to worry about them sliding on your face. 
Our Recommended Powder Contouring Products
Anastasia Beverly Hills Powder Contour Palette ($40)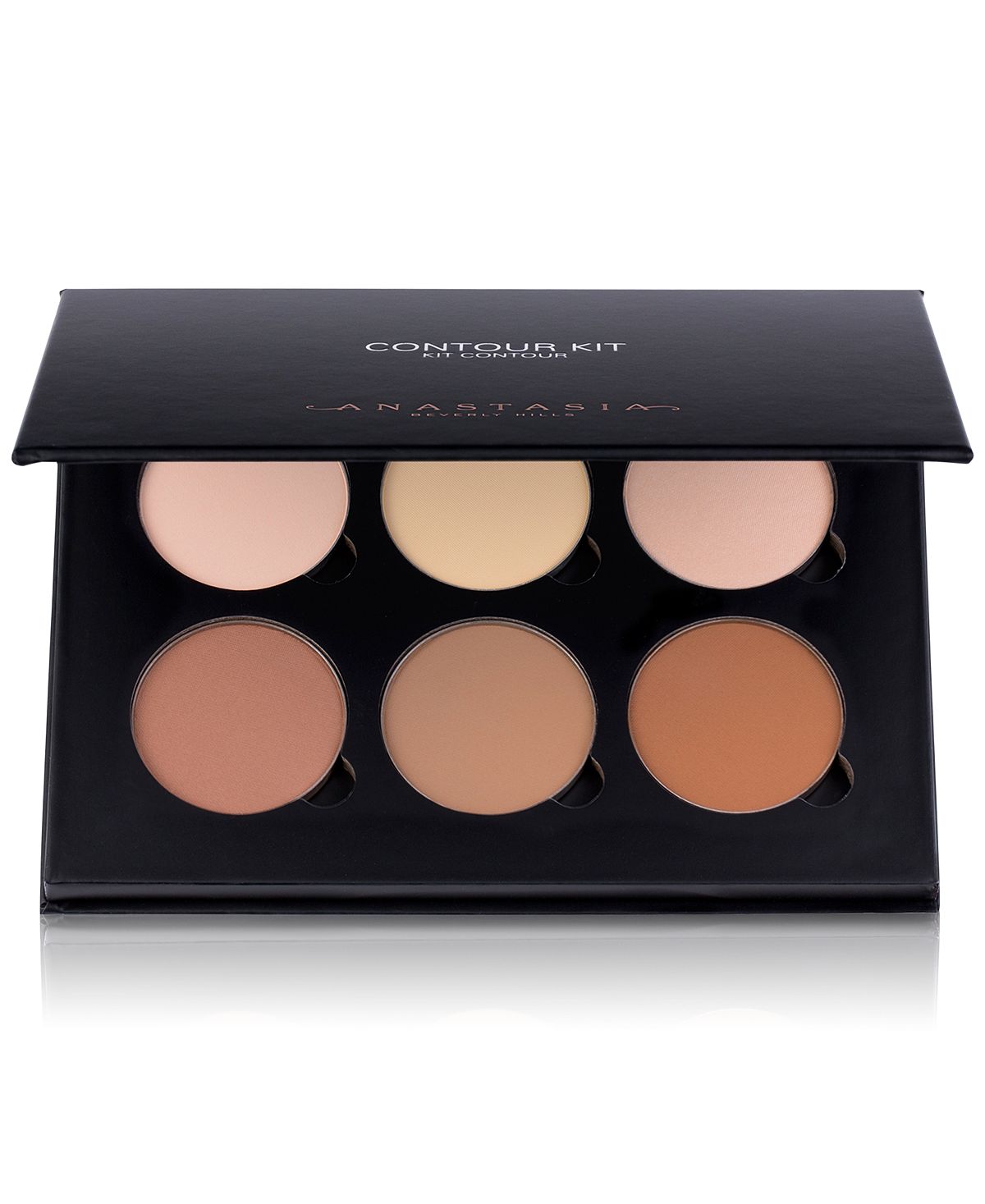 This powder contour from Anastasia Beverly Hills provides the perfect blend of warm and cool-toned shades to find the perfect one for your skin tone. Easily slide these powder pigments along your face to create a sculpted look. 
Maybelline Master Contour Kit ($10)
Maybelline Master Contour kits include three flawless shades that work perfectly together to create a sculpted look and give your cheeks the perfect pop of color. It's available in various shades to find the perfect powder contour palette for your skin tone. 
Match Your Makeup Products
Match the base of your makeup products. If you wear a liquid foundation, try using liquid or cream contour. Likewise, try powder contour products if you prefer to use powder foundation. 
Know What Shades You Need
Contouring shades should mimic the natural shadows that you see on your face. So, you want to stick with 1-2 shades darker and lighter than your natural skin tone. 
You'll also need to consider your undertones to ensure your contour isn't too warm or cool. To figure out your undertones, take a good look at your veins. Purple veins mean that you have warm undertones. Green or blue veins mean that you have cool undertones. Finally, a mix of both means that you have neutral undertones. 
Consider Contour Sticks
If you're starting, contour sticks are the easiest way to contour. That's because you don't have to apply contour with a brush, etc. Instead, you literally draw lines on your face and blend away, making it an excellent choice for beginners. Remember that one person might love powder contour while another will swear by contour sticks. Try different products until you find one that suits you!
Best Contour Sticks
Nudestix Tint And Blur Sculpting Stick ($32)
This sculpting stick is vegan, cruelty-free, and free from synthetic fragrance. It's available in three gorgeous shades, helping you find the perfect shade for your skin tone. The cream to powder formula glides across your skin like a cream contour stick and dries to a smooth powder finish for a look that lasts. 
NYX Wonder Contour And Highlight Stick ($14)
The Wonder Contour and Highlight Stick from NYX Cosmetics takes the guesswork out of finding your perfect shade. A virtual try-on feature lets you know if it will look good. The two shades are a few shades apart, guaranteeing that they complement each other perfectly. It's easy to use, portable, and makes contouring for beginners a breeze. 
Contour Collections By Ogee Luxury Organics ($156)
Ogee Luxury Organics takes the guesswork out of finding your perfect shade by including three sticks that will sculpt your face while giving you the perfect glow. Use light and dark shades for sculpting and the pink shade for blush. These three sticks are all you need for a flawless face. It's also vegan, certified organic, cruelty-free, gluten-free, and GMO free. Don't need all three? You can purchase them separately on the website. 
Skip Highlighting For A More Natural Look
Highlighter can give you a radiant glow but also look unnatural. If you're going for a glam look, keep the highlighter to give yourself a serious glow-up. For a more natural appearance, skip the highlighter. 
Apply Darker Shades To The Tip For A Shorter Nose
If you want a shorter nose, apply a dark shade of contour to the tip of your nose, and underneath the tip between the nostrils. Don't forget a lighter strip down the middle of your nose!
Suck In Your Cheeks
You don't have to use your cheekbones as a guide to tell you where to apply contour for sculpted cheekbones. Instead, suck in your cheeks to find the perfect hollow spot to apply contour. 
Final Thoughts
Contouring can look flawless if you take the time to learn contouring techniques, your face shape, and which products work best for you. Keep these tips in mind, and check out the rest of the site to discover product reviews, makeup must-haves, and more!
Related Articles
ELF Cream Contour Palette Review
90s Makeup Trends To Fall Back In Love With