Anyone in the middle of building their gluten free makeup collection knows that there are certain gluten free makeup must haves that deserve a place on your vanity. Products like gluten free multi-tasking makeup sticks are ideal for adding a pop of color while a gluten free BB cream will help you pull off the no makeup "makeup" look. These are the must haves that every gluten free beauty enthusiast needs.
I participate in affiliate programs, including Amazon Affiliates, and may earn a small commission if items are purchased through links on the site
Gluten Free Makeup Must Haves
NudeSkin Daily Mineral Veil SPF 30 ($36)
NudeSkin Daily Mineral Veil SPF 30 is a must-have multi-tasking makeup product. This gluten free makeup must have protects your skin from harsh UV rays and blue light while delivering a powerful dose of hydration. The oil-free formula is wonderful for oily skin while the intense moisturizing properties make it suitable for dry skin. Did we mention it can also be used as a primer?
Why You'll Love It
Vegan and cruelty-free
Tinted options available for a no makeup look
Ingredients like Green Algae and Purple Tea help protect against premature aging
Dewy Finish Setting Spray By Cover FX ($31)
A good gluten free setting spray is a makeup must have for every makeup maven! This dewy setting spray delivers the perfect dose of radiance while helping prevent transfer, fading and creasing as the day goes on. It melts into your skin to make colors appear more vibrant and help your makeup blend together. There's a mattifying version available too!
Why You'll Love It
No mineral oil, parabens, gluten or talc
A little goes a long way
Lightweight
Helps hydrate and nourish the skin
Coola Organic Sunscreen ($28)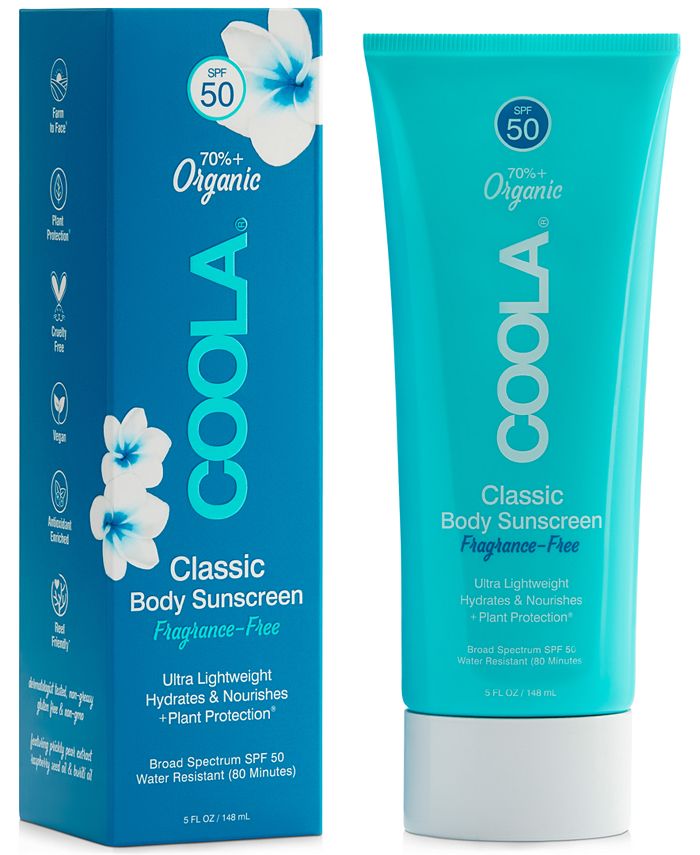 Gluten can be found in almost everything, including your hair care, your toothpaste, and even your sunscreen. When it's time for a new bottle, this organic sunscreen by Cool is definitely worth investing in. The fragrance free lotion has an SPF of 50, is powered by plants, and offers broad spectrum protection. Sunscreen is a must for protecting your skin from damage from the sun.
Why You'll Love It
Rich in antioxidents
Protects the skin's barrier
Water resistant
Lashalicious Mascara By Mommy Makeup ($21)
Gluten-free mascara that can perform well is every makeup lovers must-have, so you need a gluten-free mascara that lives up to the hype. That's where Lashalicious Mascara by Mommy Makeup saves the day. This mascara is specially designed for moms on the go, so it's not going to smudge or run down your face easily. The spiral, hour glass shaped brush carefully coats each lash for extra definition without clumping and flaking. Then, it lasts for hours on end!
Why You'll Love It
Gluten-free, silicone-free, cruelty-free, vegan
Helps soften and condition lashes
Doesn't smear
Lorac Dewy Canvas Prep Moisturizer + Primer ($37)
Lorac Dewy Canvas Prep can be used as a makeup priming base or as a deeply nourishing moisturizer, providing versatility in your skincare routine. Its unique formula enriched with Shea Butter, Glycerin, Sodium Hyaluronate, and Lotus Flower delivers exceptional hydration, leaving the skin soft, supple, and with a luminous dewy glow. The addition of Jade Mineral Powder helps balance the skin tone and reduce redness, promoting a more even complexion.
Why You'll Love It
Not sticky
Hydrating and nourishing
Provides the perfect canvas for makeup application
Tarte Smooth Operator Amazonian Clay Finishing Powder ($35)
Tarte Smooth Operator Amazonian Clay Finishing Powder is a game-changer when it comes to setting powders. This translucent powder is designed to soften the look of pores and fine lines, giving your skin a smooth and soft-focus finish. With its finely milled texture, it feels weightless on the skin, ensuring a comfortable and natural look. Say goodbye to photo-flashback worries, as this powder is specifically formulated to avoid any unwanted flashback in pictures.
Why You'll Love It
Non-drying formula
Formulated without parabens, mineral oil, phthalates, triclosan, sodium lauryl sulfate, and gluten
Helps control excess oil
Final Thoughts
The world of gluten-free makeup has expanded significantly, offering a wide range of high-quality products that deliver outstanding results without compromising on efficacy or style. From foundations and concealers to lipsticks and eyeshadows, there are gluten-free options available for every step of your makeup application. Remember to always check the ingredient lists and certifications to ensure the products meet your specific gluten-free needs. Let your beauty shine from the inside out with these gluten-free makeup must-haves.
Related Articles
Best Gluten Free Blush, Highlighter, Bronzer, And Contour