Once November hits, there are so many deals, steals, and amazing product launches they just don't fit right at the bottom of this page. So, we'll keep you up to date on the latest deals, including Black Friday specials, right here. Bookmark it now!
I participate in affiliate programs, including Amazon Affiliates, and may earn a small commission if items are purchased through links on the site
Black Friday Makeup And Skincare Deals
Amazon
COSRX Skincare (up to 60% off)
Ralph Lauren, Urban Decay, IT Cosmetics, and more up to 50% off
Living Proof Haircare (up to 50% off)
Revlon, Hot Tools, and Bedhead (up to 51% off)
And More! Click here to discover amazing deals on products like shower steamers, Vitamin C serums, more popular brands, hair tools, lotion, bath sets, and everything else you can imagine in the makeup and beauty category!
Benefit Cosmetics
30% off EVERYTHING Use the code FRIYAY
Ogee Luxury Organics
Beauty Brands
Muri Lelu
30% OFF full-size + 40% OFF Holiday Bundles
Fancii
Pat McGrath
Milani Cosmetics
Dr. Brandt Skincare
Glowbiotics
Sigma Beauty
In Common Beauty
Mermade Hair
Laura Geller
Makeup Eraser
BOGO sitewide! Get a free gift when you spend $75 and $100
Nudestix
20% off orders of $60+, 30% off orders $80+
Kaja Beauty
Black Friday Early Access – 30% OFF Sitewide, Up to 70% OFF Best Sellers and Free Gift with 
GA-DE Cosmetics
Axiology
20% off beauty products from Axiology with code AxiHoliday2023
Sisley Paris
Up to 45% off Black Rose Skincare
Wander Beauty
Verb Hair Products
Petite n Pretty
Billion Dollar Beauty
Averr Aglow
20% off sitewide, 40% off new subscription
Macy's
Act + Acre
Lash Luxury
Holiday Beauty Deals
Amazon Beauty Deals
Amazon is not going to be outdone by the big department and beauty stores this holiday season. They're already rolling out some of the hottest deals. It's another great way to enjoy one-stop shopping for all your holiday needs. These are some of the latest beauty deals you want to grab before it's too late.
Terviiix Airflow Styler Hair Straightener, Titanium Flat Iron for Travel $24.99 (64% off)
Hair Dryer, CONFU 1600W Ceramic Tourmaline, Travel Hair Dryer with Folding Handle $17.99 (50% off)
Color Nymph Blush and Highlighter Palette $7.99 (50% off)
Get 40% off select e.l.f. Cosmetics products when you subscribe
Save $5 on select items like this Tree Hut Body Scrub
Save $5 when you spend $25 on products like this one from NYX Cosmetics
Amazon is adding more stuff to their sale section daily. You can find everything from the hottest toys of the season to this television that's currently on sale for $90. It's definitely worth keeping an eye on Amazon this holiday season.
Beauty Plus Salon
Beauty Plus Salon is an amazing place to shop if you're looking for beauty steals and deals. They have some of your favorite brands on a huge discount.
Beauty Plus Salon | Best Prices Up To 50% Off | Shop Now
Beauty Plus Salon | Up to 20% Off on Makeup Products | Shop Now
Cover FX
Check out what's on sale! Up to 50% off!
Hush & Hush (ends 11/5)
Special Offer! The DeeplyRooted Starter Set $67 ($212 Value) | Shop Now and Save
Laura Gellar Beauty
Select eyeshadow palettes are on a limited time sale over at Macy's. Pick up the Best of the Best Palette for around $42! It's valued at over $100! You can also grab the Seasonless Staples Eyeshadow Palette for $17.50! Check it out here!
Glamglow (Limited Time Only)
3-piece Deep Cleansing Sheet Mask Set for $9.10 and you get a FREE gift with the purchase
Sephora Collection
Sephora has already started their MASSIVE holiday sales. Pick up almost anything you love from the Sephora collection on a serious discount. Falsies for $5, lipsticks and lip balm for $3-5, and more. Other notable brands on the sale page include Too Faced, Iconic London, Patrick Starr, Tarte, Melt Cosmetics, LAWLESS, Fenty Beauty, and more! See all the latest deals HERE.
Ulta Early Black Friday Sale (Ends 11/18)
Ulta has unleashed their early Black Friday sale, and it does not dissapoint. Enjoy 40% off hair care, tools, styling products, and curl products. Pick up the Too Faced Cosmic Crush palette for just $26! Other awesome brands on the sale page include ColourPop, r.e.m. Beauty, L'ange, Sebastian, Morphe, Matrix, Hask, Lashfood, NYX, and more! Check it out HERE!
Macy's Holiday Deals
Macy's is known for unrolling some of the hottest holiday sales, and they're going big this year. You can find sales on everything on your gift-giving list, from fashion and accessories to the must-have toys of the year. If you're looking for a place to enjoy one-stop shopping, Macy's is IT. When it comes to the beauty category, they've gone above and beyond. Snatch a Clinique 4-Piece Skincare Set for $35 ($77 value) or enjoy the free gifts with a purchase from the most luxurious brands like Dior. Kensie gift sets that are usually over $100 are priced at $25 for a limited time. If you're searching for beauty deals, make sure you check out Macy's holiday deals section. You won't regret it. You can check it out HERE.
Macy's
Black Friday Early Access! Shop Specials up to 70% off + Extra 20% off with code SCORE
Receive a FREE 4Pc skincare gift with any $25 My Clarins Purchase!
Receive a FREE skincare gift with any $25 beautyblender purchase!
Receive a FREE Eyeliner with any $50 Urban Decay purchase
New Must-Have Products This Holiday Season
Enchanted Beauty Essential Set By Beauty Blender
The Enchanted Beauty Essential Set by Beauty Blender has everything the beauty enthusiast needs. Expertly blend with three perfectly sized beauty blenders for a flawless finish. You'll also get two blender cleansers and a tool scrubbing mat to keep all your makeup tools clean this holiday season!
The PORE The Merrier Set By Benefit Cosmetics
This comprehensive gift set from Benefit Cosmetics is worth $200, but you'll get it on a steal this holiday season with this gift bundle. You'll get:
POREfessional smoothing primer
The POREfessional Good Cleanup pore-purifying foaming cleanser
The POREfessional Tight 'n Toned pore-refining AHA+PHA toning foam
The POREfessional Deep Retreat pore-clearing clay mask
The POREfessional Smooth Sip lightweight smoothing moisturizer for pores
The POREfessional Speedy Smooth quick smoothing pore mask
Once you try the POREfessional line of products, you'll be amazed by how soft your skin feels. Pick this one up for the skincare junkie in your family!
Super Moisturizer Mini Solutions Kit By Juice Beauty
This mini solutions gift set by Juice Beauty has everything you need to sample some of the best-selling Juice Beauty products. You'll get:
PREBIOTIX SPF 45 Glow, Daily Multi-Tasking Moisturizer – 15 mL / .5 fl oz (for am)
STEM CELLULAR Anti-Wrinkle Moisturizer – 15 mL / .5 fl oz (for am)
STEM CELLULAR Ceramide Overnight Night Cream – 15 mL / .5 fl oz (for pm)
GREEN APPLE Brightening Emulsion Lightweight Moisturizer – 15 mL / .5 fl oz (for am)
GREEN APPLE Age Defy Moisturizer – 15mL / .5 fl oz (for pm)
Juice Beauty is one of the best organic beauty brands on the market. You'll enjoy vegan, cruelty-free, organic skincare that produces amazing results! This mini-kit is half price for the holidays!
Complete Confidence Rhinestone Face Brush Set
Give the gift of glam this holiday season with these gorgeous makeup brushes. You'll enjoy all the essentials, and the glittering gold is perfect for this holiay season! This luxurious makeup brush set is definitely on sale to help you with shopping this year.
Protect, Perfect + Plump Lip Kit By Nudestix
This holiday makeup deal is so great you can buy it for a friend or keep it for yourself. Nudestix's lip kit includes everything you need to achieve a flawlessly plump pout this holiday season. Enjoy the long lasting lip crayon, complete with a sharpener. Use it on your lips, cheeks, or both! In the mood for a little shine on your lips? That's where the Lip Glace comes in.
Check out this limited edition kit here!
Eau De Campagne Large Gift Set By Sisley Paris
The perfect combination for the luxurious friend in your life! Sisley Paris is rolling out the most unique gift sets this holiday season. You can find everything from hair care to skin care and makeup to this soothing gift set. Enjoy the heavenly scent of Eau de Campagne in a shower gel and perfume. Heavenly scents of basil and lemon mingle with wild herbs for a truly unique scent full of feminine beauty.
Lip Vault Lip Retreat Oil Set By Wander Beauty
Wander Beauty Lip Retreat Lip Oil is the perfect product to give your lips a dose of color and keep them protected during harsh winter weather. The formula is packed with nourishing ingredients to keep your pout hydrated and kissable. This lip vault is the perfect gift to give anyone that loves lip products or beauty this holiday season!
Where's Ghost? Holiday Kit
Verb hair products are known for their impressive quality. This brand is cruelty-free, paraben-free, doesn't have harsh sulfates, and gluten-free! The Verb Ghost line of products has everything you need to condition, cleanse, detangle, and moisturize your hair. You can pick up some of their best selling products on a holiday beauty deal with this awesome kit! You get four full-sized products for a fraction of the price they would normally cost.
Clinique Plenty Of Pop Lipstick Set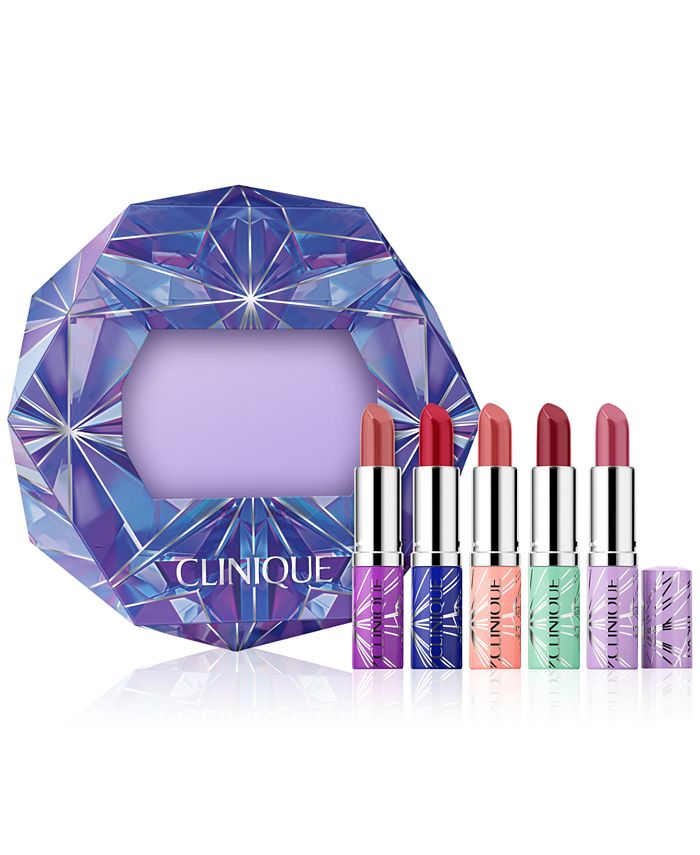 Enjoy the high-quality of Clinique lipstick in all of the hottest shades this holiday season! The packaging is perfect for a winter wonderland vibe while the lipstick is ideal for everyone. There's something for every skin tone and preference, guaranteeing the person on the receiving end will have something that makes their eyes light up.
Too Faced Let It Snow Three Piece Palette Gift Set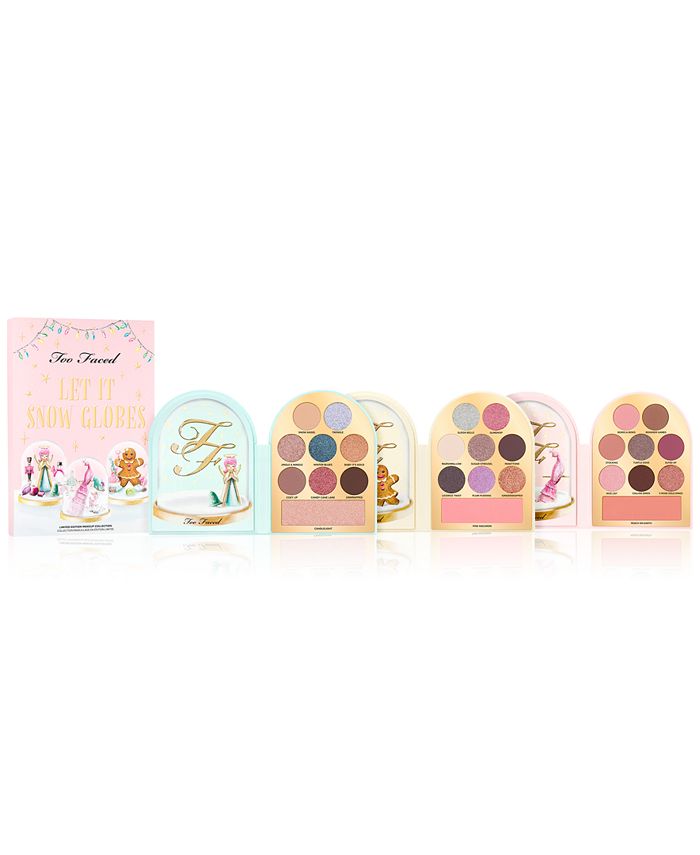 This limited eddition palette set by Too Faced features three heavenly eyeshadow palettes that are individually packaged. Each palette comes with a luxurious holiday scent. Enjoy the fresh smell of pecan pies, Christmas treats, or gum drops while you get ready for your next holiday party. Or, wrap them up individually to give three special people a special treat this holiday season!
Kylie Cosmetics Lip Vault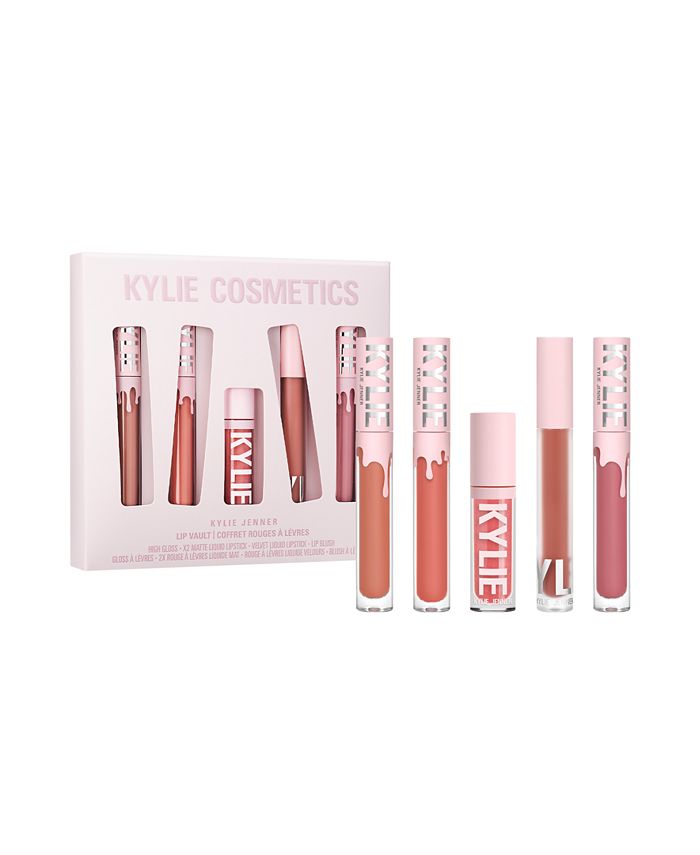 Instantly make their eyes light up with this seasons must-have Kylie Cosmetics Lip Vault. There's a variety of finishes, including matte, glossy, velvet and a lip blush. The blend of berries and pinks ensures one hot look after another. Anyone can enjoy up to eight hours of wear thanks to the long-lasting formulas. These products are always gone well before it's time to unwrap presents, so make sure you get yours ahead of time.
Keep checking back for more updates this holiday season!