Someone just learning about makeup is going to hear one term after another. A popular word you'll hear is the term primer. You'll learn all about primer for beginners running across multiple products, and they all seem to go to different places. It can make the world of primer confusing, but we're going to simplify things a bit.
Primer is designed to give you a blank canvas to create a flawless makeup look. Eyeshadow primer is specially designed for the delicate area around the eyes and the eyelid. It smooths the skin, makes your eyeshadow appear more vibrant, and helps your look last longer. Face primer can be worn alone or under face makeup like foundation and blush. It helps prolong the life of your look and can help conceal imperfections. Most primers combat specific skin conditions, like redness or oily skin. Lip primer is a must-have for anyone who wears lipstick regularly. It helps create a smooth canvas so your lipstick is less likely to feather as the day progresses. Most lip primers also have nourishing ingredients to help you have healthy, kissable lips.
You need to keep several things in mind when selecting a face primer. Skin type is essential. Some primers are designed for oily skin, while others are designed to combat dry skin. Wearing the wrong primer can wreak havoc on your skin. Ensuring you know the difference between water-based and silicone-based primers will ensure all your makeup is compatible. In this article, we'll go over everything you need to know.
Like-minded beauty and skincare obsessives support this website. I participate in affiliate programs and may earn a small commission if products are purchased through links on the site.
What Is A Primer Makeup?
Primer makeup is a product designed to prime your skin for your makeup. For example, when you have a wall that has holes and flaws all over it, you don't just paint over the wall. It's going to look like crap.
Instead, you fill in the holes. Then, you put on primer so the final coat of paint is flawless. Primer helps create the base that you need to have a flawless look that you're going to love.
Types Of Primer
There are different types of primer that you'll come across. The primary primers are face primer, eye primer, and lip primer. These are sometimes called different names. For example, you might hear the words eyelid primer instead of eye primer. It's the same thing.
Eye Primer
Eyelid primer is essential for helping your eyeshadow stay in place. There are different formulas and colors available. People with oily eyelids need a formula to help absorb some of the oily to keep their eyeshadow in place. To make your eyeshadow color brighter, you can get an eyeshadow primer with a light base to give your eyeshadow more pigment.
Eye primer is nice but not always necessary. If your eyeshadow stays in place, doesn't crease and is flawless at the end of the day, you can probably get by without a primer. However, if you experience a lot of creasing or fallout, an eyelid primer is an excellent addition to your makeup routine.
To apply eyelid primer, you use a small brush and apply it all over your eyelid. Some people also use foundation, concealer, or a nude eyeshadow for their eye primer. Whatever works for you is what's important.
Our Recommended Eye Primers
Urban Decay Original Eyeshadow Primer Potion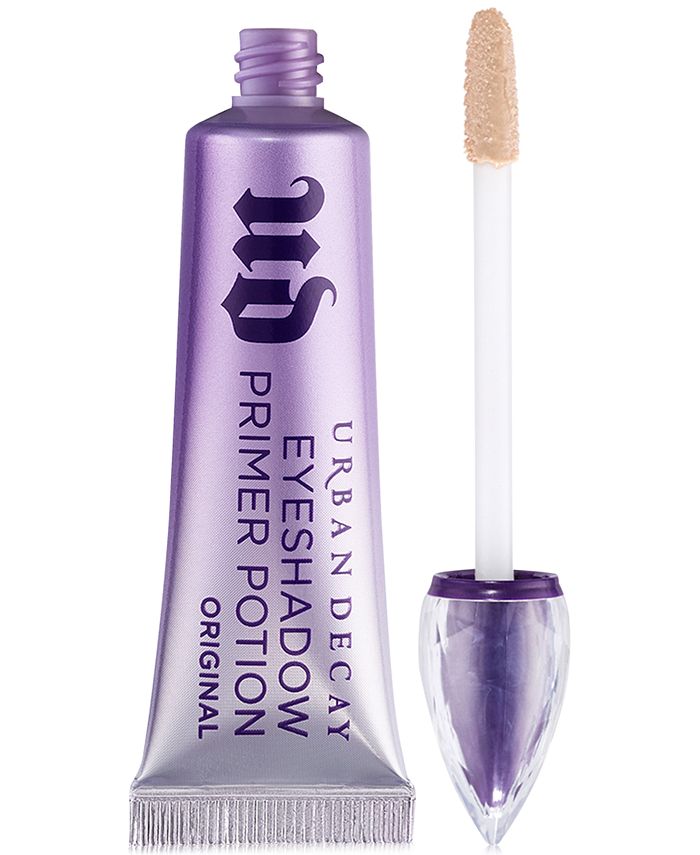 Our pick shade is a creamy nude primer that easily blends into your eyelids and flawlessly even your skin tone. This best-seller eye primer gives your eyelids a smooth, transparent base that helps your eyeshadows to glide seamlessly without creasing. Its long-lasting vegan formula keeps your eyeshadows vibrant and smudge-free all day long.
Highlights
Available in three colors – Original (Nude), Eden (Opaque Matte), and Sin (Opaque Shimmer)
What You'll Love
Our pick is a nude-transparent shade that helps in making your eyeshadows' colors eye-popping, vibrant
Suitable for all skin types.
Prevents creasing
Longevity
Vegan formula
Easy application
Ultimate Shadow & Liner Primer By NYX
The super creamy plus hydrating formula of NYX's ultimate shadow & liner primer provides a smooth, natural skin-like blurring finish to your lids, perfect to prep your eyelids for a vibrant party eye look that enhances the sheerness of your eyeshadows and holds it for more extended periods. You don't have to worry about creasing and fading eyeshadows.
Highlights
Available in four skin tone shades—Light, Medium, Medium deep, and Deep.
Infused with vitamin E
What You'll Love
Hydrating vegan formula
Four color ranges to choose from
It gives a natural blurring effect
Longevity
Lightweight
Easy application
PRIME TIME® Eyeshadow Primer By BareMinerals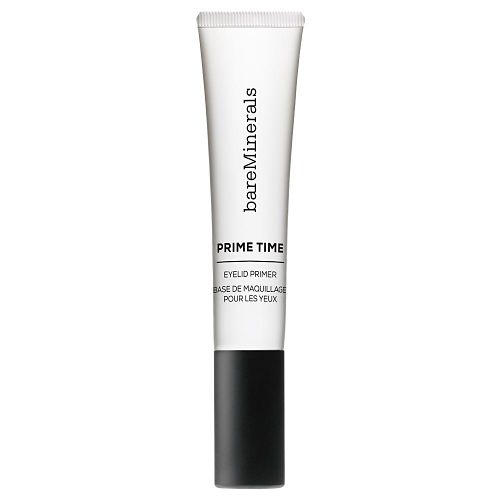 This eye primer base by bareMinerals is perfect for skin showing aging signs. Its rich, creamy texture and nourishing antioxidant formula provide a smooth base for a vibrant eyeshadow application. Wear your creamy/powder-based eyeshadows confidently for prolonged hours using this super creamylicious eye primer.
Highlights
Antioxidant-rich eye primer
Creamy texture
Available in single shades that suit all skin tones
What You'll Love
Longevity
Hydrating and clean formula
Perfect for normal, dry, to oily lids
Prevents creasing
Safe for lens wearers
Lip Primer
Lip primer does the same thing that the other primers do, but it's for your lips. Your lips are far from smooth, which can help you get the smooth look you want. It's a great way to help your lipstick last all day too. Lip primers come in a lipstick tube or look like a crayon, similar to an eyebrow pencil. These are usually white. You apply them as you do lipstick, covering your entire lip in the product. Lip primers are pretty simple, too.
Our Recommended Lip Primers
Professional Makeup Lip Primer, Lipstick Base By NYX
If you are obsessed with matte lipsticks, this lipstick base is a must-have product for you. The lip primer by NYX smoothes out your lips, creating a perfect matte canvas for lipstick application without making them appear glossy or balmy. Rock your perfect pouty lips without worrying about smudging or feathering your lipstick.
Highlights
Shade: Deep Nude
Suitable for Matt/velvety lipsticks
No smudging or feathering of lipstick
Enhance lipstick wearability for longer periods without fading
e.l.f. Cosmetics Lip Primer & Plumper
This innovative 2-in-1 cosmetic item by elf provides hydration and a solid base to hold in your lip color for extended periods. The cinnamon-scented plumper gives your lips that natural sexy, fuller look. Add extra glam to your everyday lip looks using this wallet-friendly primer.
Highlights
Locks down lipstick for longer periods
No smudging or lipstick bleeding
Cinnamon Scented plumper for fuller and larger lip appearance
Anastasia Beverly Hills Lip Primer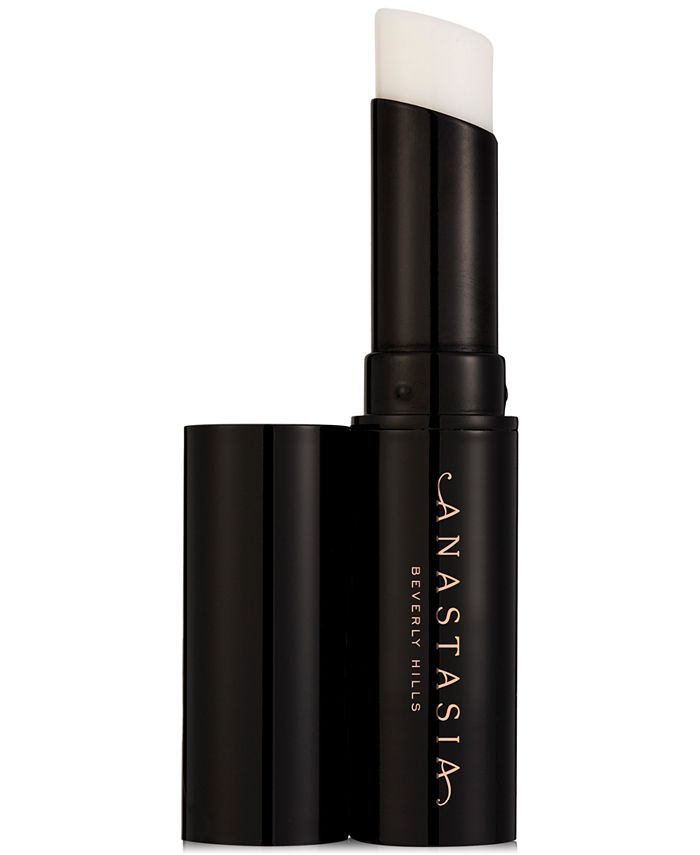 Another cult-favorite everyday item that preps your lips to create a natural pouty, glossy look. This hydrating lip primer creates a colorless base to lock in your lip products for longer periods without color fading or lipstick bleeding. You can also wear it alone or pair it with your go-to lip product for a refined natural, glossy look.
Highlights
It prevents lip color fading and feathering
Best for glossy lip products
Face Primer
Face primer is the one makeup term you'll hear more often than eye or lip primer. If you wear a full face of makeup, you need a good primer for your face. If your lipstick doesn't last all day or there's a crease on your eyelid, it's not a huge deal. It will be a big deal if your makeup looks cakey and cracks all over your face.
Should I Use A Primer If I Have Oily Skin?
Yes! You probably need a primer more than people without oily skin. As the day goes on, you'll notice that the oil on your face will start to soak through your makeup slowly. In the best-case scenario, this will give you a dewy look.
In the worst-case scenario, it will ruin your makeup, make your face look too shiny, or make your makeup cake. Make sure that you use a mattifying primer if you have oily skin. Primers help seal the pores a little so that they produce less oil.
Illuminating Face Primer
You use an illuminating face primer as you would any other primer. Apply it to your face before foundation. Illuminating primer helps balance the skin tone, giving you a dewy glow with almost no effort. These aren't recommended for people with oily skin because the combination of oily skin and an illuminating face primer can be too much of a glow. These are ideal for anyone with dry skin.
How To Apply Face Primer
This is the first step in your makeup routine. You should do this after your skincare routine and before applying foundation. Most people don't use a brush.
Squeeze the primer onto the back of your hand. Then, gently rub it into a circle to help warm up the primer. Make sure that you do not use too much. You only need a pea-sized amount. More is not better in the world of makeup.
Next, dab it onto your face. Finally, you want to swipe your finger across your face to apply it, just like applying foundation with a beauty blender. Make sure that your primer is evenly applied all over your face.
I put little dots of primer on my face and then rub it in. You don't have to. You can also dab your fingers in the primer on the back of your hand and apply it. (I'm a bit extra sometimes.)
Do You Rub In Primer?
I tend to wipe my primer across my face more than rub. However, you get the same effect either way. Some makeup artists recommend that you rub the primer into your skin to help your skin absorb more of the product.
I've tried it both ways, and it didn't make a difference with my makeup at the end of the day. It does dry and absorbs quicker if you rub it into the skin. Do whatever works for you.
How To Choose A Face Primer
If you're choosing an eye or lip primer, all the products are almost identical. That is not the case when you're shopping for a face primer. There are so many products that it doesn't take long to get overwhelmed. This guide will help you find the perfect primer to coordinate with your skin.
Consider Skin Concerns
Primers are designed to do different things. For example, some primers are specifically designed to help your pores look smaller. Others can help fill in wrinkles and fine lines. Color-correcting primers can help you skip the step of correcting discolorations, such as dark spots or age spots. Anti-aging primers are pretty popular, too.
The Type Of Skin You Have Matters
Whether you have oily or dry skin will make a big difference in the type of primer you use. Make sure you know your skin type before diving into the makeup world.
If you have oily skin, you'll want a mattifying primer. Look for a primer with salicylic acid to help prevent some of the oil.
You'll find that illuminating or exceptionally hydrating primers work best when you have dry skin, such as Illamasqua HydraVeil. These help keep your makeup in place and give your skin the boost of hydration that it needs.
Some combination primers on the market should work with oily and dry skin. Some of them work wonderfully. My skin needs tend to change over time; sometimes, I have combination skin. Dr. Brandt Primer is great for those periods.
Water Based, Oil Based, And Silicone Based
Different primers have different bases. What base they have is very important. You want to ensure that your primer and foundation have the same base. Water and oil repel each other. The two will not work together using a water-based primer with an oil-based foundation. Silicone-based primers can also make oil-based foundations look spotty as the day progresses.
Certain people will find that water-based primers work better for them, and others may benefit from silicone-based primers. You can determine which category a primer falls into by looking at the ingredient list.
Water Based Primers
Water-based primers feel watery. They are absorbed quickly and work well with dry skin. A water-based primer is also an ideal choice if you have sensitive skin. These are typically packed with nourishing ingredients and are less likely to irritate. In general, water-based primers feel more lightweight on your skin.
When you look at the ingredient list, you'll notice that there are not any silicone-based ingredients. If there are, they are further down on the ingredient list. Some water-based primers have ingredients or silicone in them, but those ingredients are not at the top of the list because the product does not have much in them.
If you want to avoid silicone altogether, opt for a primer labeled as silicone-free. Most primers have silicone in them, even if they are water-based.
Oil Based Primers
Primers with oil as a base tend to sit on the skin for more extended periods before absorption. They can prolong your makeup routine because you must wait for them to dry before moving on to the next step.
You'll see the word oil or an oil ingredient at the top. Look for ingredients like argan oil or mineral oil. More commonly, it will be in the name of the product. For example, face priming oil.
Silicone Based Primers
Silicone-based primers are suitable for filling fine lines and wrinkles and blurring your pores. However, they can cause breakouts if you have sensitive or acne-prone skin.
These primers are also great for anyone with oily skin. They typically have a mattifying effect that controls shine. The silicone can help create a barrier between your makeup and your face to ensure that the oil your face produces doesn't mess up your look.
Silicone-based primers have a thick texture that feels similar to jelly. It's common for gel primers to be silicone-based, but read the ingredient list. Some gel-like primers are water-based. The thick texture does help protect your skin from environmental harm, though.
If words end in -cone, -methicone, -silicate, -silicone, or -siloxane at the top of the ingredient list, you have a silicone-based primer. Water is almost always at the top of the ingredient list. It doesn't mean that the product is water-based. Water is necessary in every liquid product so that you can spread it quickly.
Our Recommended Face Primers
The POREfessional Face Primer By Benefit Cosmetics
The POREfessional by Benefit is the OG of all pore blurring primers. This bestseller is obsessed with its blurring superpowers, like minimizing the appearance of enlarged pores and fine lines and blurring out skin imperfections.
Best fit for:
Young to mature skin
Overall best for all skin types
Highlights
Cult-favorite pick for blurring the look of pores and fine lines.
Silky-soft blurred base effect
Translucent
Lightweight
Non-comedogenic
Contains Vitamin E derivative
Pack Up & Glow Priming Mineral SPF 40 By Wander Beauty
Protect and prime your skin for everyday makeup with this lightweight skin-perfecting formula. It provides a smooth, satin skin-like base without a greasy finish for makeup application.
Best fit for:
All skin types.
Soothes irritated and sensitive skin
Everyday SPF primer + sunscreen.
Highlights
4-in-1 skincare that protects, prevents, perfects, and primes your skin.
Protects: From UV rays, environmental stressors, and blue light.
Prevents: Photoaging and moisture loss
Perfects: Gives skin a healthy, radiant glow
Primes: Satin-like finish provides a smooth canvas for your makeup
Main Ingredients: Non-nano Zinc Oxide + Titanium Dioxide, Vitamin D, Plant-Derived Squalane + Hyaluronic Acid, Plankton Extract, Bisabolol + Allantoin
PHYTO-PIGMENTS ILLUMINATING PRIMER by Juice Beauty
Bring out the glow-from-within onto your face with this illuminating primer—a great option for skin showing aging signs.
Best fit for:
Highlights
Natural skin-like radiance
Organic rich ingredients like Aloe vera, coconut, and Vit E
Do You Already Have A Foundation You Love?
If you're searching for a new primer and already have an excellent foundation, you want to ensure the two are compatible. You want them to have the same base. For example, a water-based foundation needs a water-based primer. The same goes for silicone-based. This can guarantee that your makeup looks fantastic, and it's a great tip if you're wondering how to make it last longer.
FAQ
Is Dr. Brandt Pores No More Luminizing Primer water or silicone based?
This product is water-based. Not only does it not have silicone-based ingredients at the top of the list, but you can also tell by the lightweight feel and thin texture.
Is face primer necessary?
No, it's not necessary for everyone. If you have no skin concerns and your makeup is flawless all day, you probably won't benefit from using a face primer. However, there aren't a lot of us that fall into that category so most people consider it a necessity.
Is primer bad for your skin?
Yes. People who need primer consider it a necessary evil. It clogs your pores, which can result in more breakouts. This is why it's so important to have a good skincare routine.
Can I wear primer without makeup?
Of course you can! Primer can still give you the look you want even if you don't want to wear a full face of makeup. Many people do this to create a dewy glow or mattifying look when they have extremely dry or oily skin.
Can you use a water-based

primer with a

silicone-based foundation?

It's not recommended. Sometimes, the foundation will look patchy towards the end of the day. Instead, consider picking up a water-based foundation or a silicone-based primer. However, it's not guaranteed to separate your makeup by the end of the day like an oil-based primer and water-based foundation will.

Related Articles

Smashbox Oil And Shine Control Primer Review