Lip balms and chapstick are the most common way to deal with chapped lips, especially during harsh winter weather. But what if you don't want to use Chapstick to cure dry lips? Chapstick is known for being loaded with chemicals, creating a protective layer over the lips. It can quickly make your lips feel worse than they already do because it doesn't promote healing. Instead, learning how to heal chapped lips without chapstick is critical.
First, you must know what causes chapped lips and all the dead skin cells flaking off your lips. Then, take preventative measures to ensure that chapped lips have time to heal. Simultaneously, learn how to heal chapped lips without Chapstick to ensure that your lips are kissably smooth.
I participate in affiliate programs, including Amazon Affiliates, and may earn a small commission if items are purchased through links on the site
What Causes Chapped Lips In Summer?
While most people associate chapped lips with cold winter weather, they are also common during summer's hot, humid weather. The leading cause of chapped lips during summer is dehydration. When your body does not have enough water, there isn't enough to hydrate other areas of your body, like your lips and skin. To heal chapped lips without chapstick during summer months, ensure that you drink plenty of water. If dry skin isn't the cause of your chapped summer lips, there may be another reason.
Overexposure to the sun's harsh rays can cause chapped lips during summer. Lips can peel, blister, and even get sunburnt. In this case, a coat of shea butter won't be enough. Instead, use a coat of coconut oil or petroleum jelly to soothe chapped lips. When going outside, make sure to use lip products that have an SPF to prevent chapped lips.
Our Pick
Colorescience Sunforgettable Lip Shine SPF 35 ($29)
This lip shine gives you the pretty pigment you want in a lip gloss with the protection you need from the sun's harsh rays. Layer it over your favorite lipstick, or wear it alone.
Highlights
Available in five gorgeous colors
High-shine finish
Promotes collagen production to encourage smooth lips
Hydrates and nourishes lips
What Causes Chapped Lips In Winter?
There are multiple causes behind chapped lips during winter. We typically cover most of our body during cold weather but leave the lips unprotected. The constant exposure to the harsh, cold weather makes lips dry. During winter, unprotected lips can also get sunburnt, making those products with an SPF a makeup must-have year-round. There is also less humidity in the air throughout the winter, leading to dry, irritated skin and chapped lips.
What Deficiency Causes Dry Lips?
Niacin, also known as vitamin B3, is essential to a healthy diet. A vitamin deficiency due to a lack of niacin can give you dry skin, chapped lips, and a cracked tongue. Thankfully, it's easy to get more vitamin B3 in your diet. Foods that are packed with B3 include, but are not limited to:
Poultry, such as chicken
Whole grains
Green leafy vegetables, such as Kale
Beef
Tuna
Pork
Some dairy products and processed foods are also fortified with Vitamin B3
How To Prevent Chapped Lips
It's essential to prevent chapped lips before they start, eliminating having to cure dry lips. The lips don't have sweat or oil glands like the rest of the body, making it impossible for them to hydrate themselves. However, you can do a few things to ensure you don't get stuck with dry, flaky skin on your lips all season long.
Use Non-Irritating Lip Products
Certain products are bound to irritate your lips. Avoid lip products, including lip scrubs, that have salicylic acid, menthol, or eucalyptus as a critical ingredient. These ingredients are known to irritate. Instead, opt for ingredients with antibacterial properties that feel good on your lips, such as grapeseed oil.
Don't Use Harsh Lip Scrubs On Chapped Lips
Using lip scrubs on chapped lips can be tempting, but these can irritate lips even more. Ingredients like sugar can be harsh on your lips. Instead, stick with gentle options, such as lip oil and treatments.
Stop Licking And Picking At Your Lips
Licking your lips can feel great at the moment, but this isn't the way to heal chapped lips without chapstick. Instead, it usually makes your lips feel worse. Picking at your lips results in ripping the skin off your lips and doing more damage in the process. Instead, wet a toothbrush with water. Gently move it in circular motions across your lips to remove dead skin.
Keep Yourself Hydrated
Staying hydrated is the best way to prevent dry lips from dehydration. You should keep track of your water intake daily, especially if you struggle to drink the recommended amount daily. Free apps are available for both iPhones and Android phones to help you keep track.
If you don't like water, you can still include plenty of water in your diet. Fruits like watermelon are comprised of mainly water, making them a great idea if you're trying to cure chapped lips that are from dehydration. You can also pick up flavored water to stay hydrated. You don't have to drink tap water all day.
Use SPF
Using SPF during both summer and winter is essential. You can use products with an SPF under your lip gloss or lipstick to provide an additional layer of protection. Even better, pick up some lip color that already has an SPF to ensure that your lips never get sunburnt. Preventing chapped lips will ensure you never have to figure out how to cure chapped lips again.
Protect Lips From The Weather
In addition to keeping lips moisturized, you must ensure they are protected from the weather. Grab a scarf to wear during frigid winter weather to ensure your lips aren't exposed to the cold weather.
Turn Down The Heat
When we turn up the furnace during winter, there is less humidity in the air. There is naturally less humidity in the air during colder months already. Turn down the thermostat to help keep the humidity comfortable if you can. Picking up a humidifier is a great way to add more humidity to the air!
Our Pick
AquaOasis Cool Mist Humidifier ($30)
This humidifier is designed to increase humidity levels in both large rooms and small rooms, making it ideal for a winter companion. The auto-shut off feature ensures that your humidifier won't keep running if the tank is almost empty. Various settings let you control the humidity level in the room.
Highlights
Auto shut off
360 degree rotating nozzle
Quiet
No filters to change
Lifetime warranty
Check it out here to help heal your chapped lips!
How To Heal Chapped Lips Without Chapstick
Prevention is a great way to ensure you don't have to deal with chapped lips, but what if you already have lips covered in dead, chapped skin? These tips and tricks will help you learn how to heal chapped lips without Chapstick.
Coconut Oil For Chapped Lips
Coconut oil is lovely for chapped lips. This delicious oil is packed with natural moisturizers to help keep lips soft and hydrated. Because it's a natural oil and doesn't contain many artificial ingredients, it's unlikely to cause an allergic reaction. A simple layer of coconut oil on your lips can also provide a protective layer to prevent water loss.
Aloe Vera On Chapped Lips
Aloe Vera is great for sensitive skin and your lips. Aloe Vera plants are naturally soothing and ideal for sensitive areas like dry lips. The gel-like substance is packed with water, making it an excellent home remedy for dry lips. In addition to soothing lips and keeping them hydrated, the gel-like layer will provide a protective layer over your lips to give them time to heal.
Can You Put Vaseline On Chapped Lips
Vaseline is an excellent idea for chapped lips because it creates a protective layer over your lips, locking in moisture to prevent further chapping. However, petroleum jelly is not full of moisture. It will not give your cracked lips the dose of hydration that you need.
To use Vaseline for chapped lips, you need to get the lip therapy addition. It's packed with moisturizing ingredients. You can also apply one layer of a moisturizing agent on your lips and put a layer of petroleum jelly on top to hydrate and protect your lips.
Vaseline Rosy Lips Lip Therapy ($7.59)
Does Honey Help With Chapped Lips
Yes, honey is excellent for chapped and dry lips. It's a key ingredient in sugar scrubs that have white sugar or brown sugar to provide lips with the hydration they need. On top of that, honey is packed with antibacterial, wound-healing, and anti-inflammatory properties, which are just what your cracked lips need.
To use honey on chapped lips, use a product with honey as a main ingredient. Or, grab the honey from your pantry and apply a thin layer of honey to your lips as needed.
Lip Oil
Lip oil is specially formulated to soothe, hydrate and protect lips. If your lips are already peeling and cracked, it's still safe to use most lip oils. Manufacturers design lip oils to give your lips everything they need, including hydration and protection.
Our Picks
Dior Lip Glow Oil ($40)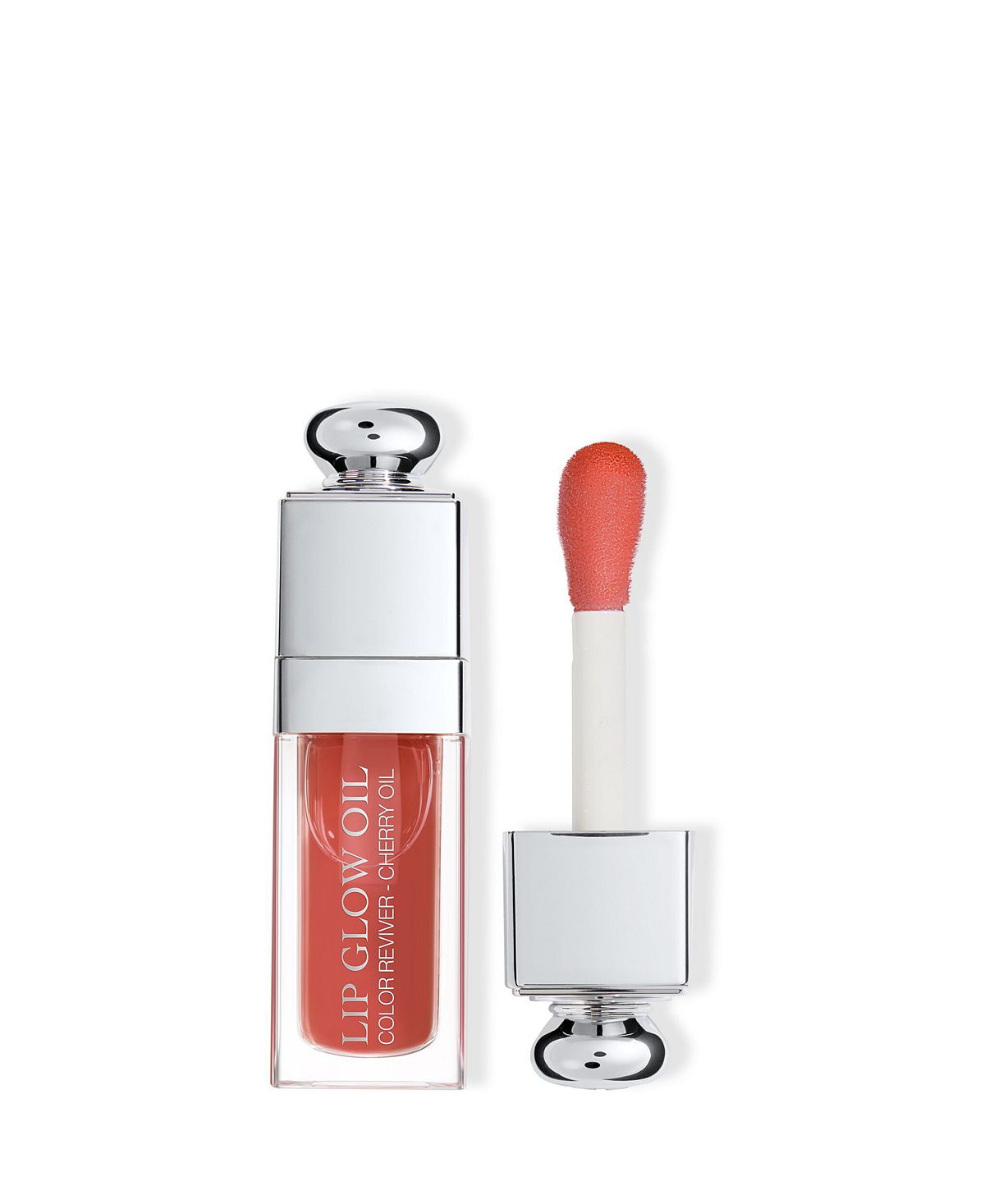 If you love luxury, Dior is the brand for you. Everything from the high-quality packaging to the plush, luxurious applicator of this lip oil makes it well worth the money. A unique formula hydrates the lips while delivering a dose of color that lasts all day. There is only one downside to this lip oil: it starts to feel tacky after so many hours. However, a quick re-application instantly solves that problem.
Highlights
Available in four beautiful shades
Hydrates and nourishes the lips
Infused with cherry oil
Non-greasy formula
Thisiseverything Lip Oil By NYX Cosmetics ($6)
This Is Everything Lip Oil is specially formulated to nourish the lips, hydrate them, and protect them. The vegan formula is sweetly scented to deliver a soothing scent you will love!
Highlights
High-shine finish
Hydrating
Nourishes the lips
Soothing on dry lips
Mix Honey And Vaseline
Honey is not the best protectant against harsh weather and moisture loss, and Vaseline is not the best at providing moisture. When you mix the two, you get the perfect combination for the delicate skin on your lips.
To use both honey and vaseline for chapped lips, mix a few drops of raw honey with Vaseline. Then, apply a small amount to your lip skin. This natural lip balm is budget-friendly and feels lovely on your lips.
Overnight Lip Treatments To Cure Chapped Lips
While home remedies to cure chapped lips are lovely, they aren't always the best way to cure them overnight. An overnight lip mask is the best if you're looking for an overnight treatment that will give you kissably smooth lips by morning. To use an overnight lip mask, slather it before bed and enjoy softer lips when you wake up.
Our Pick
Seraphine Botanicals Fruit Butter Lip Mask ($25)
If you want to cure dry, chapped lips fast, this lip mask is a must-have! Wear it overnight for drastically improved lips by morning or throughout the day for hydrating, protecting benefits, and a dose of color. I've used this on myself and my daughter, and I can assure you that it gives you results.
Highlights
Cruelty-free
It can be worn under lipstick or gloss throughout the day
Intense hydration
Nourishing
Almond Oil To Treat Cracked Lips
Almond oil is a beautiful, all-natural way to treat dry, chapped lips. It's packed with fatty acids, critical lip balm ingredients to help keep lips soft and retain moisture. It's also known for its intense moisturizing properties.
Using almond oil as a natural remedy for chapped lips is easy. Put a few drops on your lips, and rub them in. To create your DIY lip balm, mix almond oil with petroleum jelly or honey for astounding results.
Is Olive Oil Good For Dry Lips
Yes, olive oil is excellent for dry, chapped lips. If you need to know how to heal chapped lips, oils are a great place to start. Olive oil is an ancient beauty secret that is trending again thanks to it's affordability and effectiveness. This oil has fatty acids and hydration properties and helps lock in moisture making it a do-it-all lip treatment.
To use olive oil to treat chapped lips, put a few drops of olive oil on your lips, and rub it in. Re-apply as necessary throughout the day.
Green Tea Bags
Green tea bags are packed with powerful antioxidants and healing properties, but this home remedy for chapped lips is more for individuals with dehydrated lips. That's because it delivers a powerful punch of hydration to make your lips soft again.
However, green tea bags do little to prevent moisture loss. Because of that, you'll need to use green tea bags for hydration and then apply another product or home remedy to the lips to keep moisture locked in.
To use green tea bags on dry lips, steep tea bags in hot water for 5-10 minutes. Make sure that they are lukewarm to the touch to avoid accidental burns. Then, lay them on the lips for ten minutes. Next, apply an oil, petroleum jelly, or your DIY lip balm to prevent moisture loss.
Gentle Exfoliation Is Ideal For Chapped Lips
Gentle exfoliation won't cure your chapped lips, but it still has many benefits and is necessary for them. Avoid harsh lip scrubs that will do more damage when exfoliating your lips. You can use a toothbrush and water to remove dead skin cells gently.
Exfoliation is necessary to ensure that your lips aren't covered in dead skin cells and can absorb the products you put on your lips. If you don't get rid of the dead skin, you wind up hydrating dead skin cells, which does little to cure your chapped lips.
Try The Perfect Pout Lip Kit From Averr Aglow ($49)
The Perfect Pout Lip Kit has everything you need to transform your lips into the luscious pout you've been dreaming of. Every product is carefully infused with ingredients like waxes, butters, oils, and plant-based extracts to nourish your lips. It includes 1 lip balm, 1 lip mask, and 1 lip polish. It's everything you need for baby-smooth lips.
Highlights
Includes natural ingredients, such as tea wax, strawberry extract, and snow mushroom
Lip scrub is safe for sensitive skin
It helps protect against damage
Cruelty-free
See results after using it for the first time
In Conclusion
Having dry, chapped lips can be a pain, but these tips to help you learn how to heal chapped lips without Chapstick will help you enjoy the soft, kissably smooth lips you want.
Related Articles