As the weather warms up, the soft colors of Spring fade away to make room for the bold colors of Summer! Coral and blue eyeshadows are always in style, and you can't forget gorgeous sunset eyeshadow looks. You can use stunning reds and burgundies that are typically Fall colors this summer or opt for all the gold and glitter you can handle. Neon and metallic eye colors are in style, but that doesn't mean minimalist makeup looks are gone! You can still rock a nude eyeshadow with some bronzer for a naturally sun-kissed look. If you're ready to upgrade your makeup collection for the new season, these are the best Summer eyeshadow palettes to check out!
I participate in affiliate programs, including Amazon Affiliates, and may earn a small commission if items are purchased through links on the site.
18 Hit Wonders Eyeshadow Palette By E.L.F. Cosmetics ($14)
If you're searching for a budget-friendly universal Summer eyeshadow palette, this one is it. It has all the shades you need to nail one hot summer look after another. Rock artistry looks, celebrate the season with sunset eyeshadow looks, or get your glam on with glitter shades. It has the perfect blend of shimmer and matte shades to ensure you never look boring!
Why You'll Love It
Pigmented formula
Buildable
Blendable
Affordable
Cruelty-free and vegan
Refillable Eyeshadow Palette By Mineral Fusion ($28.99)
This eyeshadow palette in Summer Getaway is the perfect rosy/neutral palette to add to your summer collection. The perfect blend of shimmer and matte formulas helps you create one beautiful look after another. Virtual try-on helps you decide if this is the best Summer eyeshadow palette. After the initial cost, you'll only need to pay around $6.50 for a refill pan!
Why You'll Love It
Doesn't crease throughout the day
Fade-resistant
Good-for-you mineral makeup
Perfect for everything from camping to glamping to a night on the town
Vegan
Ultimate Edit Petite Eyeshadow Palette By NYX ($7)
This pretty palette is perfect if you've already got a fully stocked vanity but need to add some summer fun! Beautiful bright pigments blend perfectly to create gorgeous Summer eyeshadow looks that are guaranteed to turn heads.
Need to tone things down a bit? It's also available in a nude version!
Why You'll Love It
Creamy formula glides smoothly across your lids
Seriously pigmented
Blends seamlessly
Little or no fall out
Long-lasting
Caribbean Glitz Mini Mix Palette ($39)
Take your glam looks to the next level with this face palette specially created by Waheeda Kahn. Beautiful jewel tones pair perfectly with warm tones to create the perfect Summer vibe. Pair looks with one of Ofra's most iconic highlighters or opt for a bronzer to create a sunkissed Summer look.
Why You'll Love It
Vegan and cruelty-free
Refillable
High-quality
Vibrant colors with plenty of pigment
Mothership Divine Rose II By pat McGrath ($128)
The beautiful pinks and rose shades pair perfectly with warm shimmers and a glorious golden shade to create the perfect Summer sparkle. For more neutral looks, take things down a notch with nude mattes or a classic champagne color. When it comes to Summer, this is easily one of the best Summer eyeshadow palettes.
Why You'll Love It
Every shade can be used as a highlighter for your body or face
Amazing quality
Blendable and buildable
Long-lasting
Little or no fallout
Create Your Own Pallete At Unhidden Beauty
If you want specific colors and love to get creative, Unhidden Beauty is the company you've been searching for. You can create your own custom palettes to ensure you have the best Summer eyeshadow palette!
The process is simple. First, you select the size of your palette. You can choose from:
8 shade palette ($33)
12 shade palette ($42)
20 shade palette ($60)
Keep in mind this is the total cost of each palette. Unhidden Beauty breaks down the charges for you in your cart. They charge you for the empty palette itself, around $5 for customization, and then the eyeshadow singles are about $2.25 each. (The eyeshadow singles can also be purchased separately if you want to switch things up later or need a refill.)
You can also pick up an empty black magnetic palette for $10.
After picking out the size of your palette, you can customize the shades in your palette. You select the specified number of pigments from a list showing you the available colors. Many matte, shimmer, duo, metallic, and satin colors exist.
Next, you move on to customizing your palette's appearance. You select an image from the available images on your palette, or you can upload your own. Then, you select the font and color of your text and type your text in. You'll also have the option to re-name your pressed pigments during this step.
Finally, you head to the checkout section to order your palette and wait for your vegan eyeshadow palette to arrive!
If you can't find the best summer palette for you or want specific colors to add to your makeup collection, this is the best option.
Check out Unhidden Beauty here!
Suite Escape Eyeshadow Palette By Wander Beauty ($42)
Relax and enjoy Summer with the Suite Escape palette from Wander Beauty. Pigmented pastels are the perfect addition to a beachy vibe. Get glam with shimmers or enjoy a dark smokey eye with warm mattes. This eyeshadow palette is perfect if you love a toned down look without neon colors.
Why You'll Love It
Versatile palette features a nice mix of mattes and shimmers
Glides across the lids smoothly
Blends nicely
Easy to build up to create custom looks
Too Faced Born This Way Sunset Stripped Eyeshadow Palette ($52)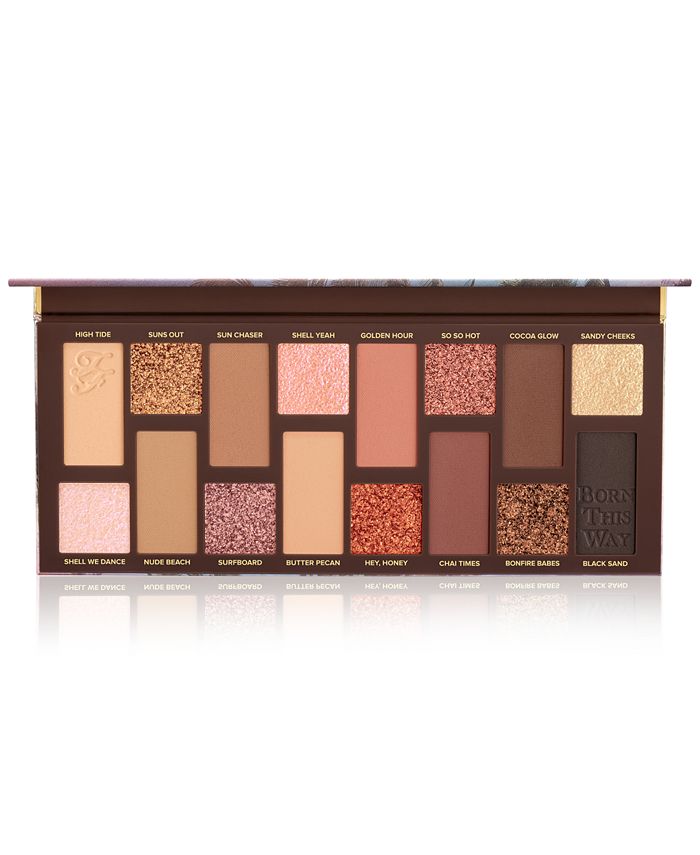 This summery eyeshadow palette was inspires by sultry, sunkissed skin. It gives you the perfect blend of mattes and shimmers to keep your eyeshadow looks on point. It offers nice neautrals and darker colors for an unbelievable smokey eye. Shimmers are available in shades ranging from light to dark to make this palette even more versatile.
Why You'll Love It
Over 15 gorgeous shades
Delivers rich color in one swipe
Blends beautifully
Made in Italy
Cruelty-free
The Beauty Crop Stargazing Eyeshadow Palette ($15)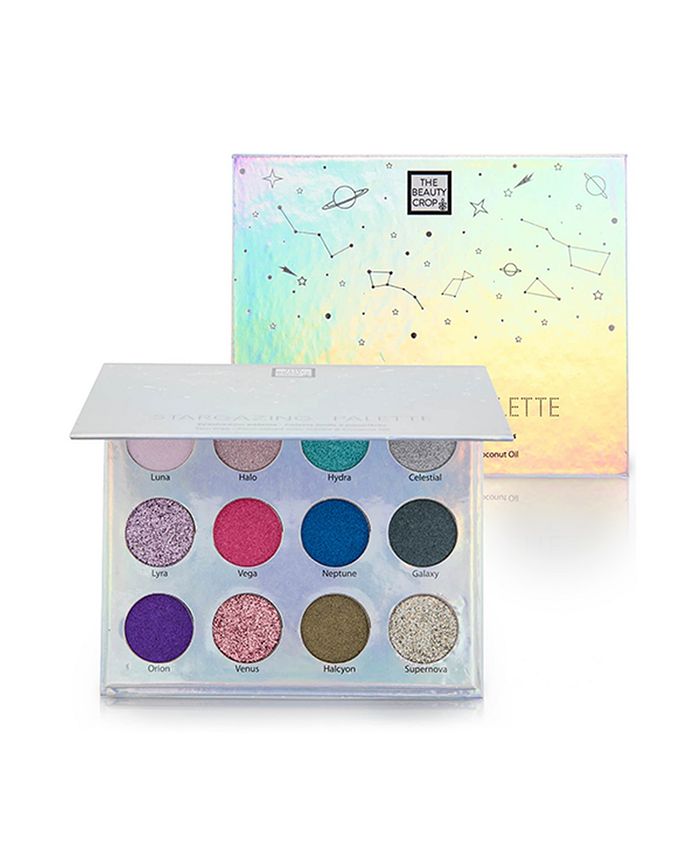 Enjoy nights spent talking under the stars for hours with the Stargazing eyeshadow palette by The Beauty Crop. Long-wearing glitter formulas are specially designed to minimize fallout throughout the day to make your look last. You won't find talc, parabens or mineral oil in the formulas either!
Why You'll Love It
Ingredients like jojoba oil and coconut oil nourish eyelids
Vegan and cruelty-free
Jewel toned shades pair perfectly with every eye color
Plenty of pigment
Rechoo 99 Colors Eyeshadow Palette ($16.99)
If you're searching for the best Summer eyeshadow palette on a budget, you can't beat this eyeshadow. The bargain price doesn't impact the pigment. These gorgeous shades show up in just one stroke to create unique looks. In this heavenly palette, you'll discover every color of the rainbow, matte formulas, shimmers, and glitter eyeshadows. You can easily purchase this palette and enjoy using it all year round. It has so many colors, it's suitable for every season.
Why You'll Love It
Beautiful pigments
Suitable for every skin tone
Blends easily
Nice coverage
These eyeshadow palettes encompass everything that you need this summer! You can find exactly what you want, from gorgeous coral and turquoise to subtle nudes. If you can't simply make the best summer eyeshadow palette at Unhidden Beauty!
Related Articles:
Best Bronzing Drops For Foundation