Now that summer's finally here, it's time to have some fun with the best summer makeup trends of the year! Some will come and go, and some we see yearly when the temperatures rise. Match your makeup game with the energy of summer with these fabulous summer makeup trends.
Some summer makeup trends like faux freckles and sun-kissed, bronzed skin will never go out of style. However, they are taken to a different level yearly to make the same beloved makeup trends new. Read on to learn everything you need to know to look fashionable all season long!
I participate in affiliate programs, including Amazon Affiliates, and may earn a small commission if products are purchased through links on the site.
Bare Skin
Bare skin and eyes that have lived are trends we've seen throughout the year, and they're not going anywhere anytime soon! Instead of layering on the foundation and concealer this season, opt for the less is more approach for a beautifully bare face.
To nail the look without dealing with your imperfections, pick up water-based concealers that don't feel heavy on the skin. Color-correcting primer can be worn alone to conceal imperfections and neutralize redness without wearing additional layers. However, this trend doesn't always apply to the eyes, so let your inner makeup artist out regarding graphic eyeliner looks!
Our Product Picks
Maybelline Baby Skin Instant Pore Eraser 2-Pack ($15.98)
Sometimes, you don't love the skin you are in, but that's okay! That's where products like Maybelline Baby Skin Instant Pore Eraser come in! This is one of the best drugstore beauty buys, and it's perfect for those "no-makeup" makeup days.
Highlights
Silicone-based to blur pores
Leaves skin smooth and soft
Why You'll Love It
Hydrating
Matte finish
It easily blends into the skin
IT Cosmetics CC+ Cream With SPF 50 ($44)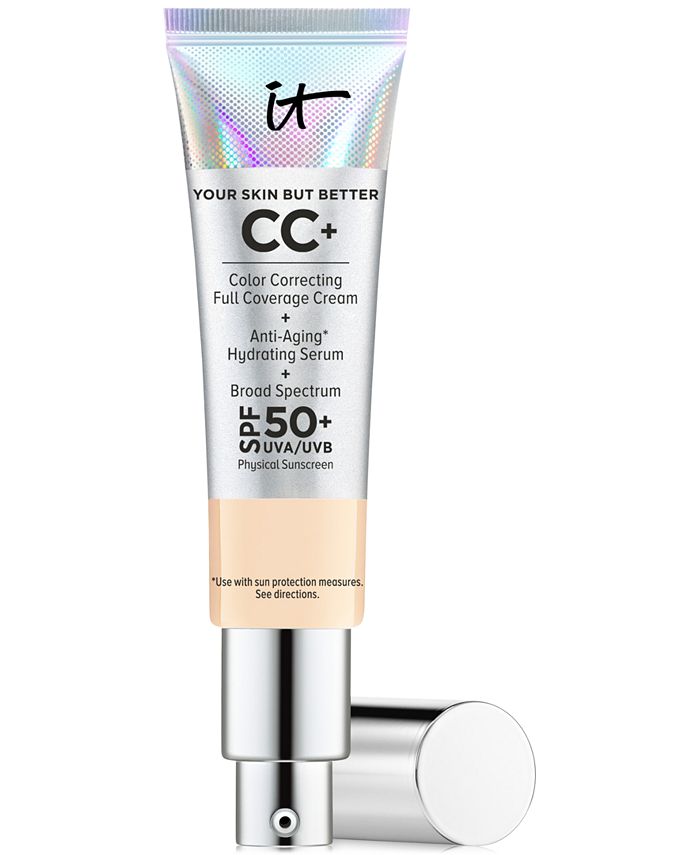 IT Cosmetics CC+ cream is the perfect companion to keep you company this summer! The SPF helps protect your skin, so you don't have to worry about how to layer sunscreen with your makeup. It can be worn by itself for the look and feel of a bare face without imperfections.
Highlights
Available in shades for every skin tone
Full coverage
It helps conceal skin concerns, such as redness
Why You'll Love It
Natural finish
Easily blend it with your fingers
Available in a travel size for touch-ups on the go
Feels lightweight
Dewy Skin
Dewy skin is always in, but this is especially true in summer. However, this year sees dewy skin on a whole new level. It's not just dewy skin; it's shiny skin. Shimmers are taken to new heights without the excess glitter we're used to seeing in new shimmer shades.
Instead, it's glass-like skin that we'll see throughout the year and this summer. If that's too dewy for you, stick with a radiant glow. These are some excellent products to give you a shimmer without glitter.
Custom Illuminating Drops By Cover FX ($42)
The custom drops collection by Cover FX is the perfect way to enhance the makeup that you already have. Mix a few illuminating drops with your foundation or moisturizer for an all-over radiance. They're available in bronzer drops too!
Highlights
Available in seven shades, including holographic
It can be used alone as a highlighter
Why You'll Love It
It's not too glittery
Suitable for every skin tone
Formulated without gluten, talc, and mineral oil
Dewy Setting Spray By NYX Cosmetics ($9.50)
Don't want to upgrade your entire makeup collection to keep up with the summer makeup trends? Make your makeup dewy with this affordable setting spray by NYX. You'll have the burst of radiance that you want for a few dollars.
Highlights
Wear it alone or on top of makeup
Holds makeup in place for up to 16 hours
Why You'll Love It
It doesn't settle into fine lines and wrinkles
Vegan
Available in standard and jumbo size
Bright Colors
Makeup colors that add the perfect pop of color are always a hit when summer rolls around! Learn how to make the perfect sunset eyeshadow with hot pink and purple, or opt for gorgeous yellow eye color. You can't go wrong with vibrant colors this summer!
However, ensure you don't overdo it with bright colors. This summer makeup trend calls for balance. You want to accentuate one or two areas but nothing more, or you'll look too clownish.
Our Picks
Bite Size Eyeshadow Quads By e.l.f. Cosmetics ($3)
These bite-size eyeshadow palettes are the perfect addition to any makeup collection. They're an affordable way to use the palettes you already have and add a new color for the season. New colors are released almost every season, so you can pick up the basics or opt for something new.
Highlights
Smooth, creamy formula
Plenty of pigment per swipe
Why You'll Love It
Travel-friendly
Affordable
Blendable
Buildable
Each quad comes with both matte and shimmer formulas
Mothership VIII Divine Rose II By Pat McGrath ($128)
This eyeshadow palette by Pat McGrath has everything you need to create sultry summer looks that capture the true essence of summer. The shades of gold, pink, and oranges blend perfectly together to create eye-catching looks, like a beautiful sunset eyeshadow look.
Highlights
Includes both matte and shimmer formulas
Seriously pigmented
Why You'll Love It
The formula glides on smoothly
A little goes a long way
Heavenly palette design
Shades work well year round
Colorful Eyeliner
This eyeliner trend popped up on the scene a few years ago, and it's not going anywhere! Now that summer is here expect this makeup trend to include brighter colors. Bold colors of bright blue and dazzling pink will replace the tiny bit of color we saw last Spring.
Our Pick
Urban Decay 24/7 Glide-On Waterproof Eye Pencil ($25)
When it comes to an eyeliner pencil, this waterproof eye pencil is one of the best. It's available in various creamy shades that pair perfectly with summer makeup trends. The formula glides across your lids like butter and stays put after it dries.
Highlights
Why You'll Love It
It doesn't tug on the eyelids
Pigmented
Blendable
Summer Makeup Trends Are Full Of Vivid Color Combinations
Everything about summer screams more energy and fun, and this makeup trend perfectly matches the summer vibe. Instead of classic combinations that involve one bright color or pops of color, expect to see vivid combinations this year. Pair teal with purple instead of metallic shades.
Bright Lip Colors
You won't just see daring eyeshadow palettes this year. The sheer color of Spring is out, and the bright pops of color for summer are in. Get on board with this makeup trend by learning simple lipstick art or enjoying bright purple lips!
Natural Beauty
Natural beauty never seems to go out of style, primarily because these makeup tricks and tips work so well if you're fair-skinned. Instead of a bold eyeshadow shade, opt for nude shades. Put a light dusting of color along your brow bone, and stay away from bold brows. Give yourself a light dusting of bronzer for a golden glow, and finish the look with clear lip gloss!
Neon Eyeliner
Neon shades of eyeliner are a huge hit this summer! Pick up your favorite vibrant shades and settle down for a fun Saturday afternoon of learning how to do graphic eyeliner to make every head turn when you walk through the doorway. NYX Cosmetics has plenty of artistic cosmetics to help you enjoy the latest summer makeup trend!
Flushed Cheeks
This summer makeup trend involves using the hottest colors to give your cheeks a flushed appearance instead of a sun-kissed glow. It's time to put down the bronzer and occasionally pick up the blush!
However, you need to be careful with summer trends like this. Bright eyeshadow is also in this year, but once you pair flushed cheeks with bold eyeshadow, you risk looking like you're wearing too much makeup. Instead of looking like a clown, pair this trend with some brown shadow instead of a bold shadow.
Our Pick
Keys Soulcare Cheek Tint ($22)
This cheek tint delivers the perfect wash of color to your cheeks without going overboard, making it a summer essential if you're in love with bold-eye looks that are a summer makeup trend this year. The unique formula is carefully infused with sunflower oil to nourish your skin. 
Highlights
Available in multiple shades for various skin tones
Why You'll Love It
Absorbs quickly into the skin
Buildable in case you want more pigment
Need to know more summer makeup tips and tricks? Check out the rest of the blogs to guarantee that your makeup game stays on point!
Related Articles
Best Summer Eyeshadow Palettes