There are so many eyebrow products on the market that it can be challenging to figure out the difference between them all. A quick search will reveal brow gel, brow pencils, tinted brow gel and thousands of tips to get natural-looking brows. One product you'll come across again and again is eyebrow pomade. What is pomade for eyebrows, and do you need one? We'll go over everything you need to know. 
I participate in affiliate programs, including Amazon Affiliates, and may earn a small commission if items are purchased through links on the site
What Is Brow Pomade?
Brow pomade is a thicker brow product that usually comes in a pot. Pomades typically contain wax and oils that make them more solid than other brow products. They are available in a variety of colors, helping you find the perfect shade for a natural finish. You can use brow pomades to shape the brows, fill in sparse areas or fill in your entire brow. These products tend to look more natural than others, making them a favorite. 
How To Apply Eyebrow Pomades
Before applying any brow product, brush your brows with a clean spoolie. This will help you identify problem areas that need to be filled in. For example, if you don't have sparse eyebrows but have small patches, you need to fill in. A spoolie brush will also help brush down unruly hairs. 
Apply brow pomades using an angled brush. A quick swipe across the pigment in the pot with your angled brush is all you'll need. If you do several swipes, you'll wind up with an excess product that doesn't look natural. 
Then, using short, upward strokes, apply the pomade to the arch of your brow, slowly working your way outwards towards the end of your brow. The small strokes create the appearance of more natural hair and ensure you don't wind up with too much pigment on your brows. After completing this section on both brows, complete the inner half of your brows using the same method. 
After filling in your brows, it's essential to blend. Blending ensures no harsh lines and that your pigment blends with your brow hairs for a natural appearance. 
Finally, use an eyebrow gel to lock your look in place. Brow gel won't smudge your pomade or brow cream. Instead, your hair-like strokes will be carefully protected. It'll also work to keep eyebrow hairs in place all day long for the perfect brow look. 
Pros Vs. Cons Of Using Brow Pomade
There are several wonderful and not-so-wonderful things about brow pomade. Consider both of these when deciding whether this product is right for you!
Benefits Of Eyebrow Pomades
Serious Staying Power
Brow pomades are usually made with a combination of waxes and oils. This unique formula helps them stay in place longer than other brow products, such as brow powder. The wax will do double duty too! It'll work with your brow gel to ensure unruly hairs don't get out of place by the middle of the day. 
Fuller Brows
If you have sparse brows, you can rest assured that brow pomades will give you the look you want. They instantly help you achieve fuller, thicker brows. 
Precise Application
While I love my Anastasia Beverly Hills tinted brow gel, there's something to be said about the precision that goes hand in hand with using an angled brush and brow pomade. It's not as messy, harder to mess up, and beginners can easily achieve flawless brows. 
Dries Quickly
When you compare a brow pomade to tinted brow gels, pomade dries quicker. You have enough time to blend it out before it's locked in place. While this might be a bad thing for beginners, it can be wonderful when you're trying to get out the door. 
Downsides Of Brow Pomade
Not As Many Colors Available
When you compare brow pomades to other products, such as eyebrow powder, you can't help but notice that you don't have as many options when it comes to the shades available. Some brands only offer two or three shades compared to liquid brow products that offer 20 shades. This can make finding something that suits your skin tone more difficult. 
It's Easy To Go Overboard
Because brow pomades are so pigmented, it's easy to go for a natural look by creating individual brow hairs and wind up with a brow that is too bold for your face. There is a slight learning curve to using brow pomades. 
Brow Pomade Tips And Tricks
Brow pomade is a beginner-friendly product. While it does tend to take more time than eyebrow pencils, you'll love the results. Here are a few tips and tricks to help you achieve your desired look, regardless of your experience level. 
Use Light Strokes
It seems like every pomade product is seriously pigmented. This is great because you can create the appearance of brow hairs, but if you apply pomade heavy-handed, your brows will look unnatural, and the product may clump or flake off as the day goes on. 
Always Consider Your Personal Style
As brow pomades increase in popularity, you'll discover a wide array of formulas on the market. Wax pomades are great for more natural looks, while gel-like ones create more intense, dramatic looks. Always keep in mind the look you want while you're shopping. 
Try Products Designed For Hair Growth
If you have sparse brows, brow pomade is a great way to fill your eyebrows. However, you can take things further by investing in products designed to help your brows naturally grow thicker. 
Always Keep The Lid On
Brow pomades do not last as long as your cream eyeshadow pots. If you leave the lid off, it can dry out rather quickly. Ensure you put the lid back on after every use so it doesn't dry out. 
Practice Makes Perfect
Makeup artists and beauty gurus make achieving the perfect brow look simple, but there's a bit of a learning curve to it. You can easily go for bold brows and accidentally wind up with blocky brows that look horrible. Take the time to watch some videos about how to apply brow pomade. Always use an angled brow brush and a separate brow brush for blending. Then, practice when you're not planning on leaving the house to ensure you've mastered the technique. 
Apply Almost No Product On The Inner Half Of Your Brow
The inner half of your brow is likely thicker and fuller than the outer half. This is extremely common. Applying the same amount of product to the inner half as you do the outer half will make your brows look blocky instead of giving you the natural brows look you're going for. 
Awesome Brow Pomades
Anastasia Beverly Hill Dip Brow Pomade ($21)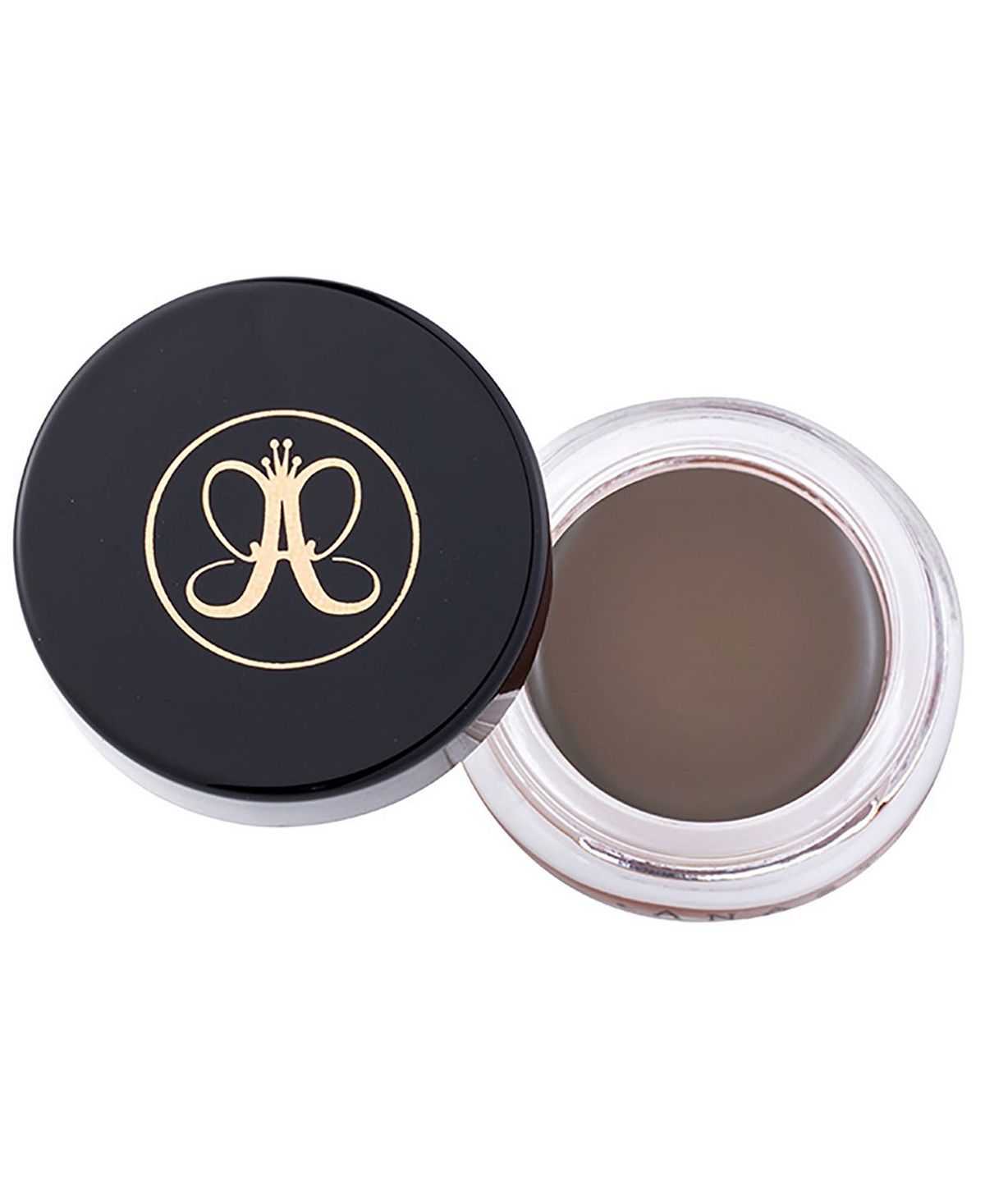 Anastasia Beverly Hills has become well-known for it's outstanding brow products. Once you try the brow products from Anastasia Beverly Hills, you'll fall head over heels in love. 
Why You'll Love It
Great for sensitive skin
Dipbrow pomade has a water-resistant formula
Natural-looking finish
Benefit Cosmetics POWmade Brow Pomade ($23)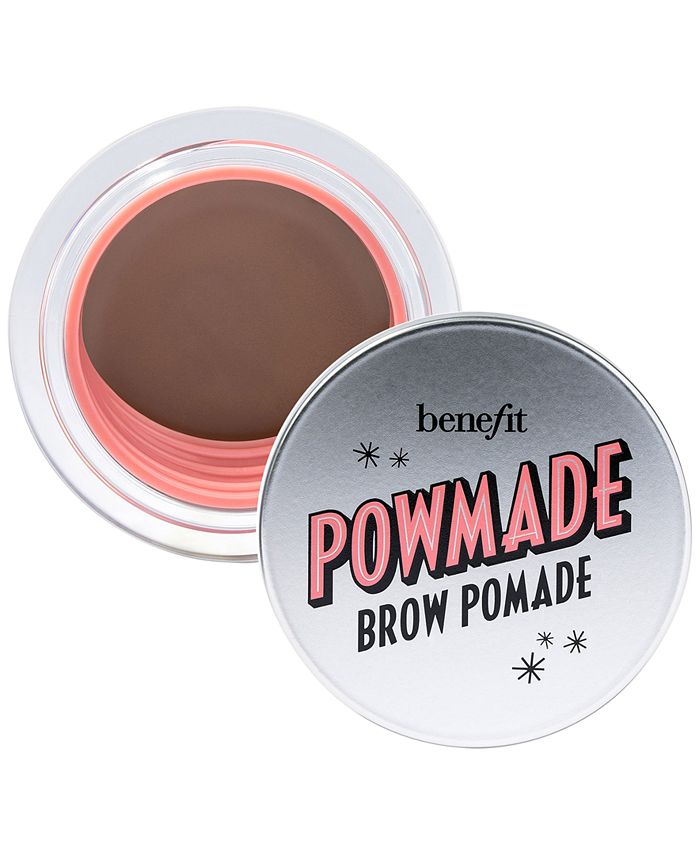 Benefit Cosmetics is another great brand with a major stake in brow products. It consistently produces one high-quality eyebrow product after another, and you won't be disappointed with this cream-based formula. 
Why You'll Love It
Various shades available to match your natural hair color
Creamy pomade glides on smoothly
Smudge-proof and waterproof pomade
Final Thoughts
Regarding pencil vs. pomade, I love brow pomades because you can create your desired authentic look. On the other hand, they create harsh lines that make blending a must and aren't ideal for certain looks like fluffy brows. Pencils, especially gel-like pencils, are great for beginners, too. However, you also can't say too many bad things about brow pens. Give a pomade a try if you're ready to try something new, but make sure you pick one up in the right shade and allow for plenty of time to practice so you can achieve perfect eyebrows. 
Related Articles
Billion Dollar Brows Brow Butter Review
How To Tweeze Eyebrows For Beginners