When learning how to apply makeup, you're bombarded with a ton of products that go on your face. It can get a bit confusing, especially with all of the cool makeup hacks you can find online. One of the most common things people confuse is whether to apply powder highlighter before foundation.
I participate in affiliate programs, including Amazon Affiliates, and may earn a small commission if items are purchased through links on the site.
What Is Highlighter Makeup?
Highlighter makeup reflects light and instantly brightens the skin for an instant glow-up. Most people apply highlighter on the high points of their face or areas they want to pop. Common places to put highlighter are:
The cheeks
Just under the eyebrow along the brow bone
On the tip of the nose
Along the inner corners of the eye
However, you can put highlighter wherever you want. Some people put it on their nose and forehead instead of using concealer or along their collar bones, too.
Featured Highlighters
Endless Glow Highlighter by Bare Minerals ($31)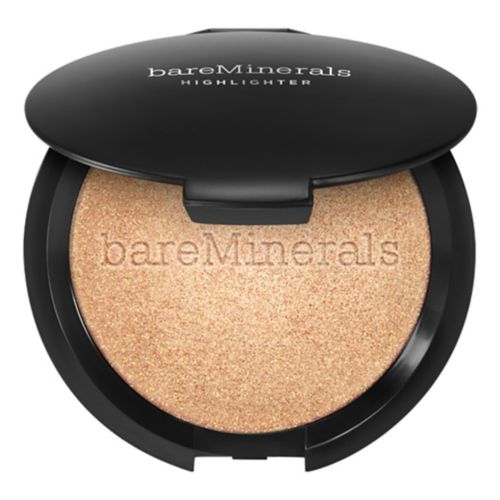 This glitter-free formula delivers natural-looking radiance with a few brush strokes. Choose from five gorgeous shades to find the perfect one to match your skin tone! Powder formulas like this one glide across the skin like a cream highlighter but give you all the benefits of a powder.
Why You'll Love It
Talc-free
Glides smoothly across your skin for easy application
Instant blurring effect
Applies evenly
Cruelty-free and vegan
Revlon ColorStay Endless Glow Liquid Highlighter ($7.92)
This gorgeous liquid highlighter provides the color you need for an instant glow-up. It's seriously pigmented, easy to blend, and easy to apply. If you need a liquid highlighter to pair with your liquid foundation, check this one out!
Why You'll Love It
Even application
Blendable
Buildable
Includes treated pearls to reflect light, giving you the ultimate shine
Cover FX Custom Enhancing Drops ($42)
Cover FX Custom Enhancing Drops will revolutionize the way you think of highlighter. They're available in various shades to guarantee you get the glow your skin tone needs. You can mix them with foundation or other makeup for a subtle glow or wear them for an intense liquid highlighter.
Why You'll Love It
Zero gluten and mineral oil
A little goes a long way
Lightweight
Mix it with your moisturizer for a natural glow
Suitable for all skin tones, including darker skin tones
Works with every skin type, including oily skin
How To Apply Highlighter Makeup
Most people apply a highlighter as the last step of their makeup routine to add an instant dewy glow to their faces. However, the wonderful thing about makeup is that there are no rules. Some highlighters are too luminescent or pigmented for your taste. In that situation, apply a highlighter as the first step in your makeup routine to dim the highlighting effect. You can also apply a highlighter to specific facial features to make them pop, like the corners of your eyes.
To apply a highlighter, use a fan brush to lightly dust powder formulas across the face. For liquid formulas, gently dab dots of highlighter in the area you want to apply. Then, blend it in with a brush or beauty blender.
After applying your makeup, set your look with a light dusting of translucent powder or setting spray.
Does Highlighter Go Before Foundation?
Highlighter can be worn before or after foundation. For a more pigmented look, wear a highlighter on top of foundation. For a soft-focus finish, the highlighter goes on before the foundation.
Typically, Powder Highlighter Goes On After Foundation
When you apply powder highlighter, you want to put it on after foundation. If you don't, you might notice that you don't look like you're wearing a highlighter at all. However, there are some exceptions.
Liquid Highlighter Can Be Worn Before Foundation For A Luminous Glow
Some people apply highlighter all over their face before applying their foundation. This gives them a gorgeous all-over glow. This has led to the misconception that people should apply all highlighters before foundation, but that isn't always the case. Instead, you want to look at what products and formulas you're using. Then, take into account the look that you want to achieve.
Apply Setting Powder After Foundation
After you apply the foundation, you want to set the foundation before applying your powder highlighter. This will give you a smooth, creamy base to work with. You'll have the perfect canvas for a light dusting of highlighter powder.
Apply Foundation Last To Dull Your Highlighter
Highlighter is supposed to give you a bit of a glow, but certain products give you a bit too much glow. Don't toss out your new highlighter just yet if that's the case. Instead, you can dull your shine a tad by applying foundation second. This is why some people swear that foundation goes on after powder highlighter. It can help you achieve the look you want, depending on what that look is.
You Can Mix Your Highlighter And Foundation
If you want an all-over glow, and don't appreciate the brightness of your highlighter, consider mixing your highlighter and foundation. This makeup hack works wonderfully to give you radiance without going overboard.
Does Highlighter Go On Before Or After Blush And Bronzer?
Wearing blush, bronzer, and highlighter simultaneously can create a gorgeous look full of color and glowing skin. Applying them in the correct order is critical to pulling off this look. First, apply your bronzer. Second, apply blush and blush products, like cheek tint. Last, apply your highlighter.
Where To Apply Blush
Applying products in the proper order is critical, but so is ensuring that you apply them in the proper place. Blush goes on your cheekbone. Put a dab of blusher on the apple of your cheeks, and sweep the color towards the outside of your face, going outwards and upwards towards your eye.
Where To Apply Bronzer
Bronzer goes in the hollow part of your cheek underneath your cheekbone, forehead, and chin. Imagine drawing a three on your face that starts on your forehead and ends on your chin.
In What Order Do You Apply Blush, Bronzer, And Highlighter?
First, you apply blush, then bronzer, and then highlighter. If you switch the order to apply bronzer before blush, it shouldn't make a difference because they are both applied in different parts of the face. However, always remember that highlighter goes on last.
Final Thoughts
Applying powder highlighter under foundation is a beautiful way to create a naturally radiant glow. It gives you the glowing-from-within look to give you radiance without going overboard. This is the perfect way to dim down highlighter that is too pigmented or luminescent for your taste. 
Related Articles
Highlighter Hacks (13 Tips For An Instant Glow Up)