The benefits of rose water spray for the face continue to amaze us, but rose water face mists have just begun to become popular. This face mist is more than just another scent or trend, though. You can get a few benefits from including rose water in your beauty routine.
I participate in affiliate programs, including Amazon Affiliates, and may earn a small commission if products are purchased through links on the site.
What Is Rose Water Spray?
Rose water spray is a trend that never goes out style. It stays trending, leading to rose water facial sprays being packed with good-for-your-skin ingredients. However, an essential rose water spray needs roses and water. The power of roses will give you an unbelievable number of skincare benefits.
Benefits Of Rose Water Spray
Rose water sprays have a great deal of skincare benefits depending on their ingredients. Rose water sprays that are infused with other herbs go above and beyond to nourish your skin. You don't need the extra ingredients to enjoy the benefits of rose water spray, though. All you need is an essential rose water facial spray, and you can enjoy all of these benefits.
Rose Water Is Great For Oily Skin
If you're prone to oily skin, spritz your face with a rose water facial mist 1-3 times daily. Rose water is known for helping to balance the skin, including sebum production. It can help you reduce breakouts while smelling heavenly.
How To Use Rose Water For Oily Skin
To use rose water for oily skin, use a facial mist to spritz rose water on your skin or a cotton ball. To use a cotton ball, soak the cotton ball in rose water. Then, dab the rose water on oily patches or acne-prone areas. This is an excellent method for anyone with combination skin.
Rose Water For Dry Skin
Rose water face mists don't just offer benefits for oily skin. They can also work wonders for dry skin! Rose water can give you an instant boost of hydration. Moisture is essential for preventing dry skin from becoming worse or inflamed.
It's A Natural Toner
This is one of the biggest benefits of rose water spray for the face. This benefit does not last, so you'll have to keep using rose water facial mists or face masks to enjoy it. However, rose water is an exceptional toner. It can instantly help increase the tightness of your skin to prevent wrinkles and signs of premature aging. Your complexion will look radiant and youthful.
Rose Water For Skin Lightening
Rose water won't necessarily lighten your skin, but it can help you achieve an even complexion. That makes it the go-to choice for anyone that has red skin on the face. Rose water face mists act as a calming agent to reduce redness. They also help clear out clogged pores to help further reduce inflammation of the skin.
Rose Water Helps Reduce Anxiety
Rose water has quite a few benefits when applied topically to your skin, but it also has lovely aromatherapy benefits. The scent of roses relaxes, helping to soothe anxiety while promoting relaxation. This study studied the impacts of inhaling rose water and found that patients with anxiety experienced at least some relief when smelling rose water. It also has anti-depressant properties, but consult your doctor before using any natural remedies.
Sleep Better With Rose Water Spray
Spraying rose water on your face as a part of your nighttime skincare routine can have remarkable benefits and help you sleep better. After spraying your face with rosewater, you cannot help but inhale the heavenly scent of roses. You'll feel blissful as if you're in a rose garden. The scent will slowly soothe anxieties that keep you awake to help you fall asleep faster and get better sleep quality.
It Helps Prevent Premature Aging
Rose water is extremely popular in the cosmetic industry because it's a wonderful toner and helps prevent premature aging. That's because rosewater contains antioxidants, Vitamin C and Vitamin A. These three ingredients work together to provide powerful anti-aging properties. Then, the collagen in the rose water helps visibly plump your skin, reducing the appearance of fine lines and wrinkles and preventing new ones from forming.
Promotes A Healthy Skin Barrier
When your skin barrier is compromised, as is often the case with conditions like eczema, it can lead to more water loss. Over time, this means that your skin will be dehydrated. Rose water is packed with antioxidants to help promote a healthy skin barrier, preventing water loss. The rose water will hydrate your skin and help keep it hydrated and plump.
Powerful Antioxidant
Everyday, our skin is exposed to harsh environmental factors, such as free radicals and pollution. These can slowly damage the skin, and lead to premature aging. That's where antioxidants come in. They help protect your skin from damage. Then, they work hard to help heal damaged skin. That's why skincare products with antioxidants are so important for your skin.
Rose Spray Feels Refreshing
When it comes to rose spray, one of the best benefits is that it feels refreshing. If you tend to suffer from a midday slump, a quick spray of rose spray will help wake you up. You'll instantly feel refreshed without needing a cup of coffee with your lunch.
It Feels Soothing
If you have dry or sensitive skin, the soothing feeling of rose water spray can help calm your skin down. It provides soothing hydration for dry skin to feel soft and smoother instantly. Rose water can also feel soothing on irritated skin, such as if you have a sunburn.
How To Use Rose Water Spray
Using rose water spray is easy. First, pick up some rose water facial spray. Then, consider the benefits you want from your rose water facial spray. To use rose water as a toner, spray your face twice daily during your skincare routine. For a midday pick-me-up, spray your face in the middle of the day. If you want a better night's sleep, make sure you use it at night before laying down for bed. For irritated skin, use rose water spray as necessary. It's not possible to use rose water spray too much.
Put Rose Water Spray In Your Face Mask
To enjoy rose water spray's soothing and toning benefits, you can mix it with other skincare products, such as your favorite face mask. Spray a bit of yoru rose facial mist into your face mask, and mix it with your fingers or a small spatula. Then, apply it as you normally would.
How To Make DIY Rose Water
Picking up rose water face spray is easy, but you can also make an essential face spray at home with a few simple ingredients. Combine 1 cup fresh rose petals and 3 cups water in a small pan. Then, simmer the rose petals until they have lost their color. Then, let it cool and put it in your favorite bottle.
Most people prefer a spritz bottle to spray their face, but that's not necessary. You can put your rose water in a regular bottle or container and apply it with a cotton pad.
The rose water will last approximately a week if you store it in the fridge. Remember that it goes bad sooner than store-bought products because there are no preservatives or other ingredients to keep it fresh.
Popular Rose Skincare Products
Making your rose water is great, but if you want more, check out these fantastic rose skin care products. They're packed with all of the properties of rose water, such as astringent properties, and there's something for almost every skin type.
e.l.f. Facial Oil Mist In Restoring
This heavenly facial oil mist is gently infused with rose oil to enhance the scent of roses. Natural rose water gives you the wonderful benefits of this remedy from ancient times, such as anti-inflammatory properties, antiseptic properties and more!
Why You'll Love It
Restores the skin
Soothing scent
Use it as a toner or to refresh yourself midday
Lancome Rose Sorbet Cryo-Mask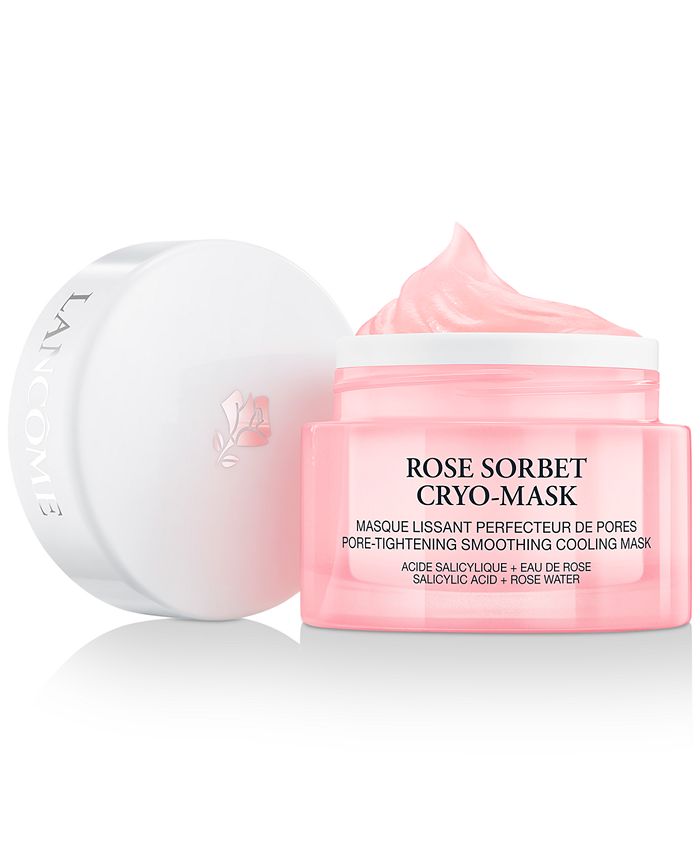 A five-minute mask that gives you visibly younger, refreshed skin in mere minutes. The Rose Sorbet Cryo-Mask is packed with ingredients that will pack a powerful punch.
Why You'll Love It
Suitable for every skin type
Visibly reduces the appearance of pores
Smooths uneven skin texture
Infused with rose water
Rose Water Spray For Face And Hair
An organic rosewater toner with all of the amazing benefits of rosewater without the extras. It's made with real Bulgarian roses, delivering the fresh scent of roses with every spritz. 
Why You'll Love It
Alcohol-free
Organic
No artificial fragrance
Final Thoughts
Rosewater for the face remains an ancient remedy that helps prevent aging, soothes the skin, and gives your skin a refreshed look and feel. A few quick sprays will instantly make your skin look and feel better. For more skincare information, check out the rest of the blogs!
Related Articles
Harmony Rose Petal Facial Mask by Feel Beauty Review