Retinol is a buzzy word in the beauty world. You might have seen this derivative of Vitamin A touted as a miracle anti-aging ingredient, but what does that mean for how you use it? Should you be slathering it all over your face every day? Here's what you need to know about should you use retinol everyday and how to use it for your best skin ever!
I do participate in affiliate programs, including Amazon affiliates, and may earn a small commission if items are purchased through links on the site.
You Shouldn't Use Retinol Every Day In The Beginning
When it comes to retinol, more is not always better. In fact, if you're just starting out with this powerful ingredient that is known to up your collagen production, it's best to use it only every other day or even just a few times a week.
This also applies to any product that has retinol as an active ingredient. You'll often find it in products that are designed to reduce wrinkles or promote an even skin tone.
That way, you can avoid potential irritation and dryness. And trust me, you really don't want to deal with that. So start slowly and then ramp up as your skin gets used to it.
This is important for every skin type, but especially for anyone that has sensitive skin. If you have sensitive skin, you're more likely to deal with side effects like irritation and extreme redness.
Start Slow
In the beginning, it's best to use it only once or twice a week, gradually increasing the frequency as your skin adjusts. That way, you'll avoid any irritating side effects, like dryness, redness, and peeling.
To do this, implement one product with retinol in it into your skincare routine on a specific day. Only use it on that day.
Keep in mind that you will not see your skin concerns addressed overnight, especially if you only use over the counter retinols once per week. It takes time to see brighter skin. You'll need to use retinol in your daily routine for a few weeks before you start seeing a noticeable difference.
Then, you can slowly increase the rate that you use it in a few weeks. This will get your skin used to a fast cell turnover so your skin cells won't become as irritated.
Watch For An Allergic Reaction
Retinol is a popular ingredient in skincare products, but it can cause an allergic reaction in some people. If you're using a retinol-containing product, be on the lookout for signs of an allergic reaction, such as redness, itching, or swelling.
If you experience any of these symptoms, wash the product off immediately and consult a doctor. With proper care, an allergic reaction to retinol can be treated quickly and effectively.
Slowly Work Your Way Up
So you've been dying to try retinol products but you're scared of the potential side effects, like dryness, redness, and flakiness? No need to worry, there are ways to slowly work your way up to using retinol more frequently so that your skin can get used to it.
Start by using it once a week, preferably at night since retinol can make your skin more sensitive to the sun. Apply a pea-sized amount to your entire face and neck, and if you start to experience any irritation, cut back to using it every other week.
Once your skin has adjusted to once-a-week use, you can start using it every two nights. Continue to increase use until you are able to use it every night.
You can also start with products that have a low percentage of retinol to make sure that you are less likely to have an adverse reaction. As a general rule of thumb, prescription retinoids have a higher percentage of retinol than over the counter products.
Remember to always follow up with a moisturizer to help combat any dryness. With these tips, you'll be able to enjoy all the benefits of retinol without any irritation.
Avoid Using Retinol During The Day
Retinol can make the skin more sensitive to sunlight. For this reason, it is generally recommended that retinol be used at night. D
uring the day, it is important to use sunscreen to protect the skin from the sun's harmful rays. Otherwise, you may experience irritation, redness, or other side effects from using retinol during the day.
If you're looking to keep your skin looking young and healthy, be sure to use retinol at night and sunscreen during the day.
Can I Use Retinol Every Night?
You might be wondering, can I use retinol every night? The answer is maybe! Retinol is a powerful ingredient that can help to improve the appearance of fine lines, wrinkles, and uneven skin texture. It's amazing to watch dark spots slowly fade away as bumpy, dry skin slowly turns into smoother skin!
However, it can also cause dryness, redness, and peeling, particularly when used in high concentrations. If you're just starting out with retinol, it's best to use it every other night or even just a few nights per week to give your skin a chance to adjust.
You can also try using a lower concentration or applying it only to areas where you're concerned about wrinkles or uneven skin texture. If you do experience dryness, redness, or peeling, cut back on how often you're using retinol until your skin adjusts.
When To Stop Using Retinol
Retinol is one of the most popular anti-aging ingredients on the market today. Often found in serums, creams, and masks, retinol can help to reduce the appearance of wrinkles, fine lines, and age spots. However, retinol can also be drying and irritating, so it's important to know when to stop using it.
For most people, retinol should only be used a few times a week, and even then it's important to use a light hand. If you start to experience redness, flakiness, or excessive dryness, it's time to take a break from retinol. While it can be tempting to keep using a product that seems to be working, it's important to listen to your skin and give it a break when it needs it.
Best Retinol And Retinol-Alternative Products
Retinol Moisturizer Cream ($8)
This age-defying moisturizer cream helps visibly reduce the signs of fine lines and wrinkles. It glides on smoothly, absorbs quickly, and produces results.
Highlights
Reduces visible signs of aging, such as fine lines and age spots
Affordable
A potent blend of natural and synthetic ingredients gives powerful results
Why You'll Love It
Natural ingredients like aloe vera moisturize the skin
Green tea extract delivers potent antioxidants
Tightens the skin
Promotes elasticity
Absorbs quickly
Non-greasy feel
Bare Minerals Phyto-Retinol Eye Cream ($46)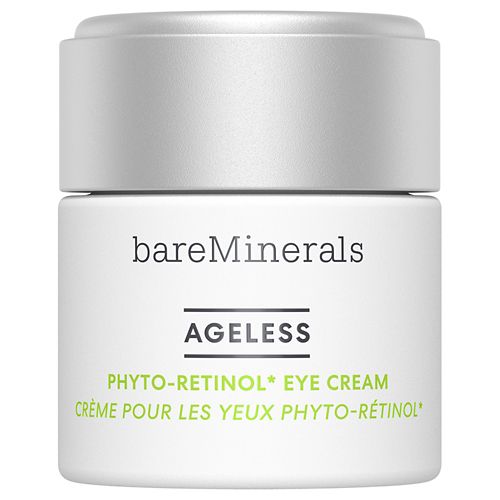 Bare Minerals has a comprehensive phyto-retinol collection that includes phyto-retinol products for your lips, neck area, face, moisturizers, etc. There is a product to help fight the aging process in every area. One of our recommended products is the Bare Minerals Phyto-Retinol Eye Cream.
Highlights
Minimizes crow's feet and fine lines in the eye area
It helps decrease puffiness while promoting an even color
Provides intense hydration
Why You'll Love It
Absorbs quickly
Doesn't feel greasy or heavy on your face
Gluten-free
Cruelty-free
Promotes an even skin tone and texture
Moon Fruit Retinol Alternative Sleep Mask By Herbivore Botanicals ($45)
This retinol alternative sleep mask has the power of Bakuchiol, which is a natural retinol that helps minimize the appearance of wrinkles and fine lines. That's not the only powerful ingredient in this sleep mask! It's also powered by plant ingredients to keep your skin moisturized and protected.
Highlights
Natural alternative to retinol
Fights signs of aging
Suitable for all skin types
Why You'll Love It
Creamy consistency
Beautiful purple color
Extremely moisturizing
A little goes a long way
Long-lasting
Delivers smooth, supple skin by morning, making it a must-have for dry skin
Other Awesome Products
Peter Thomas Roth Retinol Fusion Night Serum ($65)
Elevate Advanced Retinol Serum By Algenist ($98)
Stemcellualar Anti-Wrinkle Overnight Serum By Juice Beauty ($72)
In Conclusion
I hope you've learned a lot about this powerful ingredient and what it can do for your skin. Be sure to check out the rest of the blogs for more information on all things beauty!
Related Articles
What Happens To The Skin As You Age
How To Reduce Fine Lines And Wrinkles
Sunday Riley Pink Drink Firming Resurfacing Essence Review