Concealer is one of the most beloved beauty products on the market. You can't see someone wearing it, but it puts in double duty to give you a perfect look day after day. It's a makeup product that every celebrity makeup artist swears by, for a good reason. Concealers can be used to hide dark circles, conceal dark spots, and color-correcting concealer can neutralize redness for an even skin tone. You can also wear concealer alone. We'll go over everything you need to know about this makeup must-have, including how to wear concealer alone.
I participate in affiliate programs, including Amazon Affiliates, and may earn a small commission if items are purchased through links on the site
What Is Concealer?
Concealer is usually a type of makeup used to cover up imperfections on the skin, like dark circles. Concealer can be used to conceal dark spots and blemishes, too. Different formulas are available for every skin type, and powder and liquid concealers can be found. However, if you want to know how to wear concealer alone, you should know that it's easier if you have a liquid concealer.
What Is Concealer For?
Concealer is designed initially to help cover imperfections on the skin. However, now it's used for a variety of purposes. Most concealers contain nourishing ingredients to help them perform double-duty as a skincare product. Concealer that is a few shades lighter can be used as a highlighter. Shades of lighter and darker concealer can also contour the face. Applying concealer with a concealer brush to your lids is a great way to use it as eye primer too! Modern color-correcting concealers help neutralize an uneven skin tone for a flawless finish. As time goes on, we keep discovering cool concealer hacks. It's no wonder people want to know how to wear concealer alone!
What Is The Difference Between Concealer And Foundation?
When thinking about concealer vs. foundation, remember the original purpose of the products. Concealer is meant to conceal things, such as dark circles and blemishes. You can find it in a matte or natural finish, sold in smaller quantities.
Foundation is meant to be a base for your makeup. It creates a smooth canvas to apply the rest of your face makeup. It is readily available in both a natural finish and a matte finish. You can find a foundation to complement any skin type, too. However, the foundation does not cover blemishes, pimples, or dark circles. You'll need a concealer or other makeup product, like a color corrector.
Do You Have To Wear Foundation With Concealer
No, you do not have to wear foundation with concealer. When choosing a concealer, ensure it matches your skin tone to look natural. Then, apply it where necessary and blend it with a damp sponge for an airbrushed finish.
If you plan on wearing other face makeup, such as blush, highlighter, or bronzer, it's best to wear foundation underneath. The foundation helps make your face smooth so the rest of your makeup will last longer, look better, and be easier to apply.
Under Eye Concealer Without Foundation
You don't have to wear foundation with under-eye concealer, either. Instead, ensure that you pick a full-coverage type of concealer. The shade of concealer should match your skin tone. Then, apply it as you usually would.
First, complete your skincare routine, such as applying eye cream. Then, dab on some primer. After that, your concealer goes on in the areas you need to conceal. Then, finish your makeup routine with a light dusting of translucent powder or setting spray.
Using Concealer Without Foundation
Using concealer without foundation means skipping foundation when applying your makeup. You only need to be very careful about ensuring that your concealer matches your skin tone.
How To Apply Concealer Without Foundation
When using concealer without foundation, apply primer, then concealer, and then set your makeup. Make sure you blend your concealer with a makeup sponge for a more natural finish.
Using Concealer Instead Of Foundation
If you're out of foundation, or simply not a fan of liquid foundations, using concealer instead of foundation is a popular option. To do this, you must ensure that your concealer matches your skin tone as your foundation would.
Then, draw concealer in vertical lines that go down your face as you would foundation. Blend your concealer just as you would any other base makeup.
Next, add extra concealer in areas that need more coverage. For example, if you need concealer under your eyes or to cover a blemish. Repeat the process of dabbing on a touch of concealer and blending it.
Make sure you don't pick a matte finish if you're using concealer instead of foundation and not wearing other face makeup. A matte finish can make your face look flat and unnatural without other face makeup to create depth.
Tips For Wearing Concealer Without Foundation
If you wear concealer without foundation, it's always important to apply it correctly. You want a natural appearance and to make sure that makeup isn't caked onto your face. These tips will help you get that beautiful look.
Primer Is A Must, Even If You're Using Concealer Alone
It can be tempting to forego most of your makeup routine if you're putting a dab of concealer under your eyes, but that isn't going to give you the best results. Instead, ensure that you follow a proper skincare routine, and always apply primer as the first step in your makeup routine.
Try Medium Coverage
Full coverage concealer might be a great idea if you're using it as a foundation, but it can look unnatural if you only wear concealer on part of your face. Instead, try medium coverage or a foundation with sheer coverage.
Blend With Your Fingers
You can blend your foundation with a makeup sponge, but using your fingers helps warm up the concealer. This will help it melt into your skin for a natural look. Make sure to gently dab concealer on the skin to spot conceal before rubbing it with your fingers.
Wet Your Beauty Blender When Applying Concealer Without Foundation
If you can't stand blending using your fingers, we understand what it's like to be a die-hard beauty blender fan. Make sure that you wet your beauty blender before blending. This will give your concealer a smooth, natural appearance that doesn't look as much like a layer of makeup on your face.
Try Color Corrector
Color corrector is designed to transform your skin into an even skin tone. A green color-correcting concealer is a great way to reduce redness or dark circles under your eyes. These blend in beautifully but can also be worn under another concealer for more coverage.
Our Concealer Picks
BarePro 16-Hour Full Coverage Concealer By BareMinerals ($25)
A full-coverage concealer that can easily be worn by itself or under foundation for a flawless look. A comprehensive shade range ensures you find the ideal shade to match your skin tone. The shade finder tool helps you find that perfect match, so you don't get buyer's remorse.
This BareMinerals product is free of tree nuts, gluten, parabens, talc, and synthetic fragrance.
Why You'll Love It
Blurs the appearance of fine lines and enlarged pores
Creates a soft-focus finish
Glides on smoothly for easy application
Vegan and cruelty-free
Dermablend Cover Care Concealer ($28)
Dermablend is known for its full-coverage cream foundation, but don't sleep on its concealer. This full-coverage concealer delivers a dose of hydration to keep skin healthy while covering flaws and imperfections. A diverse shade range ensures that every person can find something compatible with their skin tone.
Why You'll Love It
Vegan
Safe for sensitive skin
Waterproof
Transfer-resistant
e.l.f. Camo Concealer ($7)
E.l.f. 16-hour Camo Concealer is one of the many viral e.l.f. products that you're going to love. It's available in shades for every skin tone and undertone. Virtual try-on helps you find your perfect shade when ordering online. Moisturizing ingredients nourish skin while all-day coverage doesn't settle into fine lines and wrinkles.
Why You'll Love It
Precise application
Affordable
Perfectly sized applicator
Shade match guarantee
Tarte Creaseless Concealer – Travel Size ($14)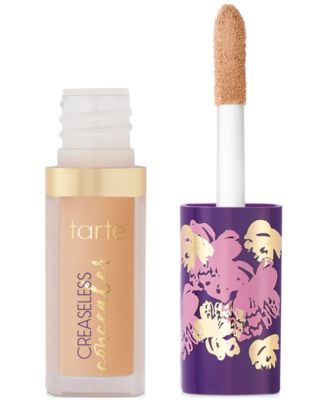 Tarte Creaseless Concealer is the concealer of all concealers! It doesn't settle into fine lines and wrinkles but provides full coverage to double as a concealer and foundation.
Why You'll Love It
Various shades available for all skin tones
Doe foot applicator applies the ideal amount of product
Smooth application
Blendable and buildable
Wearing concealer without foundation is quickly becoming routine. Sometimes, less is more when it comes to makeup. It can easily make you look natural and let your natural beauty shine. Check out the rest of the blog for more concealer tips and tricks!
Related Articles
Tarte Creaseless Concealer Review
Concealer 101: A Complete Concealer Guide For Beginners
Concealer Tips For Beginners (14 Things You Need To Know)