We all love a good highlighter. They give you an instant glow that looks radiant. However, we all tend to make one mistake initially: doing makeup as we see on social media platforms like Instagram and TikTok. Makeup on TikTok and Instagram is layered more heavily than most people would wear in real life. Real-life makeup tends to be more subtle, leaving most people lost. This complete article will tell you everything you need to know about making highlighter look natural.
I participate in affiliate programs, including Amazon Affiliates, and may earn a small commission if items are purchased through links on the site
What Is Highlighter?
Highlighter is an illuminating product that is designed to reflect light. As you shift your face, the light naturally hits the areas where you've applied your highlighter, giving you a radiant, glowing appearance.
Highlighter is available in various formulas and finishes. You can pick up a highlighter in every shade imaginable, shimmer, and matte finishes. However, because highlighter is designed to make your skin glow, it can be hard to find highlighter in matte finishes.
Some highlighters have tiny flecks of glitter to make your skin reflect more light. Finding a highlighter without glitter can be challenging, but it's more than possible.
How To Apply Highlighter
When applying a highlighter to your face, it must be applied carefully and slowly. Remember, you can always add more highlighter, but you'll have to wipe off all your makeup and start over again if you apply too much.
Always Prep Your Skin For Natural Radiance
One trick to remember is that all of the radiance on your face shouldn't come from your highlighter. Instead, brighten up a dull complexion with rose serum, and use a dewy moisturizer. Make sure you only use a little to avoid making your makeup slide off your face as the day progresses. This will give you a naturally dewy base to complement your highlighter. Radiant skin can quickly come from a great skin care routine.
Don't forget to address other skin concerns that might impact whether your skin has a healthy glow. For example, skin texture. You can enjoy a sunkissed glow without touching a makeup product with the proper skincare routine.
When Should You Apply Highlighter
Most makeup experts recommend applying a highlighter as the last step of your makeup routine. That means you should apply highlighter after concealer, foundation, bronzer, etc.
However, that isn't always true. Sometimes, you need to break the makeup rules. If your highlighter is too pigmented or glittery, apply it before the sheer or medium coverage foundation. This is a great trick to tone down your highlighter while still getting a radiant, more natural glow.
Where Do You Apply Highlighter
Highlight is supposed to be applied on the high points of your face. This makes it look like the light naturally reflects off your face, even if it's highlighter. Apply a highlighter to your forehead, bridge, nose, cheekbones, and brow bones. You can also put a highlighter above your top lip and on the inside corners of your eyes.
How To Make Highlighter Look Natural
Highlighter is packed with radiance, but sometimes you'll discover it has too much radiance. Use these makeup tips for a more natural finish to get your desired look.
Mix Highlighter With Foundation
There are two ways that you can use this trick. First, mix your highlighter with the foundation, and then apply your foundation as you usually would. This will create a subtle, all-over glow. It's easy to do if you have a liquid highlighter and foundation.
Another great way to use this trick is to mix a tiny bit of foundation and highlighter. You can do this with a cream formula or powder highlighter. Then, apply your highlighter on the high points of your face as usual. This will give you a beautiful glow, but it will help tone down the radiance and pigment of your highlighter.
Ignore Instagram
We all love Instagram. Makeup on social media is eye-catching and always looks flawless. However, makeup in pictures doesn't always portray what you should look like in real life. The shimmery look of a celebrity on the red carpet suits the event but doesn't suit soccer practice. Instead of focusing on their makeup, focus on the look you want for yourself and your life.
Use A Beauty Blender
Beauty blenders can be used for every formula of highlighter, including cream. Blending with a beauty blender helps create an airbrushed look that you don't get with a regular makeup brush. This includes fluffy brushes.
Dab During Highlighter Application Instead Of Drawing A Line
Dab spots on your face with your brush if you're using a powder or cream highlighter. When using a liquid highlighter, dab spots on your face with the doe foot applicator. Then, blend away. Less is always more when you want your highlighter to look more natural.
Dull Down Shimmer With A Mattifying Face Powder
If you've found the perfect highlighter, but it's giving you a disco ball glow instead of the lit-from-within glow you want, you need to dull down the shine a bit. Use a mattifying face powder that is suitable for your skin type. This will balance out the radiance of your favorite highlighters and help your makeup stay in place for hours.
Mix It With Your Moisturizer
Mixing your favorite highlighters with moisturizer is easy to get glass skin. For this trick, make sure that you use creamy formulas that will mix well with your moisturizer. Powder formulas will work, but they won't mix as well as creamy formulas.
You can use this tip to tone down the pigment in a highlighter to make it look more natural. It will also make it a little less radiant, which is ideal if you have a new highlighter with too much shimmer. Last, it's an excellent idea for a natural makeup look if you have a dry skin type. The moisturizer will provide the dose of hydration that your skin needs, while the highlighter will make you look naturally radiant.
Add Highlighter To Matte Finishing Powder
A pigmented powder highlighter combined with a matte finishing powder is the perfect combination to create a subtle sheen. To use this highlighter hack for a natural-looking glow, mix a little bit of your highlighter with your setting powder. Then, apply your setting powder as you normally would. You can use a makeup brush or makeup sponge.
Less Highlighter Is More
While a seriously luminous glow calls for more highlighter, a subtle glow calls for less. This includes how much you use when mixing your highlighter with other products, like moisturizer and foundation. You only need 1-2 drops of highlighter and just a sprinkle of powder highlighter to create a natural-looking glow.
How To Choose The Right Highlighter Formula
If you want a dewy sheen, picking the right formula is critical. For example, if you have oily skin, liquid makeup may combine with the oily sheen you naturally have throughout the day, giving you a luminous glow. Carefully read product descriptions to determine what skin type the formula is designed for. When in doubt, go with powder for oily skin and liquid formulas for dry skin. Cream products provide the perfect middle ground for combination skin.
Pay Attention To Your Bone Structure
Highlighter online guides provide excellent instructions on where to apply highlighter, but we all don't have the same face shape. Instead of looking at your face shape, pay careful attention to where your cheekbones are on your face. Then, use them as a guide for applying a highlighter on your cheekbone.
Try Lightweight Formulas
If you've tried a liquid formula and found that it doesn't deliver the look you want, consider picking up a thinner highlighter product or one designed to be lightweight and sheer. Lightweight formulas typically give you a more sheer appearance that looks like a natural glow than thicker formulas.
Choose The Right Highlighter For Your Skin Tone
When picking a highlighter, selecting one that complements your skin tone is essential. In general, copper and bronze highlighters tend to look better on individuals with a brown skin tone, whereas silver highlighters can make a person with dark skin look ashy. Opt for silver or light pink for a more natural look if you have a lighter skin tone. Try a highlighter shade with gold or bronze undertones for medium skin tones. Deeper skin tones can usually use gold highlighters, too, but they don't look as natural.
Use The Correct Tools
One way that makeup artists always manage to make highlighter look flawless is that makeup artists know what tools to use. A fan brush is your best friend for applying powder highlighters. A makeup sponge or beauty blender is ideal for liquid formulas, though.
Take Lighting Into Consideration
You should never forget the setting you will be in when applying your makeup. Natural light tends to be the brightest, so you'll want to tone it down if you are outside all day. Use a sheer highlighter stick to add a bit of highlighter without going overboard. However, you can take things up a notch with a shimmery highlighter if you're in dim, dark lighting.
Always Remember To Match Formulas
As a general rule of thumb, your foundation formula should match your highlighter formula. A liquid or a highlighter stick is a great option if you're using a liquid foundation. Likewise, if you're using powder foundation, add a touch of highlighter with a powder formula.
Know The Look You Want
If you want a natural look, chances are you're going for the no makeup "makeup" look of dewy skin. Glossy skin is not the same as wearing a gold highlighter. None of us naturally have the color gold on our cheeks. Opt for a sheer highlighter balm if you want a radiant look without the color.
Our Recommended Highlighters
Endless Glow Highlighter By Bare Minerals ($31)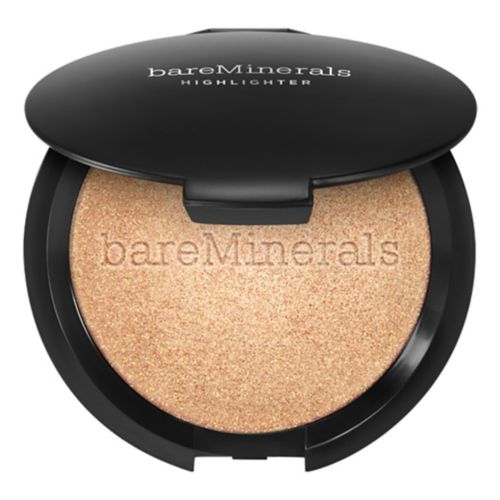 This highlighter is available in a shade for every skin tone, including holographic, peachy pink, pale pink, and golden bronze. A slight dip of your brush delivers instant pigment payoff, so this little compact can last you a while. On top of the gorgeous, dewy finish, this baked highlighter helps blur your pores for a flawless finish.
Why You'll Love It
Natural-looking finish
Metallic gold is available to take things up a notch
Talc-free
It doesn't crease or crack
Stylo Lumière By Sisley Paris ($78)
This nifty highlighter pen is available in six shades: 2 for light skin tones, 2 for medium skin tones, and two for dark skin tones. It has a luminous finish but not an intense color payoff for a natural appearance that blends seamlessly into the skin. Instead, you get the perfect amount of color for a dewy finish you'll love.
Skincare ingredients help address the skincare needs to give you a natural glow. Golden Apple extract helps give your skin an even texture, while White Lily extract moisturizes the skin for a difference you can feel.
Why You'll Love It
Pen helps deliver precise application, such as if you need to apply highlighter in the corners of your eyes
Various shades available to suit every skin tone
Good for your skin ingredients
Wet N Wild MegaGlo Highlighter Stick ($5.72)
If you want something more in terms of color, this highlighter stick will give you the glow-up that you want. Softer shades are available for a more natural look too. Simply twist up the stick, and apply. Afterward, blend it in with your beauty blender!
Why You'll Love It
Cruelty-free
Wide range of shades available
Blends easily
High-quality drugstore makeup
Final Thoughts
When it comes to making highlighter look natural, it comes down to choosing the right products and applying them correctly. There's a tiny learning curve, but taking the time to practice is part of the fun!
Related Articles
Powder Highlighter Before Foundation