The most taxing part for makeup lovers comes from makeup removal and double cleansing, especially when you return from a fun night out. Your skin needs to breathe and heal after a long day of holding makeup products, sunscreen, and dirt buildup, and the only way to do that is cleansing or, more precisely double -cleansing.
Now the question about double cleansing must have popped up whether it is recommended for dry skin types. The dry is more prone to dryness and skin tightening due to excessive cleansing or exfoliation. Well! The answer to that is an absolute yes! Those with dry skin types can add double cleansing to their skincare routine. But wait! What if we tell you that you don't need a makeup remover plus a cleanser separately? Many two-in-one/ three-in-one makeup cleansing options in the market contain mild-yet-effective ingredients suitable for dry skin types.
For dry skin types, it is recommended to go with cleansing oils or balms that will cut through your long-wearing foundations and sunscreen while keeping your skin nourished and hydrated without overdrying and stripping your skin of its natural oils. Dry skin types require gentle and moisturizing cleansers that will not strip the skin of its natural oils. The right ingredients can help maintain the skin's moisture barrier while removing makeup and impurities.
Before we go into our list of recommendations, we have carefully made an ingredient guide for dry skin types. This will help you with making the right choice for your skin health.
I participate in affiliate programs, including Amazon Affiliates, and may earn a small commission if items are purchased through links on the site
What To Look For In Makeup Removers For Dry Skin Types
Moisturizing ingredients to look for:

Glycerin(derived from plant-based sources): a humectant(a substance used to reduce the loss of moisture) that attracts water to the skin, helping to keep it hydrated.
Hyaluronic acid: a humectant that can hold up to 1000x times its weight in water, making it a highly effective moisturizer.
Aloe vera: a soothing and hydrating ingredient that can help reduce inflammation and redness.
Chamomile: an anti-inflammatory and calming ingredient that can help soothe dry and sensitive skin.
Panthenol (vitamin B5): a humectant that can help improve skin hydration and reduce inflammation

Gentle cleansing ingredients to look for:

Micellar water: a gentle and effective way to remove makeup and impurities without stripping the skin's natural oils.
Cetyl alcohol: a fatty alcohol that can help cleanse the skin without causing dryness.
Coco-glucoside: a gentle surfactant that can effectively remove dirt and makeup without irritating.
Sodium lauryl glucose carboxylate: a mild surfactant that can help cleanse the skin without stripping its natural oils.
Sodium cocoyl isethionate: a gentle surfactant that can effectively remove makeup and impurities without causing dryness.

Ingredients to avoid:

Alcohol: can be drying and irritating to the skin, especially for those with dry skin.
Fragrance: can be irritating and sensitizing to the skin, especially for sensitive skin.
Harsh surfactants like SLS and ALS can strip the skin of natural oils and cause dryness and irritation.
Best Cleansing Balms And Oils For Dry Skin
CLINIQUE Take The Day Off™ Cleansing Balm Makeup Remover ($38)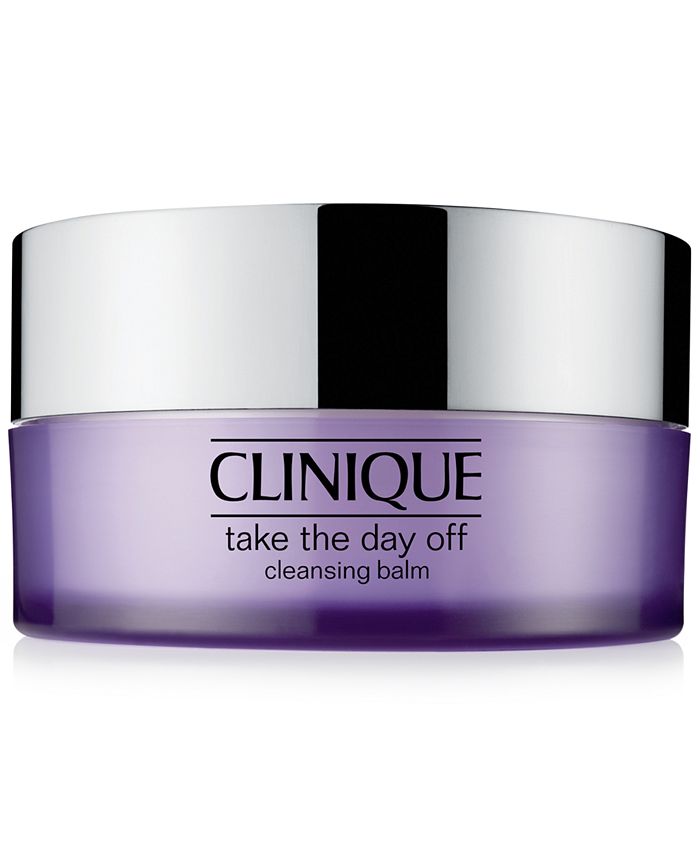 Pros
Cult- favorites makeup cleansing balm
Lightweight formula: non-sticky
It can be used for eye and face makeup removal
All skin types
Formula free from synthetic color, gluten-free, alcohol, SLS
Main ingredient in the recipe: Safflower seed oil
Cons
It might not be suitable for sensitive skin types, especially those with eczema-type allergies.
Clinique's take-the-day off cleansing balm can potentially be your frequently bought makeup cleanser. The main highlight of this cleansing balm is its suitability for all skin types. However, it is advised for sensitive skin types to be a bit cautious about using this makeup remover.
Farmacy Green Clean Makeup Removing Cleansing Balm ($35)
Pros
For all skin types.
Free of Parabens, Sulfates
Clean formula
Contains natural ingredients based fragrance: Echinacea
Formula ingredients: Sunflower and ginger root oils and Moringa extract
eye and face makeup cleaner
Cons
A bit over the budget, but the results are all so satisfying that it makes it worth trying makeup remover for dry skin types.
Seaberry Skin Nutrition Cleansing Oil By Fresh US ($43)

Pros
Melts away dirt and impurities
Removes makeup, including waterproof makeup
Helps the skin maintain moisture
Gives the skin a soft, supple appearance and feel
Star ingredient is seaberry oil
Helps restore the protective barrier of the skin to lock in moisture
Cons
Scented
May feel heavier on the skin
When it comes to cleansing oils for dry skin, this one does everything that you need a cleansing oil to do. It gives the skin a healthy dose of hydration, cleanses, removes makeup, and leaves your skin feeling soft and hydrated.
Drunk Elephant Slaai™ Makeup-Melting Butter Cleanser ($35)
Pros
Best for dry skin
Melts dirt, makeup & sunscreen without drying out the skin
The formula contains antioxidant-rich kiwi and strawberry seed extracts and virgin Marula oil
It leaves a dewy effect on the skin
Makeup cleansing plus skin nourishing formula
Cons
Some ingredients in the formula can sting sensitive eyes
For some product users, the cleanser's texture was vaseline-like. They find it hard to wash it off.
This is an excellent option for those who prefer a mattifying makeup remover.
Holy Hydration Makeup Cleansing Balm By e.l.f. Cosmetics ($11)
Pros
Melts into an oil that can dissolve makeup
Specially formulated to provide intense hydration
Hyaluronic acid helps hydrate and visibly plump the skin
Ceramides help protect the skin from a loss of hydration by building up the moisture barrier
Vegan and cruelty-free
Available in a mini version for $5
Cons
It has a fragrance that you may not like if you prefer unscented products
Several reviews report that it made them break out. If you haven't used this product before, we recommend picking up the mini version before buying the full-sized version. Some people tend to break out, while others are fine.
If you need a gentle makeup remover on the skin that leaves it feeling silky smooth, this is a great option. However, it's not the best choice for anyone with acne-prone skin. Instead, check out our other options for the best makeup removers for dry skin.
Biotherm Biosource Softening and Make-Up Removing Milk ($35)
Pros
Cream-based cleanser
Suitable for dry skin types
Paraben-free formula.
Leaves skin soft and clean with no traces of makeup and dirt.
Cons
This cleansing milk contains benzyl alcohol which can cause mild skin irritation on sensitive skin.
If you prefer cleansing milk over cleaning balms or oils, the Biotherm biosource makeup remover should be your next buy.
MILK MAKEUP Hydro Ungrip Makeup Removing Cleansing Balm ($36)
Pros
Cream-based cleansing balm
Suitable for dry to very dry skin types
No-residue
Paraben-free, alcohol-free, gluten-free, and silicone-free
Melting effect: removes long-wear makeup, sunscreen, mascara, and eyeliner
The formula contains blue agave extract, soybean oil, sunflower oil, hemp-derived cannabis seed extract, hyaluronic acid, and aloe
Cons
Pricey makeup remover compared to its competitors having the same properties and effectiveness
The MILK MAKEUP Hydro Ungrip Makeup Removing Cleansing Balm is the most reviewed makeup cleansing balm for dry skin, and rightfully so. The results will speak for the effectiveness of the product. Worth trying out!
Vitamin E Cleansing Oil And Makeup Remover By Julep ($22)
Pros
Lightweight, non-greasy feel
Vitamin E protects the skin from things like free radicals
Helps moisturize and hydrate the skin
Dissolves makeup, including waterproof makeup
A little goes a long way
Cons
Has a light orange scent some people may not like
Some people complained this oil made their skin break out, so it's not the best idea if you have acne prone skin
Best Micellar Water For Dry skin
Caudalie Vinoclean Cleansing Micellar Water ($30)
Pros
The formula contains chamomille(soothes and softens skin) and organic grape water (moisturizes skin)
Best for dry and sensitive skin types
Rinse-free formula
Suitable for daily use
Face and eye makeup remover
Cons
Not fragrance-free
It doesn't effectively remove waterproof mascara and eyeliners, requiring multiple applications
Best Affordable Micellar Water For Dry Skin That Delivers What It Claims
Nivea MicellAIR PROFESSIONAL Micellar Water Face Cleansing ($5)
Pros
Removes long-lasting make-up
Suitable for all skin types: Specially formulated for dry and sensitive skin types
It contains Black and Green Tea Extract: Giving a soothing effect to the skin
Cons
Not fragrance-free
Doesn't remove heavy makeup effectively.
This product is a hidden gem that's worth trying out.
Hydralina Dermina Normal Skin Dry Micellar Water ($28)
Pros
For all skin types, especially dry and sensitive skin
Suitable for removing face and eye makeup
The formula contains hyaluronic acid and glycerin, preventing skin drying due to multiple applications
Suitable for sensitive eyes
Lightweight formula: non-greasy, non-sticky
Fragrance-free
HYPOALLERGENIC
Cons
A bit pricey compared to its alternatives
Specially formulated for dry skin types, this hydrating micellar water could become your following daily makeup remover.
Best Eye Makeup Removers
Mario Badescu Carnation Eye Make-Up Remover Oil ($7)
Pros
AMAZON'S choice
Suitable for use on sensitive eyes: Gentle, non-stinging formula
Removes light to medium eye makeup, including mascaras and eyeliners
Non-drying
Affordable premium beauty product
Cons
The formula is not fragrance-free.
Removing waterproof makeup takes multiple applications and efforts.
This product delivers results precisely like a high-end makeup remover. Try and see it for yourself.
Wet n Wild Ta-Da! Eraser Silicone-Free Waterproof Eye And Lip Makeup Remover ($6)
Pros
Amazon's choice product
Affordable premium quality makeup remover
For all skin types-oily, combination, sensitive, dry, normal
Alcohol-free, gluten-free, paraben-free
Leaves behind no pore-clogging oily residues
Also capable of removing glittery/metallic makeup shadows and eyeliners
Cons
It might not be suitable for sensitive eyes as some users on amazon have complained about the formula being harsh on their eyes, causing stinging and slight burning effects.
Users have also complained about the intense fragrance of the product
Another budget-friendly premium beauty item is waiting for you to try out.
COME UNDONE Daily Makeup Remover By Hey Honey ($32)
Pros
Suitable for both your face and your eye area
Doesn't strip the skin of it's natural oils
Suitable for every skin type, including people with dry skin or acne-prone skin
Doesn't leave your skin feeling tight
Natural ingredients
Hydrates the skin
Cons
Some purchasers complain that they have to use more product than they want to to get stubborn eye makeup off
This makeup remover can be great if you don't wear heavy eye makeup and are searching for a natural makeup remover.

Simple Kind To Eyes Eye Make-Up Remover ($8)
Pros
Suitable for dry and combination skin types
Great for sensitive eyes- formula doesn't stings or burn
Fragrance-free, color-free, and alcohol-free formula
The formula contains triple purified water, vitamin E, Pro vitamin B-5
The deep cleansing formula for light to medium and heavy eye makeup
It can be used to remove waterproof mascaras, eyeliners, and lipsticks
Non-drying formula
Cons
Requires more products for effective removal of waterproof mascaras and eyeliners
The OG of all makeup removers. Buy it for your daily cleansing routine, as it removes light-to-medium eye makeup.
Eye And Lip Gel Makeup Remover By Sisley Paris ($110)
Pros
Gentle on the sensitive eye area
Can remove waterproof makeup
Does not leave a greasy feel
Soothes and softens the skin with ingredients like Peony extract
Ingredients like ginseng extract help tone the area for an eye-contouring effect
Very gentle
Cons
The price is bound to make you hesitate, but it's well worth it
Makeup Removing Wipes, Etc.
Simply Soft Makeup Remover Wipes (Unscented)
Pros
All types of skin – normal, dry, oily, or a combination
Unscented Facial Cleansing Towelettes
Hypoallergenic
Able to remove waterproof makeup
pH Balancing
Safe for use on sensitive skin types
Rinse-free formula
No oily residues
Resealable packaging– prevents from drying out
Dermatologist & ophthalmologist tested
Free of alcohol, oils, parabens, phthalates, and sulfates
Cons
Does not remove waterproof mascara well. It can take 2,3 wipes to get it completely removed
Perfect travel-friendly makeup wipes. A must-have for dry skin types.
Makeup Eraser Cloth ($20)
Pros
Sustainable
Every cloth lasts 3-5 years
Removes all makeup, including waterproof makeup, with just water
Available in many colors, including turquoise, pink, blue, black, cheetah print, and more!
Sets are available so you can use a different cloth daily
Washable
It can be used for makeup removal and exfoliating
Cons
Using one cloth is not realistic if you don't own a washer
Exfoliating side can irritate sensitive skin
Makeup Eraser cloths are a wonderful, sustainable option if you're tired of buying packs of disposable makeup remover wipes. They last for years before needing to be replaced, and a simple wash can wash away all the makeup on them.
Organic Makeup Remover Gentle Glow Cleansing Cloths By Ogee Luxury Organics ($24)
Pros
Individually wrapped to prevent drying out
Removes both makeup and impurities
Made from plant fiber, so they are compostable
Certified organic
Vegan, cruelty-free, gluten-free, GMO free
Jojoba oil and aloe vera remove makeup while hydrating the skin
Gently exfoliates the skin
Cons
Takes some extra effort to remove stubborn, waterproof eye makeup like mascara
Ogee Luxury Organics offers beautiful organic skincare and makeup products that you are going to fall head over heels in love with. These makeup remover wipes are designed for all skin types, but we love the hydrating effect they can have on dry skin.
Related Articles
Are Makeup Remover Wipes Allowed On Planes
How To Take Off Waterproof Eyeliner Without Makeup Remover