If you have oily skin, you must be aware that oily skin is more prone to pores clogging and struggles with blackheads. If you want to keep your pores clean and minimize the appearance of blackheads, oily skin is commonly recommended to use a double cleansing (makeup remover+ cleanser) skin regime. Using a gentle water-based makeup remover is a must for oily skin. Always remember not to over-exfoliate your skin as it can lead to disturbances in your skin protection barriers, causing skin breakage and bacteria clogging your pore.
Choosing a perfect makeup remover for your oily skin is your ultimate remedy to counter clogged pores, skin breakouts, and makeup buildup on your skin. For example, micellar water, bi-phase oil cleansers, and cleansing balms are all designed to melt your long-wear hard-to-remove makeup like foundation, concealers, waterproof mascaras, eyeliners, and lipsticks. To make your go-to make-up remover pick easy, we have gathered a list of versatile makeup removal options, from micellar water to cleansing balms and wipes. We have it all under one article.
I participate in affiliate programs, including Amazon Affiliates, and may earn a small commission if items are purchased through links on the site
Choosing A Makeup Remover For Oily Skin
Be we break down our list of choices. Let's discuss some basics and tips for choosing the right ingredients for your oily skin.
Using the right products with the right formula can easily maintain skin health and avoid breakouts.
Make sure you use a gentle cleanser: When removing makeup, your oily skin needs a gentle and non-drying formula to retain your natural skin moisture. An excellent gentle cleanser should leave your skin moisturized and cleansed without stripping your skin of natural oils. Go for cleansers specifically formulated for oily skin, or choose products containing ingredients like salicylic acid or tea tree oil to help control oil production.
Double cleanse the heck out of your skin: Double cleansing is the most essential step in your skin regime. If you are not doing it now, you better start asap! Double cleansing ensures your skin is completely cleared of all makeup and impurities. Usually, it is recommended to use a cleansing oil or balm for melting out your makeup, followed by a gentle cleanser to remove any remaining traces or residues.
You must avoid using hot water: For those with oily skin, hot water is your skin's enemy. Hot water can strip your skin of its natural oils, making your skin's protective barrier prone to bacterial attack. oily skin. Lukewarm water is advised to wash your face after makeup removal.
A gentle exfoliant goes long way: Oily skin is highly prone to breakouts, so it's very important to exfoliate regularly to remove dead skin cells buildup and prevent clogged pores. Look for a gentle exfoliant that contains salicylic acid, which can help control oil production and prevent breakouts. Remember to not go overboard with exfoliation; overdoing it would harm your skin more than good.
Using micellar water is highly recommended:Micellar water is a great makeup remover option for oily skin. Its formulation is gentle yet effective and won't leave any makeup residue behind.
Your skin needs moisturizing after removing makeup: Don't forget to moisturize. Look for lightweight, grease-free moisturizers that won't clog your pores or feel greasy on your skin.
Bioderma Sensibio H2O Micellar Water ($19)
Bioderma Sensibo Micellar water is a cult-favorite makeup remover for oily skin types. This gentle yet effective micellar water is specially formulated for oily and sensitive skin. It removes makeup, dirt, and excess oil without irritating the skin.
Highlighting Features
Suitable for all skin types, including sensitive skin
Water-based
Gentle, effective, and non-greasy micellar water
Removes light to medium makeup, dirt, and excess oil build-up without leaving any residues behind
Cons
Some reviews on amazon have highlighted that it may not effectively remove all makeup on very oily skin types
Dermalogica Precleanse ($49)
This oil-based cleanser dissolves and melts up your makeup, sunscreen, dirt, and sebum buildup, leaving your skin feeling clean and refreshed. It contains nourishing ingredients like apricot kernel and rice bran oil to soothe and hydrate your skin.
Highlighting Features
Oil-based cleanser
Suitable for all skin types including sensitive skin/acne-prone skin types
Deeply cleans pores-Removes oils without clogging pores
The formula contains essential fatty acids that nourish the skin
Cons
Reviews suggest that people with sensitive skin can experience irritation or breakouts from its oil-based formula
Neutrogena Oil-Free Eye Makeup Remover ($9)
This gentle eye makeup remover is oil-free and non-greasy, perfect for oily skin. It removes even waterproof makeup without irritating your eyes or skin.
Highlighting Features
Dual-phase oil-free formula
A non-greasy and gentle eye makeup remover removes the waterproof mascara without irritating your eyes or skin
ophthalmologist tested safe for contact lens wearers
Cons
Some may find it leaving a slight product residue, and the formula can be stinging for some if not used carefully
The Body Shop Camomile Sumptuous Cleansing Butter ($26) 
When applied to the skin, this gentle cleansing butter transforms into a silky oil, dissolving makeup, dirt, and impurities. It contains camomile extract to soothe and calm your skin.
Highlighting Features
Gentle cleansing butter
Removes all types of make-up
Suitable for sensitive skin and contact lens wearers
The formula contains Camomile extract- Which gives a silky feel to the skin
Soothing effect on the skin
Cons
The scent may come across as too strong for some users
Garnier SkinActive Micellar Cleansing Water All-in-1 Mattifying ($8)
This mattifying micellar water is specially formulated for oily skin. It removes makeup, dirt, and oil leaving your skin feeling refreshed without overdrying it
Highlighting Features
Another cult favorite is amazon's choice of product
For all skin types
Mattifying micellar water
Gentle and soothing formula
Cons
Some with combination skin may find it a bit drying for their skin
Clinique Take The Day Off Cleansing Balm ($38)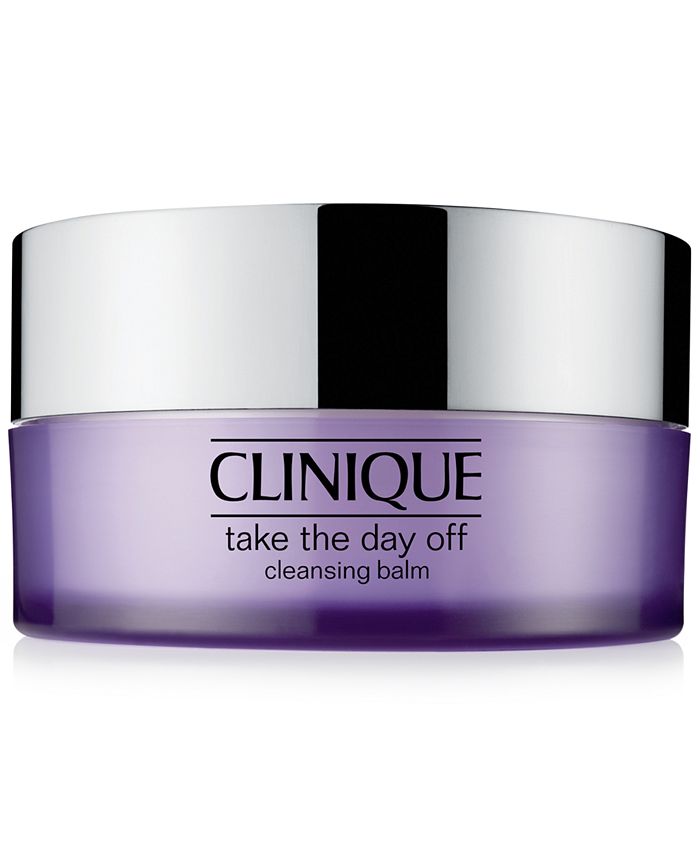 This lightweight cleansing balm dissolves even the toughest makeup, leaving your skin feeling clean and refreshed. It is gentle and non-drying, making it perfect for oily skin.
Highlighting Features
The OG of makeup removers
Lightweight cleansing balm
Contains Safflower seed oil
Upon application transforms from a solid balm to silky oil that metals away medium to heavy makeup
Non-comedogenic
Non-greasy
Non-drying
Fragrance-free
Allergy tested
Cons
it may not altogether remove all traces of heavy makeup or waterproof mascara on oily skin types
Clarins Instant Eye Waterproof Make-Up Remover ($28)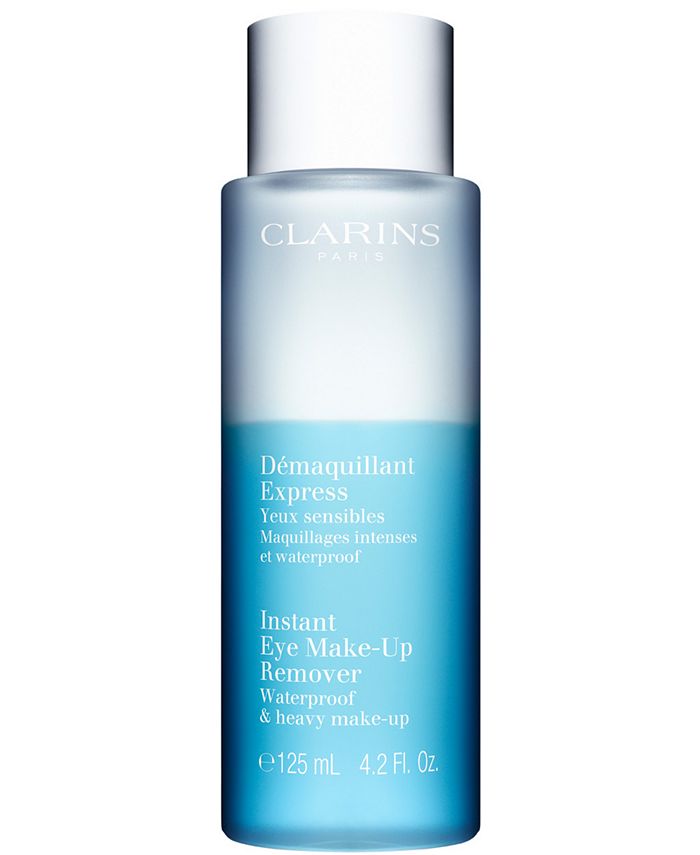 This eye makeup remover by Clarins removes heavy eye makeup, dirt, and excess oil while soothing and hydrating your skin with rose, camomile, and cornflower extracts.
Highlighting Features
Gentle and non-irritating eye makeup remover
Removes heavy or waterproof eye makeup without leaving behind oily residues
Soothing formula: Cornflower and Camomile extracts and Damascus Rose extract
Allergy and ophthalmologist tested
Cons
A bit more pricey option as compared to its competitors
Simple Kind to Skin Cleansing Facial Wipes – Pack of 2 ($11)
These gentle cleansing wipes are perfect for removing makeup on the go. They are oil-free and non-greasy, making them ideal for oily skin.
Highlighting Features
Gentle and non-greasy cleansing wipes
No residues
Non-drying formula
Perfect travel-friendly option
Cons
Some reviewers on amazon find these wipes a bit thin and not quite as effective at removing stubborn makeup
Cetaphil Gentle Waterproof Makeup Remover ($11)
Cetaphil gentle waterproof makeup remover is suitable for all skin types. However, its soothing formula is perfect for sensitive skin. You can use it for removing face and eye makeup as it removes even hard-to-remove waterproof eyeshadows, mascaras, and eyeliners without irritating your skin or leaving a greasy residue. Pair this with Cetaphil's moisturizer and enjoy healthy-looking skin without breaking the bank.
Highlighting Features
Gentle and non-irritating makeup remover
Suitable for all skin types, including sensitive skin
Removes even the most stubborn waterproof makeup without leaving greasy residues
Soothing formula: Formulated with aloe vera, ginseng, and green tea
Fragrance-free, oil-free, non-irritating & non-comedogenic
Cons
Some users on amazon find the formula of this makeup remover a bit greasy or oily on their skin
Kiehl's Midnight Recovery Botanical Cleansing Oil ($23)
This product by Kiehl is a lightweight cleansing oil that dissolves makeup and impurities and leaves your skin feeling thoroughly cleansed, soft, and refreshed. It contains a blend of aromatic botanical oils (Contains Evening Primrose Oil, rich in Omega-6 Fatty Acids) to nourish and hydrate your skin, making it perfect for oily skin.
Highlighting Features
A lightweight essential oils-based cleanser for the face and eyes
Dissolves long-wear makeup and dirt build-up while nourishing and hydrating your skin with a blend of botanical oils
Free of soap, sulfate & mineral oil
Cons
Some reviews on amazon find this product a bit pricey compared to its competitor cleansing oils in the market
Related Articles
Best Makeup Remover For Mature Skin
How To Take Off Waterproof Eyeliner Without Makeup Remover