People with gluten sensitivities know the importance of wearing gluten-free makeup, and using gluten-free products. Some people with Celiac Disease also have to use beauty products formulated without gluten. This can help prevent skin irritation, rashes, and more discomfort.
You can't forget about using gluten-free makeup remover when it's time to take it off at the end of the day. Gluten-free options range from cleansing balms to micellar water and makeup-removing cloths. Without further ado, these are the best gluten-free makeup remover options!
All these beauty products are formulated without gluten or advertised as being gluten-free. However, labels tend to change as formulas change over time. That's why it's always important to double-check the ingredient list, and contact the company if you have any questions about the ingredients.
I participate in affiliate programs, including Amazon Affiliates, and may earn a small commission if items are purchased through links on the site
Best Gluten Free Makeup Removers
Smoothness Hydrating Cleansing Oil By BareMinerals ($32)
This gluten-free cleansing oil washes away dirt and impurities along with stubborn makeup, including waterproof makeup! You'll enjoy gently washing away stubborn waterproof eyeliner and mascara without scrubbing your face. The lightweight formula cleanses your face without stripping its natural oils.
Why You'll Love It
Easily rinses away
Doesn't clog pores
Suitable for all skin types
Vegan and cruelty-free
The Original Makeup Eraser ($20)
The Original Makeup Eraser is a magical makeup-erasing cloth that wipes away dirt, grime, and makeup with warm water! That includes waterproof makeup. You can pick one up in pink, black, chill blue, turquoise, cheetah print, and various other colors. A 7-day set is available if you want to use a new one every day!
Why You'll Love It
Gentle
Suitable for all skin types
No chemicals involved
Caudalie Vinoclean Micellar Water ($30)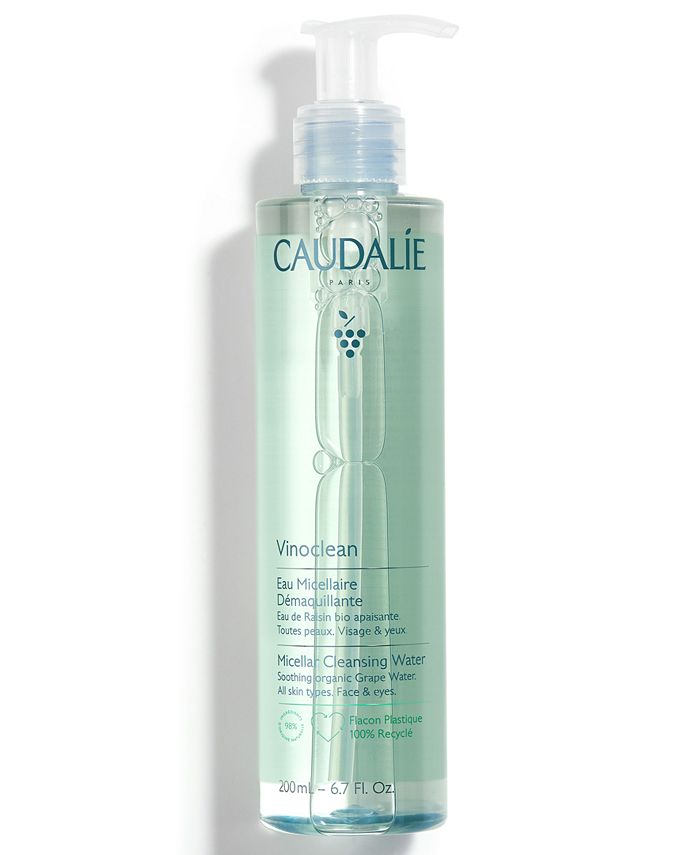 Caudalie Micellar Water is a gluten-free formula that helps cleanse the skin, washing away dirt, impurities, and makeup. The no-rinse formula is gentle on the skin, helping to remove the most stubborn makeup without irritation. All you have to do is use some micellar water on a cotton pad or cloth and wipe it across your face to wash dirt, excess sebum, and makeup disappear.
Why You'll Love It
No water is necessary, making it perfect for anyone on the go
Alcohol-free
Suitable for all skin types
Beauty By Earth Makeup Remover ($24)
A gentle gluten-free makeup remover that can be used with eye makeup remover pads, cotton balls, or anything else you use to wipe away your makeup at the end of the day. This gentle formula wipes away the build-up from the day, including dirt and residue, for a refreshing feeling you'll love. It easily handles stubborn eye makeup without irritating your skin. After you're done, you'll notice no residue or greasy feeling.
Why You'll Love It
Suitable for all skin types
Doesn't leave a residue
Gluten-free, paraben-free, cruelty-free, and vegan
Final Thoughts
The best gluten-free makeup removers on the market effectively remove makeup without compromising the health of your skin. They are gentle yet powerful enough to dissolve even waterproof and long-lasting formulas. These removers are often infused with nourishing and soothing ingredients like botanical extracts, oils, and antioxidants, leaving your skin clean, refreshed, and hydrated.
In addition to being gluten-free, these makeup removers are often free from other harmful ingredients such as parabens, sulfates, and synthetic fragrances. They are designed to be gentle, making them suitable for all skin types, including sensitive skin.
For more gluten-free beauty products, makeup and skincare, check out the rest of the site!
Related Articles
Gluten Free Makeup: Everything You Need To Know
Is Kylie Cosmetics Gluten Free