Regarding makeup, foundation is the canvas for a flawless look. But for those with dry skin, finding the right foundation can be a daunting task. Dry skin can often appear dull, flaky, and lackluster, making it crucial to choose a foundation that provides coverage and hydrates and nourishes the skin. In this blog post, we'll explore the world of foundations and unveil the best options to enhance and embrace the radiant beauty of dry skin.
I participate in affiliate programs, including Amazon Affiliates, and may earn a small commission if items are purchased through links on the site
What To Look For In A Foundation For Dry Skin
Before diving into the best foundations for dry skin, it's essential to understand the unique requirements of this skin type. Dry skin lacks moisture and may experience tightness, roughness, and fine lines. Therefore, the ideal foundation for dry skin should offer hydrating properties, a dewy finish, and a formula that doesn't emphasize dry patches or flakiness.
Hydration is Key
When selecting a foundation for dry skin, choose hydrating formulas that provide extra moisture. Look for foundations enriched with ingredients like hyaluronic acid, glycerin, and essential oils. These ingredients help to lock in moisture, ensuring your skin remains hydrated throughout the day.
Embrace the Dewy Finish
Dry skin craves a healthy, luminous glow, and a foundation with a dewy finish can be the perfect solution. Dewy foundations add radiance to your complexion, giving the illusion of hydrated and plump skin. Avoid overly matte or powder-based foundations that may accentuate dryness and settle into fine lines.
Light to Medium Coverage
When it comes to coverage, choose a foundation that offers light to medium coverage. Heavy, full-coverage foundations can feel thick and cakey on dry skin, emphasizing any dry patches. Instead, use lightweight formulas that even out the skin tone while allowing your natural radiance to shine through if you can.
What To Consider When Shopping For The Best Foundations For Dry Skin
Shopping for foundations for dry skin can be overwhelming. There are so many choices on the market that it can be hard to find one that suits your skin. No matter how cool it sounds, you don't just want to grab the first foundation you see. Instead, take the time to consider what you want in a foundation, and then find one that suits your needs.
Budget
If you're ballin on a budget right now, don't worry. You don't have to splurge to find a great foundation. There are plenty of foundations on the market that are at affordable price points. However, there are also luxurious price points if you don't have a budget. We've included plenty of products to suit everyone's budget!
Other Skincare Concerns
Dry skin is a type of skin, but it's typical for people to have multiple skincare concerns. Yes, your skin needs hydration. However, you may also have skin concerns like dark circles, wrinkles, and uneven skin tone. Finding a foundation that can address all your skin care needs is essential instead of settling for one that only addresses dry skin.
Coverage
We usually recommend lightweight or medium coverage for dry skin types so your skin can breathe, but there's nothing wrong with needing a full-coverage foundation. Having a full-coverage foundation in your arsenal is always nice when needed.
Best Foundations For Dry Skin
Cool AF Lava Water Foundation By Pretty Vulgar ($34)
This impressive water foundation by Pretty Vulgar is cruelty-free and vegan. It's gluten-free, paraben-free, oil-free, talc-free, and fragrance-free. You'll discover a wide range of light and deep skin tones shades. This unique foundation is formulated for every skin type. The matte formula is non-drying, while Moringa Butter hydrates skin. Then, volcanic lava water from ancient Jeju Island provides your skin with nutrients, antioxidants, and minerals to strengthen the skin.
Why You'll Love It
Suitable for all skin types
Hydrates dry skin
Strengthens the skin, which can help prevent moisture loss
Lightweight
NARS Sheer Glow Foundation ($47)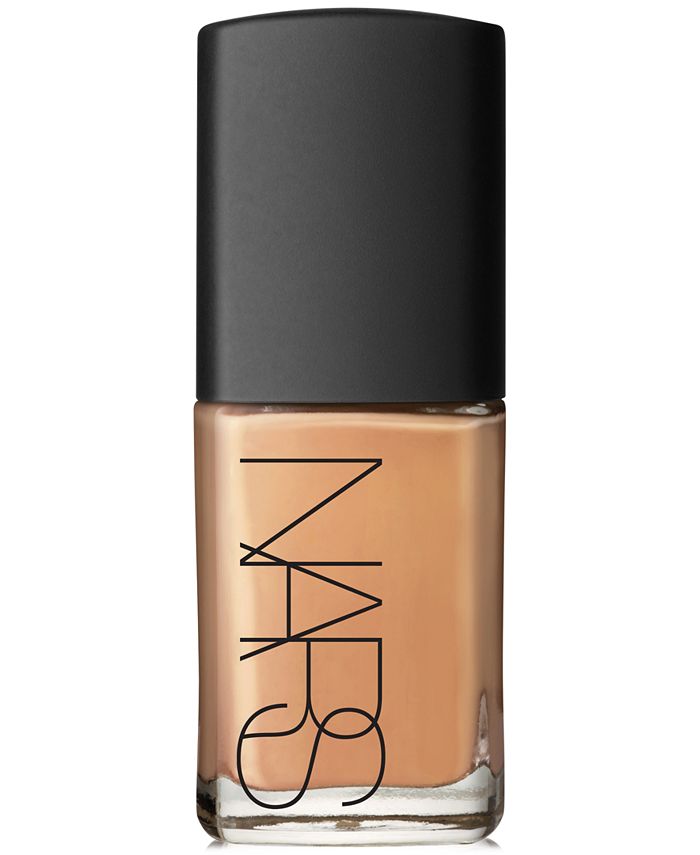 Those with dry skin adore this cult-favorite foundation. Its lightweight formula provides buildable coverage and a radiant finish and is infused with potent antioxidants to enhance the skin's natural luminosity.
Why You'll Love It
A sheer foundation with buildable coverage
Hydrates and protects the skin
Available in shades for every skin tone
Non-comedogenic
Flawless Satin Foundation By e.l.f. Cosmetics ($6)
e.l.f. Flawless Satin Foundation is one of the most popular drugstore foundations. It gives you the coverage you want at a price you can always afford. Over 35 shades ensure you can find something to suit your skin tone and undertone. The semi-matte finish doesn't dry out your skin, and it's specially formulated with glycerin to hydrate skin.
Why You'll Love It
Formulated without sulfates
Vegan and cruelty-free
Easy application
Blendable and buildable
BarePro Performance Foundation By Bare Minerals ($39)
A hydrating liquid foundation by one of the beauty brands known for clean beauty. This foundation glides smoothly across the skin, offering full coverage that lasts all day. It's vegan, cruelty-free, gluten-free, hypoallergenic, non-comedogenic, and more!
Why You'll Love It
Sweat and water-resistant
Broad spectrum SPF 20
Crease-resistant
Maybelline Dream Radiant Hydrating Makeup Foundation ($13)
A lightweight foundation that offers medium coverage to help conceal imperfections without feeling heavy on your face. Maybelline Dream Radiant Foundation is formulated with collagen and hyaluronic acid to moisturize skin, giving you a radiance you'll love.
Why You'll Love It
Gives you a dose of hydration that lasts up to 12 hours
Promotes an even appearance of skin
Thin, serum-like consistency that doesn't feel heavy on the skin
Idyllic Moisture Rich Foundation By GA-DE ($31)
This long-lasting foundation helps pack a serious punch to give your skin the moisture and coverage it needs. The only downside you'll discover is that limited shades are available, so you might be unable to find a foundation to match your skin tone.
Why You'll Love It
Strengthens the skin barrier to prevent moisture loss
SPF 30
Plant extracts promote elasticity
Luminous Tinted Moisturizer By Cover FX ($39)
This moisturizer isn't a foundation, but it's right up your alley if you want sheer coverage. It provides the perfect amount of tinted coverage to help minimize the appearance of redness while giving your skin the hydration it needs.
Why You'll Love It
Helps strengthen and balance the skin's barrier
Protects against things like pollutants that promote premature aging
Instantly gives you a natural glow
Neutrogena Hydro Boost Hydrating Tint ($10)
This lightweight formula feels like a combination of gel and water for a smooth, light consistency that helps soothe dry skin. The oil-free formula is non-comedogenic, making it unlikely to clog your pores.
Why You'll Love It
Hydrating
Blendable
Offers light coverage for a more natural look
Dries quickly
Bobbi Brown Skin Foundation Stick ($52)
This hydrating stick foundation glides effortlessly over dry skin, delivering a seamless and natural-looking finish. Its creamy texture blends flawlessly, providing long-lasting hydration and a dewy glow.
Why You'll Love It
Provides a natural appearance that isn't likely to cake and crease
Gluten-free
Easy application
Long-wearing
Phyto-Pigments Flawless Serum Foundation By Juice Beauty ($44)
A weightless foundation that glides across the skin like a serum but provides coverage like a sheer foundation. Need more coverage? That's okay too! It's buildable, so you can get the coverage you want. Antioxidants help protect the skin, while organic aloe juice soothes and hydrates the skin.
Why You'll Love It
Lightweight
Age-defying ingredients
Doesn't settle into fine lines and creases
Made with certified organic ingredients
Suitable for sensitive skin
IT Cosmetics Your Skin But Better CC+ Cream ($47)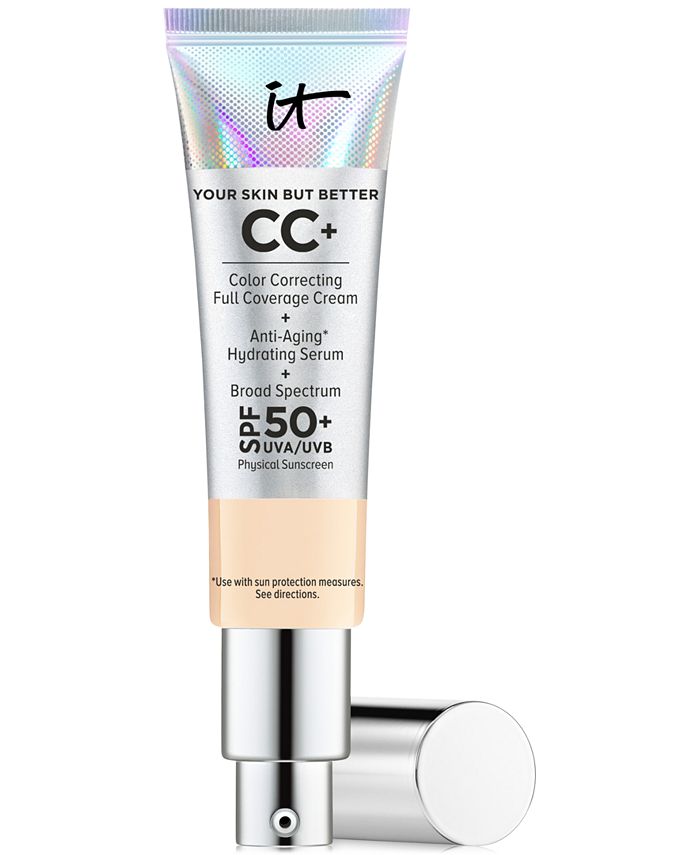 This multi-tasking CC cream offers a blend of skincare and makeup benefits. Infused with hyaluronic acid, collagen, and antioxidants, it provides excellent coverage while hydrating and brightening the complexion, leaving a radiant and healthy finish.
Why You'll Love It
Color-correcting cream helps hide the look of scars, redness, and dark circles
Available in a travel size for a fraction of the cost
Hydrating
Available in colors for a wide range of skin tones
Phyto-Teint Ultra Eclat By Sisley Paris ($105)
This oil-free liquid foundation provides gorgeous coverage that leaves you with a natural, radiant finish. Virtual try-on ensures you can find the right shade for your skin tone. Ingredients like Mallow Extract and Gardenia flower extract provide intense moisture to dry skin.
Why You'll Love It
Helps preserve and protect the skin
Natural finish
Promotes an even, radiant complexion
Lightweight, blendable, and buildable
Moisturizing Liquid Foundation By Gabriel Cosmetics ($32)
This moisturizing liquid foundation by Gabriel Cosmetics helps conceal imperfections for a flawless finish while nourishing ingredients promote healthy skin underneath. A special infusion of vitamins moisturizes the skin for a naturally radiant complexion while this foundation enhances natural beauty.
Why You'll Love It
Dries quickly
Nice coverage
Lightweight
Super Serum Silk Foundation By Yensa Beauty ($45)
Normally, we recommend a lightweight or medium-coverage foundation for dry skin but hear me out about this full-coverage foundation. It provides so many benefits for the skin, it's unreal. Vitamin C helps brighten the skin, moisturizer hydrates the skin, Bakuchiol promotes elasticity, and a potent blend of ingredients nourishes and protects the skin.
Why You'll Love It
Enjoy brighter skin with a more even complexion
Minimizes the appearance of pores
Helps reduce the appearance of dark circles, fine lines, and wrinkles
Wet N Wild Photo Focus Dewy Liquid Foundation ($5)
Wet N Wild is one of the most affordable brands of makeup on the market, but they don't compromise quality to give you lower prices. This lightweight foundation gives you the best of both worlds. A slightly matte foundation helps prevent white cast in photos, while the hydrating, dewy formula works well for dry skin types.
Why You'll Love It
Cruelty-free
Shades for every skin tone
Blendable and buildable
Final Thoughts
Finding the perfect foundation for dry skin can be challenging, especially when you have other things to consider, such as budget, whether you have mature skin, and so much more. For more tips, tricks, and the best products, check out the rest of the site!
Related Articles
Best Makeup Remover For Dry Skin