Face mist sprays have become extremely popular in recent years, and it's understandable with all the benefits of facial mist spray. They can be used as a primer, toner, and multiple other things. Some key benefits of facial mist spray will instantly make you want to pick some up for your desk.
I participate in affiliate programs, including Amazon Affiliates, and may earn a small commission if products are purchased through links on the site.
What Is A Face Mist?
Face mists are products that you spray on your face. They've been used for thousands of years because the natural ingredients found in facial sprays provide a wealth of benefits for your skin. For example, rose facial mist also acts as a toner, helping preserve a youthful appearance and prevent premature aging. Before using chemicals, natural ingredients were mixed with water and applied to the skin.
After that, facial mists become a cult favorite. This was when everyone was using a soap bar to wash their face. Bars of soap tend to make the skin more alkaline, so facial sprays were used as the next step to help rebalance the skin's pH level.
Now, facial mists remain a popular part of everyone's skincare routine. We're not washing our faces with bars of soap anymore, but that doesn't mean facial mists are gone for good. Innovative formulas provide a wealth of facial mist sprays benefits, making them a skincare must-have. These are just a few of the fantastic benefits of facial mist spray.
Face Mist Spray Is Soothing
I first started using a facial mist spray over the summer. I wore sunblock. I forgot to re-apply and wound up with a horrid sunburn. My face was on fire non-stop. Spritzing my face with a face mist spray offered instant relief. Keep a travel-size bottle on your desk to enjoy the soothing effects of face mist spray.
This skincare must-have soothes much more than a sunburn. You can also use it to soothe dry, irritated skin anywhere on your body. For example, if you have eczema on the top of your arms. It works great if you have sensitive skin that is irritated, too!
Locks In Moisture
A few sprays of your favorite hydrating face mist spray will help restore the protective barrier outside your skin, helping keep your skin barrier intact. When this happens, your skin slowly loses moisture, resulting in dry, itchy skin all over your face. You can experience dry patches, too. Using a facial mist spray helps boost your skin hydration and lock in moisture to keep your skin hydrated. On top of that, a few sprays from a spray bottle will give your skin the instant boost it needs for the dewy glow you want.
Can Absorb Excess Sebum
Some facial mists are specially designed for oily skin types, making them a great option if you need products for a midday shine. Face sprays with rose oil, grapeseed extracts, and other natural ingredients that have astringent properties can help you combat excess sebum and acne. You can use them under your makeup during your skincare routine or on top of your makeup, making them a great choice if your oil tends to show through it by the middle of the day.
It's Refreshing
Not only can face mist sprays bring you relief, but they can also help you beat an afternoon slump. A quick spritz from one of these handy bottles will make you both look and feel refreshed. Your tired skin will feel rejuvenated, and the aromatherapy benefits will help you feel more awake. That's why many people who work a standard 9-5 job keep a bottle or three on their desks.
Using A Face Mist As A Primer
Using a facial mist as a primer is another option. However, it's critical to understand that these don't work as well to treat skin conditions as other primers do. They help create a smooth coat on your skin. That makes them great for you if you don't have an uneven texture, enlarged pores, or other skin conditions. If you, a primer specially formulated to treat your skincare concerns is best for you.
Setting Your Makeup With Facial Mists
Facial sprays have a few of the same benefits as setting sprays. They help your makeup melt together to look more natural than ever before. However, remember that they won't help your makeup last 16 hours a day. Ensure that you consider what you need in a setting spray to ensure this tip will work for you.
You Can Use Facial Mists To Blend Foundation
You have to use a wet beauty blender to get the airbrushed finish you want when blending your foundation, and a face mist is a perfect way to wet your beauty blender. It eliminates the need to run to the bathroom to get water, and you'll enjoy all the benefits of your facial mist. One of the best benefits of facial mist is that they are an excellent multi-tasking skincare product!
Specially Formulated Face Mists Target Specific Concerns
Outdated face mists were meant to refresh your skin. You can still find facial mists to refresh your skin, but the selection is far more comprehensive than that. You can find face mists to treat redness, oily skin, dry skin, large pores, and everything else you can imagine! There are products available for all skin types, including sensitive skin.
Facial Mists For Dry Skin Hydrate Your Skin
If you have dry skin, picking up a facial mist for dry skin is a must. These are packed with awesome ingredients that are great for your skin. You can use them to moisturize your skin without applying a moisturizer or anything else that might mess up your makeup.
Face Mist Sprays Are Great For Oily Skin
Modern formulas have ingredients like silk powder that absorb excess sebum throughout the day. Instead of patting your face with powders or blotting excess oil with a tissue, you can spritz yourself.
Instantly Makes Skin Appear Less Dull
Face mist can provide an instant shine if you have to deal with dull skin. You'll look dewy and refreshed instead of having matte skin without makeup. Use it daily as a part of your skin care regimen to enjoy hydrated skin.
Face Mists Help Other Products Absorb Into The Skin
A face mist will help your skin absorb other skincare products more effectively. That's because as your skin cells absorb your face mist, they will absorb everything else. To use a face mist for this, ensure you use it after cleansing before applying other skincare products.
They Aren't Sticky
One thing I love about face mists is that they don't feel sticky on your skin. Once you spray your face with them, they are quickly absorbed. You'll feel refreshed, unlike you have an extra layer of something else on your face.
It Can Be Used Before Or After Makeup
Face mists are versatile products. You can use them in your skincare routine or as a primer. You can also use it after applying your makeup to enjoy the benefits of facial mist sprays throughout the day. As a bonus, it won't mess up your makeup. However, you must ensure your makeup is waterproof or water-resistant for this tip. If not, spraying water on your face won't turn out well.
Face Mist Picks
Finding the perfect face mist can be a challenge in today's market. There are so many face sprays that it can be overwhelming. These are some of our favorite face mist picks to help you find the perfect one to meet your needs!
Clinique Moisture Surge Face Spray Mini Size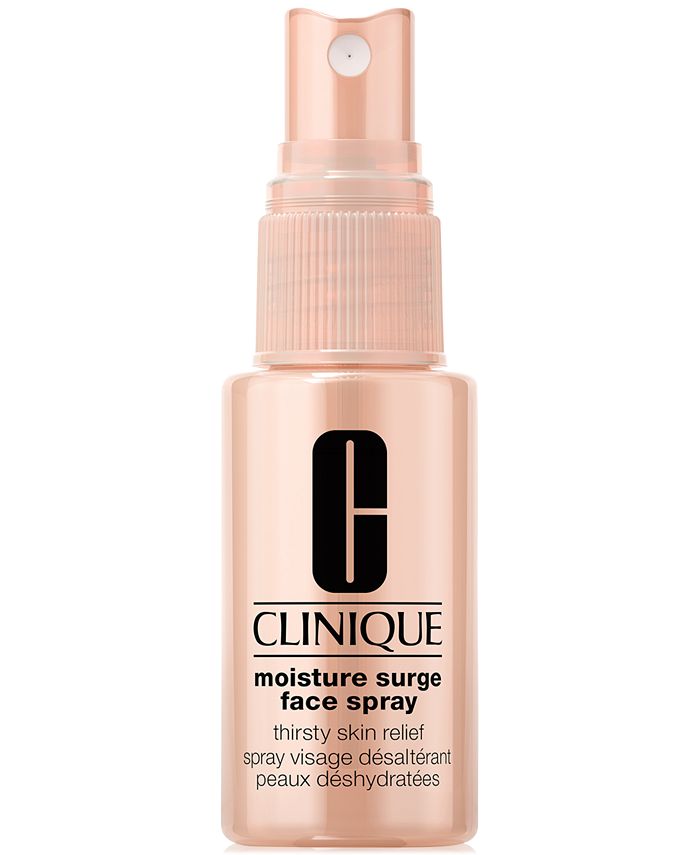 Are you searching for a face spray designed for dehydrated, thirsty skin? Clinique Moisture Surge Face Spray is packed with key ingredients to give your skin a dose of hydration and keep your skin hydrated. This hydrating mist is available in a full-size version for $28.50 or this adorable travel size for $8.
Why You'll Love It
Packed with activated aloe plant extracts
Oil-free
It can be used over or under your makeup
Travel size makes taking it with you on the go easy
Reviving Aura Mist by Keys Soulcare
This revival facial mist with a touch of Jericho rose is designed to leave your skin refreshed and revived, making it perfect for a midday pick-me-up. It's infused with rose to help you enjoy the soothing aromatherapy benefits and the benefits of rose face spray, such as its acting as a toner. It's also infused with active ingredients like witch hazel to revitalize your skin for a beautiful appearance.
Why You'll Love It
Natural toner
Hydrating
Naturally rose scented
Winner of the Women's Health 2022 Beauty Award for Best Face Mist
e.l.f. Facial Mist
The facial mist collection from e.l.f. Cosmetics has a facial spray for everything, including fantastic mood benefits. The complete collection includes:
Soothing
Balancing
Restoring
Calming
Energizing
Loving
Every facial mist is packed with key ingredients to help you enjoy the benefits of each different spray. For example, the soothing facial mist is infused with orange blossom, a smell that naturally helps calm the mind. You can also find critical ingredients like coconut water for extra moisture or cucumber extracts. It's more refreshing than splashing cold water on your face!
Check out the entire collection here!
Vitamin Nectar Antioxidant Face Mist by Fresh US
This travel-size face mist may be slight, but it packs powerful antioxidants to refresh your skin and keep it healthy. It's packed with Vitamins C, E, and B5 to help you achieve radiant, healthy skin.
Why You'll Love It
It can be used as a primer or setting spray
Spray it on your makeup blender for longer-lasting makeup
Protects skin from free radicals
Hydrates skin
Luminous Botanical Face Mist by Ogee
A delicate facial essence gently infused with powerful ingredients to soothe, nourish, and protect your skin. Rose and chamomile soothe and nourish the skin, while witch hazel controls sebum production to ensure that your face doesn't get oily.
Why You'll Love It
Use before or after makeup
Protects against environmental pollutants
Cruelty-free, gluten-free, and vegan
Certified organic
Final Thoughts
The benefits of facial mist sprays for your face depend on your face mist. Some are specially formulated to keep oil production at bay, while others will give thirsty skin much-needed hydration. Think about what you want in a face mist before shopping to make sure you pick the perfect product for your skin.
Related Articles
Benefits Of Rose Water Spray For Face
Should You Use Toner Twice A Day