Eyeshadow comes in quite a few different varieties, from your basic eyeshadow stick to pressed powder formulas and more. Cream eyeshadow is becoming increasingly popular, and there are quite a few great reasons you should pick some up. Check out the benefits of cream eyeshadow today.
I participate in affiliate programs, including Amazon Affiliates, and may earn a small commission if products are purchased through links on the site.
What Is Cream Eyeshadow?
Cream eyeshadow is the perfect balance between powder and liquid eyeshadows. It has a thick consistency that resembles brow pomade. However, it is a bit creamier to make the application easy. Typically, you can find cream eyeshadow in every color from your favorite brands. It's usually sold in a pot.
Benefits Of Cream Eyeshadow
When you're comparing cream eyeshadow vs. powder shadow, you'll realize that there are a few reasons why powder eyeshadow simply isn't the same as cream eyeshadow.
Easy Application
To apply cream eyeshadow, you swipe the color across your eyelids. You can use a brush if you like, but it's unnecessary. It can be a pain to get all of the cream eyeshadow out of your brushes. Instead, you can apply it with your fingers.
Mistakes Are Simple To Wipe Away
When you make a mistake with cream eyeshadow, you can easily grab a wipe and start over. You won't have to worry about smearing makeup all over your face before wiping it away.
No Eyeshadow Fallout
Shimmer eyeshadow is notorious for its fallout. This happens both during and after application, leaving some people to use reusable eye guards when perfecting their smokey eyes. There's not a lot you can do throughout the day, though. You won't have to worry about that with cream eyeshadow.
Crease Free
Powder eyeshadow tends to nestle down in fine lines and wrinkles. If you have dry spots on your eyelids, your pressed pigments will find them. Cream eyeshadow does not do that. It also won't crease as the day wears on.
Perfect For A Quick Makeup Look
If you need a quick makeup look, invest in a cream eyeshadow. You can apply it in seconds. You don't need a primer with cream eyeshadow, either. Instead, swipe it on with your fingers. Then, wipe off your hands and head out the door.
Our Favorite Cream Eyeshadows
Smashbox Always On Cream Eyeshadow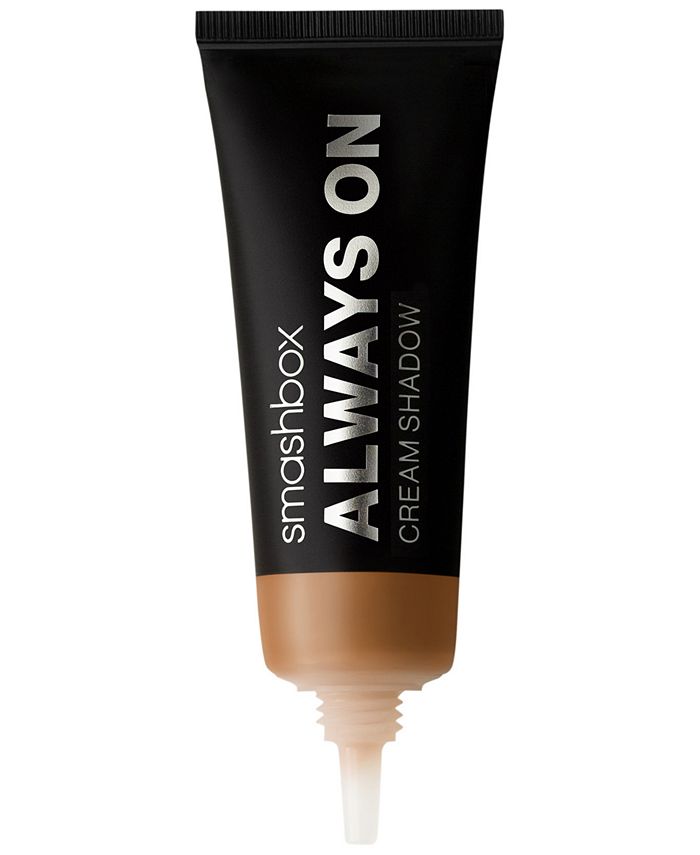 Smashbox Always On Cream Eyeshadow is available in shimmer and matte finishes to give you the desired look. It glides on seamlessly across the lids for a flawless finish that isn't going to flake off as the day goes on. Pick your perfect shade from over ten available shades!
Highlights
All-day wear
Seriously pigmented
Easy application with your fingers or a brush
Why You'll Love It
Transfer-proof
Sweat and humidity-resistant
Vegan and cruelty-free
Lightweight, comfortable feel
Julep Creme To Powder Shadow Stick
This cream-to-powder shadow stick is one of Julep's best sellers, and for good reason. It glides smoothly like a cream eyeshadow but dries to a powder finish. You get all of the long-lasting, crease-free benefits you enjoy from a cream eyeshadow with the look of a powder eyeshadow.
Highlights
Smoothes and brightens the eye area with Vitamin E
Crease-proof
Glides across eyelids like butter
Why You'll Love It
Over 30 shades are available
Dries to a smooth, flawless finish
Pencil style makes application easy and not messy
Perfect for mornings on the go
In Conclusion
Cream eyeshadow has a spot in everyone's makeup collection. It's not buildable or blendable like a powder eyeshadow is, but the benefits of cream eyeshadow make it well worth it. Check out this article to learn more eyeshadow tips!
Related Articles
Maybelline Color Tattoo Eyeshadow Review
Should Your Eyeshadow Match Your Outfit