There's nothing like the sheer joy of giving your lips a quick swipe of the gloss before smacking them together. However, that doesn't mean that that's the only way that you can wear lip gloss, or that it's the only way that you should. These fun lip gloss hacks will help you take your gloss game to the next level.
I do participate in affiliate programs and may earn a small commission on items purchased through links on the site.
Dust Translucent Powder Over Lip Balm
Use the setting powder on your lips if you want extra staying power. First, apply lip balm. Then, give yourself a light dusting of setting powder. Wipe away any excess powder with a tissue. Finally, apply your gloss!
Wear Lip Balm Underneath
If you're prone to dry, flaky skin on your lips, you need a smooth base underneath of your gloss to give it maximum staying power. A layer of the balm is going to protect and hydrate your lips, creating the perfect canvas for your gloss.
Our Pick: Trick & Treat Berry Lip Balm By Hey Honey ($23.00)
This berry-flavored lip gloss works wonders on dry and cracked lips and is easily applicable. This product contains honey, castor beam, and jojoba oil. All Hey Honey products are cruelty-free and contain natural ingredients that are healthy and rejuvenating for your skin. This lip balm can be applied alone or paired with lipstick for a glossy finish.
Highlights
Free of mineral oil
Honey infused
What You'll Love
Hydrating
Long-lasting
Applicable to all skin types
Cruelty-free
Blended with Castor oil
Berry flavor
Wear Gloss as Highlighter
It's important to make sure that your lip gloss complements your skin tone before using this hack. Once you do, give your cheeks a swipe of gloss where you would normally apply your highlighter. Then, blend away! This is the perfect way to use lip gloss that you don't care for on your lips!
Get Lip Gloss Out Of Hair With Dishsoap
If you're wondering how to get lip gloss out of hair, you're not alone. This makeup product is known for being sticky, and it's bound to get in your hair if you have long hair. Instead of washing it with shampoo, use a squirt of dish soap! Lip gloss is greasy, so you need a soap that is going to cut through the grease to wash it out of your hair.
Use A Nude Shade On Your Brow Bones
If you have a nude lip color that you're not fond of using on your lips, use it to highlight your brow bones instead! First, do your brows as you normally would. Then, put a couple of dabs of the lip shade along your brow bone. Blend it just as you would concealer.
Always Wear Lip Liner
The wand that you use to apply gloss simply doesn't have the precision that liners and lipsticks do. To give yourself the perfect pout every time, make sure to line your lips before applying your gloss.
Make Your Lips Look Fuller With Clear Gloss
For a fuller look, dab a bit of clear gloss in the center of your top and bottom lip. It will instantly make your lips look plump! You can use this trick by itself or use clear gloss on top of lipstick or lip paint. Either way, your lips will look larger.
Invest In Lip Primer
Lip primer helps create a smooth canvas to apply lip makeup too. It can fill in cracks and crevices so your gloss doesn't pool into them or crack as the day goes on. If you want serious staying power, lip primer will be one of your favorite lip gloss hacks.
Our Recommended Lip Primers
Anastasia Beverly Hills Lip Primer ($16)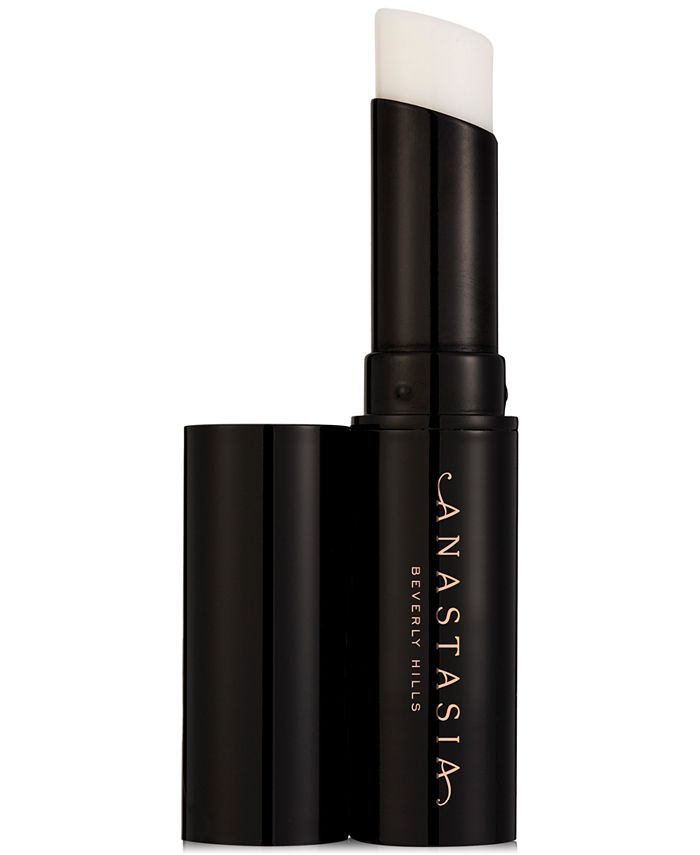 This lightweight primer is perfect for hydrating your lips and prepping them for any makeup look. Whether wearing it by itself or pairing it with Lip Gloss or Matte Lipstick, this primer keeps your lips from cracking or fading and is terrific for helping moisturize your lips.
Highlights
What You'll Love
Prevents color from fading
Lightweight
Can be used with lip gloss, lipstick or by itself
Colorless
Prevents lipstick from bleeding throughout the day for a perfect pout
Pencil Lip Primer BY NYX ($7)
Prep your lips for gloss with this velvety and color-enhancing primer. Made with cruelty-free products, this primer is free of gluten, coconut, oil, and unhealthy preservatives. Coming in shades that'll be perfect for any look, this NYX Lip Primer pencil is long-lasting and ensures that your product lasts for hours.
Highlights
Vegan
Comes in nude and deep nude shades
What You'll Love
Long-lasting
Enhances color
Gluten-free
No smudging or feathering
Cruelty-free and PETA certified
Longevity
E.l.f. Lip Primer & Plumper ($3)
This Primer & Plumper set is perfect if you want a fuller look for your lips. It can help you achieve more of a pouty lip look with minimal effort and is easy to apply. This cinnamon-scented primer can help keep your lips looking full, sexy, and natural.
Highlights
No smudge
Cinnamon scented
What You'll Love
Vegan and cruelty-free
Creates fuller-looking lips
Lasting
Moisturizing
Easy application
Fill Your Lips In With Liner First (One Of The Best Lip Gloss Hacks)
Before applying a dab of gloss, fill your lips in with your liner. This creates the perfect base for your gloss! Not only does it create the perfect blank canvas, if your gloss fades away in the middle of the day, your lips will still have plenty of color.
Keep Q-Tips On Hand For Beauty Fixes
If you accidentally get a little bit of gloss on your skin, don't wipe off all of your work with a makeup remover wipe. Instead, keep a jar of cotton swabs handy. These are perfect for small fixes!
Don't Swipe
Instead of swiping gloss across your entire lip like you do lipstick, put a dab in the center of your lips. Then, smoosh your lips together to help the color blend evenly across both your top and bottom lip.
Have Fun With Multi-Color Lips
Put a dab of one color in the middle of your top and bottom lip. Then, put another color on the outside of both lips. Finally, rub your lips together to blend the colors across both of your lips. This easy lip gloss hack will help you create the perfect ombre lip look!
Put Your Gloss On Last
This should be the last thing in your beauty routine. This beauty staple is known for being sticky and goopy. Even a drop of lip gloss is going to make your lips tacky. If you experience eyeshadow or powder foundation fallout, the powder will stick to that drop of lip gloss. Avoid this common beauty blunder by always applying it last.
Our Favorite Lip Glosses
Cover FX Monochromatic Lip Color ($21)
This lip gloss has a nourishing liquid-to-matte formula, making it perfect for long-lasting wear. It's offered in six shades: Soft Peach, Pink Dahlia, Mojave Mauve, Warm Honey, Spiced Cinnamon, and Sweet Mulberry. This lip gloss is very pigmented, and the perfect product for everyday looks.
Highlights
Richly pigmented
Vegan and cruelty-free
What You'll Love
Six shades
Matte finish
It contains vitamins E and C
Creamy
Moisturizing
Fresh color
E.l.f. Glossy Lip Stain ($6)
This heavenly lip gloss can be worn alone or paired with lipstick to compliment its shiny coat. Enjoy the cruelty-free formula in over five deep shades. It's non-drying, delivering instant color that feels smooth on your lips.
Highlights
Contains Vitamin E
Serious pigment payoff
Smooth application
What You'll Love
Nourishing
It can be worn with or without lipstick
Vegan
Cruelty-free
Glossy finish
Lip gloss is one of the most essential beauty staples that we all own. It's no longer just for teenagers. There is a gloss for every age and style on the market. Use these hacks to help your lip color last longer, avoid common beauty mistakes, and have some fun!
Related Articles
Can You Use Lip Gloss As Eyeshadow
Does Lip Gloss Have Whale Sperm In It