Assuming we are way past the stage of asking, why do we need to add double cleansing as a significant step in our skincare routines? But the real question you should be asking is, 'what is the best cleansing formula for removing makeup?' This article exactly answers that. There are mainly five cleansing types available in the market: foams, creams, milky lotions, and gel-based formulas, to oil-based and melting balms.
The melting cleansing balms are loved worldwide for their unique 3-in-1 texture quality, i.e., It nourishes the skin as a balm, and in the second phase, it easily removes stubborn makeup as a cleansing oil. Lastly, as cleansing milk, it hydrates the skin. These melting balms have solid-to-oil stages that help effectively clean stubborn long-wear makeup and impurities. This feature makes them stand out among the other types of cleansers.
You should be using a cleansing balm or cream as your first step for removing makeup and SPF products when you are double cleansing your face. A good makeup remover should have a gentle hydrating formula for all skin types, as most liquid-based cleansers cause dryness to sensitive, dry skin. So, you need a formula that will melt away your makeup and provide nourishment and deep cleaning without clogging your pores and causing dryness. Cleansing balms have a gentle hydrating formula that contains butter, oils, ceramides, peptides, and hyaluronic acid. These ingredients leave your skin clean, smooth, and hydrated. They are primarily a very apt choice for dry and sensitive skin.
Our recommendations will help you choose your best cleansing balm options, both quality and budget-wise. Let's get dip into the buttery world of cleanser melts!
I participate in affiliate programs, including Amazon Affiliates, and may earn a small commission if items are purchased through links on the site


B.O.M. Voyage Cleansing Balm By Wander Beauty ($34)
This Wander Beauty balm is a soothing cleansing treat for your skin. Enriched in organic nourishing ingredients, this tri-phase makeup-melting cleanser removes your all-day-long dirt and oil build-up along with stubborn makeup and SPF products and leaves your skin fresh and hydrated. The B.O.M voyage makeup melt balm cleanses your skin in a single step using three texture phases. First, the balm starts as a soothing balm. Then, when you gently massage it over your face, it transforms into a luxurious oil and removes all your makeup. Finally, it rinses off as a milky wash.
Main ingredients
Jojoba Seed Oil: Rich in vitamins like A, D and E, antioxidants, and fatty acids. Jojoba oil is similar in properties to your skin's sebum, making it an excellent ingredient for regulating moisture and nourishment for all skin types.
Pear Fruit Extract: A source of antioxidants to help fight free radicals and nourish your skin.
Evening Primrose Oil: When your skin is exposed to a harsh environment all day. The skin losses its moisture. Evening primrose oil is particularly significant in restoring your skin's moisture levels as it contains omega fatty acids that aid in improving skin texture.
Highlights
Suitable for all skin types
Antioxidants rich
Triphase melting balm
Removes makeup along with sunscreen, dirt, and oil buildup
Travel-friendly packaging
CeraVe Cleansing Balm ($9.97)

Say goodbye to your most long-wear makeup, sunscreen, and oil buildup, and say hello to freshly hydrated skin with CeraVe cleansing balm. Made with a mixture of jojoba oil and three essential ceramides provides maximum hydration and deep cleaning. What more can we say about CeraVe products? The quality speaks for itself. It's a highly hydrating formulation. A must-have for those with sensitive skin.
Highlights
Allure's 2022 awarded product
Non-Greasy and non-comedogenic cleansing balm for all skin types
Hydrating ingredients like Ceramides and Jojoba oil
Clarifying plus soothing and moisturizing properties
Removes waterproof makeup products along with sunscreen, dirt, and oil buildup
HOLY HYDRATION! MAKEUP MELTING CLEANSING BALM By e.l.f. Cosmetics ($11)
If you are trying out melting cleansing balms, this product by e.l.f. Cosmetics is the most suitable option for you. Melt away your makeup with this hydrating cleansing balm that also whisks away all the impurities. Your skin will feel freshly plumped with hydration.
That's thanks to its rich nourishing and deep-cleaning formulation that includes hyaluronic acid, ceramides, and peptides. This dual-phase solid balm melts into a soothing oil when gently massaged over your face. Then, it melts away the tricky makeup and turns into a nourishing milk texture, taking all the products and build-up.
Highlights
Budget-friendly
Key ingredients: HA, ceramides, peptides
Dual-phase cleansing
Great for all skin types
Elemis 3-Pc. Pro-Collagen Mini Cleansing Balm Discovery Set ($36)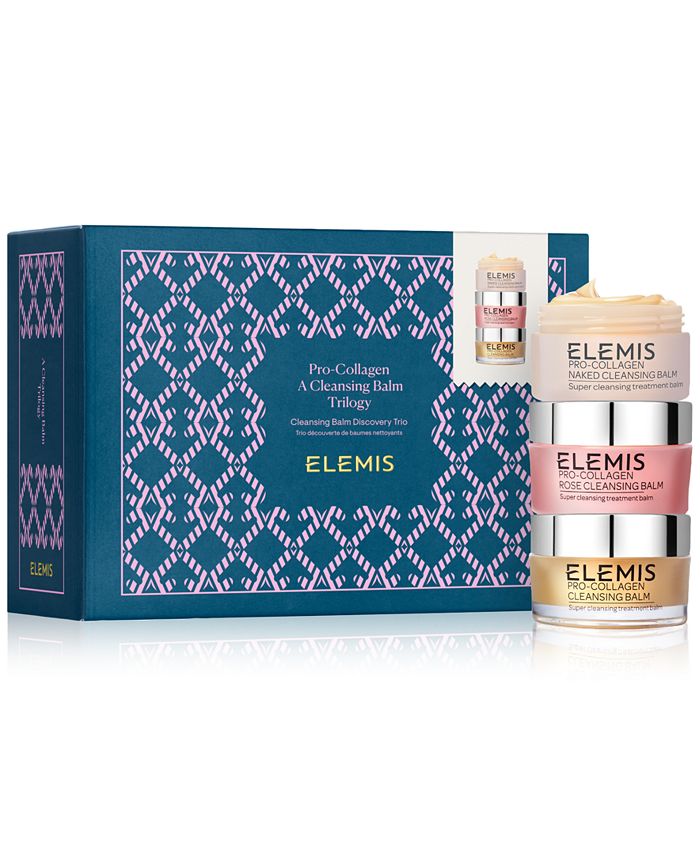 We had to include this product by Elemis. This cleansing set is the most loved by beauty fanatics worldwide because of its lightweight formula.
The set offers the Pro-Collagen series Original Cleansing Balm, P Rose Cleansing Balm, and Naked Cleansing Balm. Each one contains different hydrating organic ingredients like:
Original Cleansing Balm is formulated with a unique blend of nine essential oils that leaves your skin fresh and clean without over-drying.
Pro-Collagen Rose Cleansing Balm is infused with English rose oleo extract that soothes your skin and leaves a silky smooth skin effect.
Pro-Collagen Naked Cleansing Balm is a fragrance-free option for all skin types, especially sensitive ones. Also, it is safe to remove eye makeup.
Highlights
Budget-friendly set that offers all three best-seller cleansing balms
For all skin types incredibly best for matured skin
Deep cleansing properties
Boosts collagen production
Brightening and soothing effect on the skin
CLINIQUE Take The Day Off™ Cleansing Balm Makeup Remover ($36)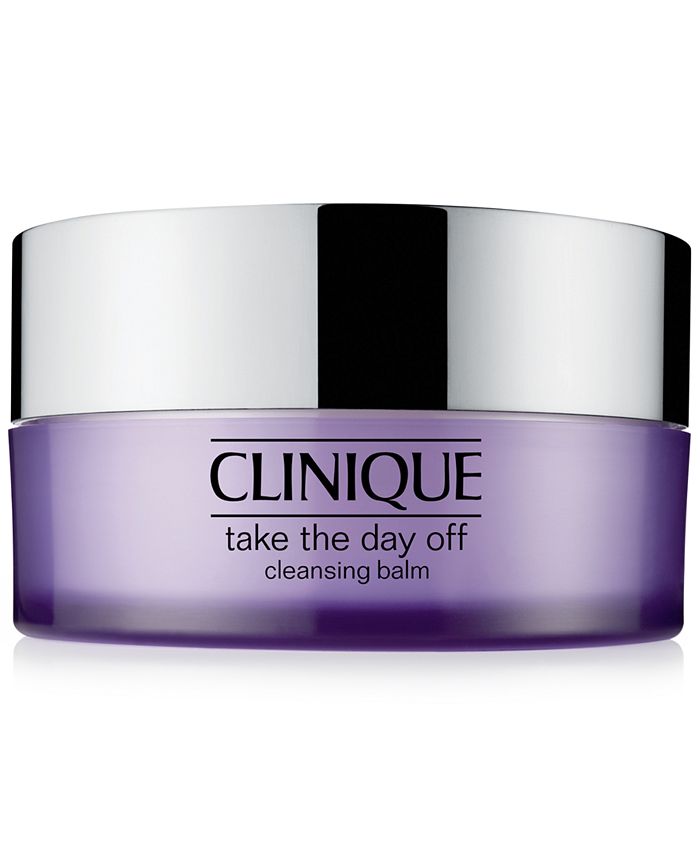 The most reviewed product in the world of melting cleansing balms. Its unique dense texture makes cleansing complex products easy for you. This gentle cleansing balm is the best option if you are new to using makeup melts.
Highlights
Eye and face makeup plus SPF products remover.
For all skin types.
The balm melts into a viscous oil consistency that helps in removing complex makeup and oil build-ups.
Non-greasy and Non-drying.
NUDESTIX Nudeskin Citrus Clean Balm & Make-Up Melt ($35)
Nudeskin Citrus Clean Balm & Make-Up Melt is a vegan-powered essential oil-rich melting cleansing balm that helps you banish traces of long-lasting/waterproof makeup and impurities to leave freshly cleansed, soft skin. This multitasking melting balm does it all, containing natural AHAs that gently exfoliate and brighten your skin. The balm also includes the following essential oils and antioxidant extracts:
Rosehip fruit oil is rich in vitamin A, which helps in boosting moisture and collagen production
Litsea cubeba fruit oil is a citrus essential oil that detoxifies your skin pores, balances sebum production, and rejuvenates your skin—also used as an aromatherapy essential oil
Rosemary leaf oil is a detox that aids in de-clogging skin pores
Eucalyptus leaf oil for skin cleansing and clarifying
Savia hispanica (chia) seed oil helps hydrate your skin
Lavender oil for skin soothing effect
Apple fruit extract is a powerful antioxidant that helps protect skin from free radical damage, while malic acid (AHA) is a gentle skin exfoliator
Highlights
Multitasking cleanser that cleans, exfoliates, and hydrates your skin
Suitable for normal to combinational mature skin
Key ingredients: Moisturizing and deep pore cleaning oils and antioxidants for hydration
It gives a brightening effect after washing
In Conclusion
Finding the right cleansing balm is always a challenge, but these are some of the best of the best. They'll gently wash away makeup and then go to work removing dirt and bacteria for clean, smooth skin that you can feel. 
Related Articles
Best Makeup Remover For Mature Skin