The right and best makeup brushes are necessary for a well-refined, blended look. These magical wands help you create your dreamy makeup like a pro; all you need to know is how and what type of brushes to use. The most mind-boggling part is selecting the right and essential makeup tools from thousands of available choices.
We have narrowed down a list of makeup tools you won't regret adding to your vanity bag. Our have-it-all recommendations include essential brush sets, target-specific brushes, and travel-friendly options. Whether you are looking for a beginner-friendly brush kit or want to upgrade your makeup bag with some luxury blending brushes. We have got it all. Get your cards ready! We are going shopping!
I do participate in affiliate programs, including Amazon Affiliates, and may earn a small commission if items are purchased through links on the site
Best Face Makeup Brushes
EcoTools Makeup Brush Set (Amazon $9.98)
If you are looking for a budget-friendly, high-quality brush set for your daily makeup routine, this is the one for you. Ecotools start the day beautiful makeup Brush set that offers five essential brushes and comes with a storage tray:
Angled foundation brush.
Blurring brush.
Crease defining brush.
Angled liner brush.
Full blush brush.
This compact choice is manufactured with eco-friendly materials such as Taklon and bamboo. Perfect for liquid-based foundations and concealers, powdered and creamy eyeshadows, and blushes.
CLINIQUE 3-Pc. Essential Makeup Brush Set ($48)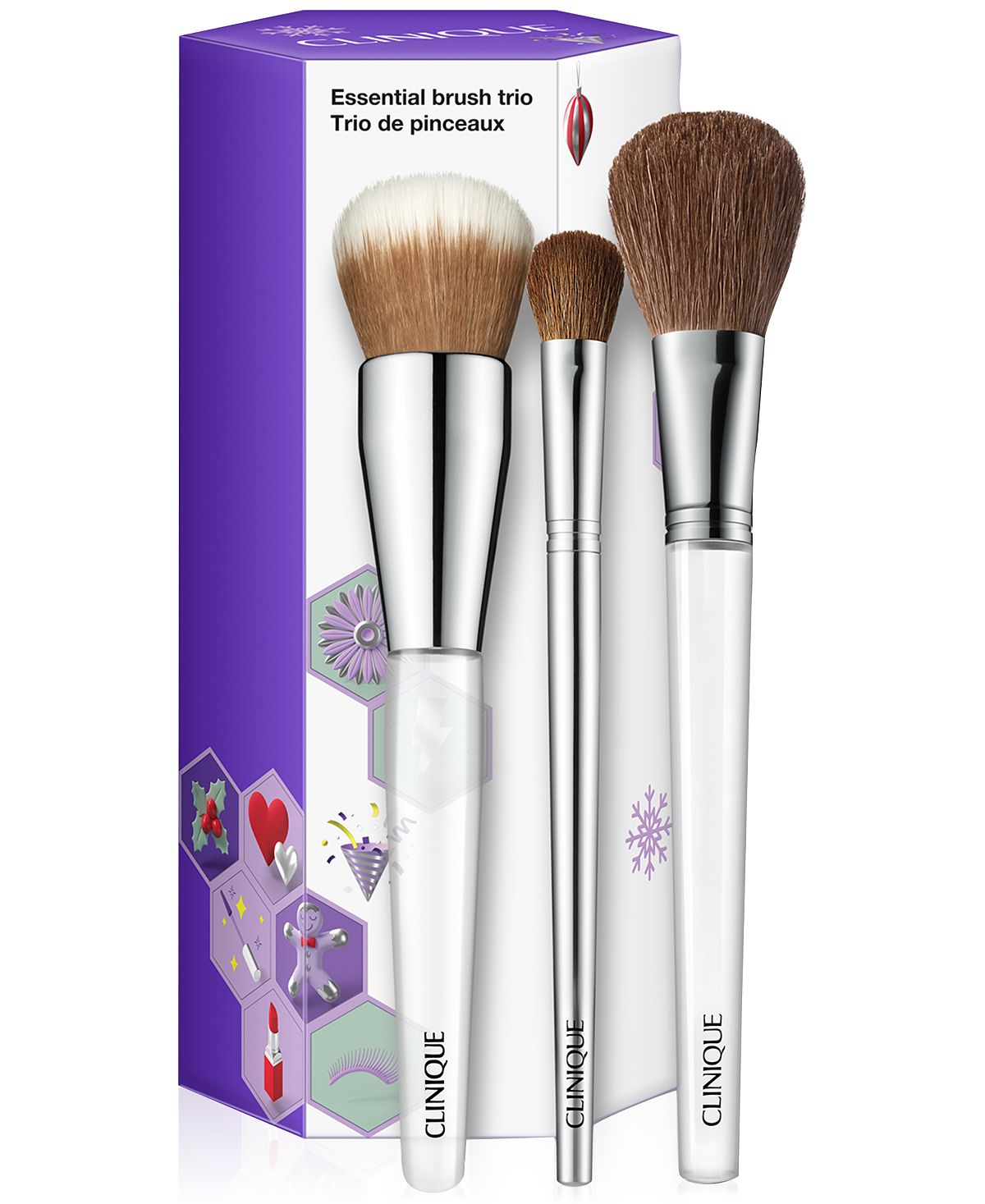 Our list of essential brushes would be incomplete if we did not include Clinique's trio of do-it-all makeup brushes.
The set features three essential brushes:
Foundation Buff Brush.
Eye Shader Brush
Blush Brush
The foundation Buff brush smoothly blends all liquid-based, cream, and stick foundations to give a skin-like natural finish. The eye shader blush seamlessly blends on both powder-based and creamy eye shadows all over the lid. Ideal for a simple single-shade look. This trio's last but not most minor feature is the oh-so-fabulous blush brush. All you need is the appropriate product, and this gentle brush delivers a sexy tint to your cheeks.
This brush can also accent the high points of your face. Clinique's trio will help you achieve that trendy flushed winter cheeks makeup look.
e.l.f. Flawless Face Brush ($4)
Makeup enthusiasts should have a good quality face brush in their makeup collection. This brush by elf is the best match for you if you are looking for a single do-it-all brush. Use it to achieve a natural, soft look for everyday makeup. Its firm, fluffy bristles allow you to smoothly apply your favorite powder-based products to your face, giving it a skin-like appearance.
ANASTASIA BEVERLY HILLS A23 Pro Brush – Large Tapered Blending Brush ($25 at Macy's)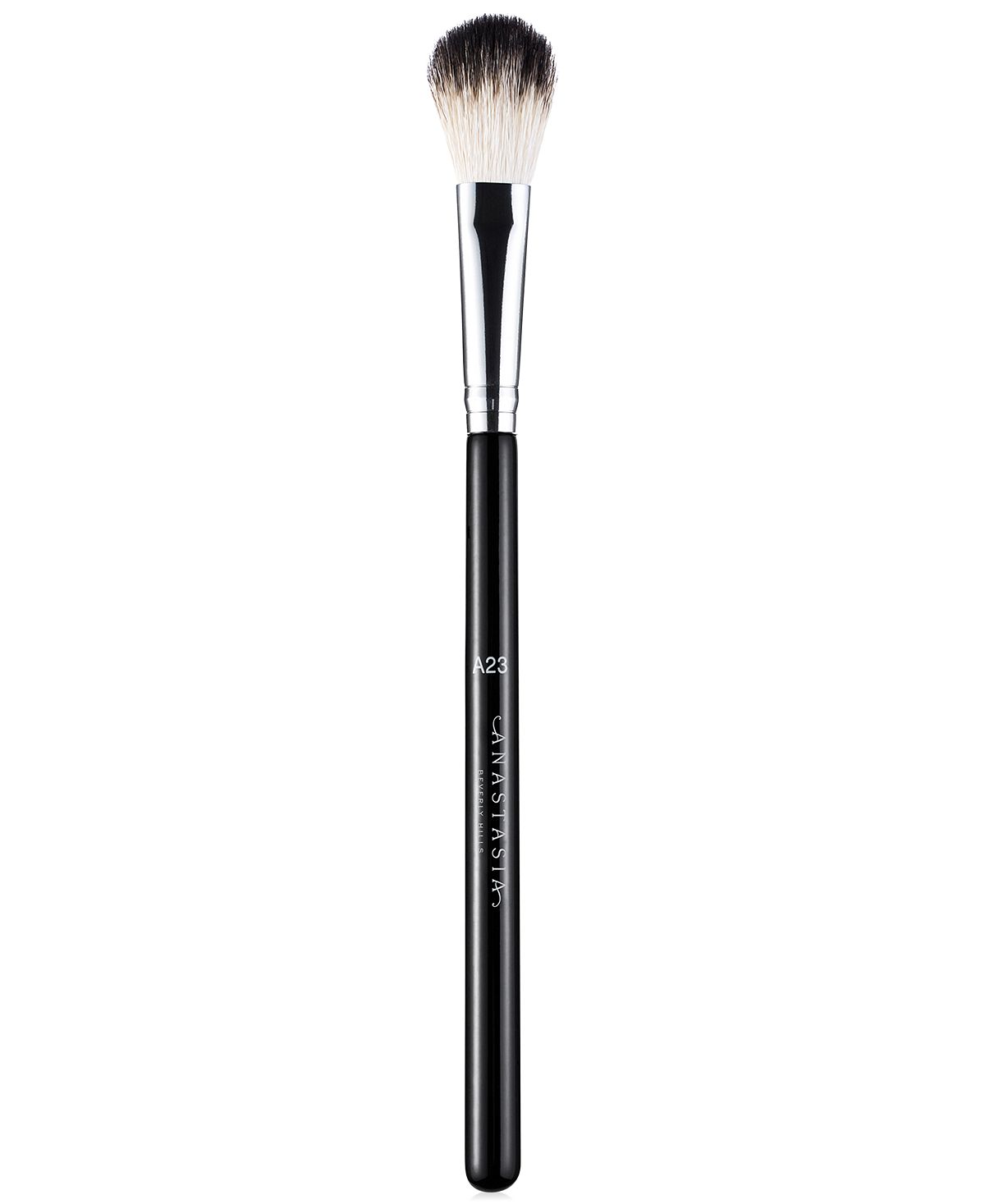 This pro-blending brush is essential if you use powder-based highlighters or illuminators. Its tapered bristles help you get all that flawless, sparkly effect on your cheeks and other high points.
LAURA MERCIER Angled Cheek Contour Brush ($46)
If you struggle with using standard round brushes for contouring and highlighting your face, you should go for angled brushes as they tend to reach tricky curves and corners of your face. The Angled cheek contour brush by Laura Mercier is designed exclusively for this purpose. The slanted round shape bristles quickly disperse the powder-based product on the curves of your face helping you achieve that effortless sculpted look. You can also use this brush to highlight your cheekbones too.
Best Eye Makeup Brushes
Since most eyeshadows are powder-based, choosing eye makeup brushes will enable you to create pro-level makeup looks for any event. We've gathered a list of affordable alternatives for your makeup vanity.
MSQ Eye Makeup Brushes 12pcs ($8)
This pro eye makeup brush pack comes with 12 different eye brushes, featuring eyeshadow brushes, blending brushes, eyeliner brushes, mascara brushes, brow brushes, and concealer brushes. This set is made with natural bristles of hybrid quality and is perfect for powder, cream, and liquid eyeshadows. The collection includes a variety of forms (angled, flat, rounded) and sizes to help you recreate your favorite trendy eye makeup looks.
NYX PRO ANGLED BRUSH ($9)
Another NYX product is explicitly added for those looking for a high-quality, low-cost brow brush. This dual-function angled brush can shape and shade your eyebrows or create a winged liner. Moreover, flaunt your pro-makeup artist talents in creating a cut-crease eye shadow look with the NYX pro-angled brush.
Final Thoughts
Discovering makeup can be fun, but finding the perfect brushes can be painful. This list includes some of the best makeup brushes on the market, but they're far from all of them. Take your time. Try different brands, and have fun with makeup! Check the rest of the site for more fantastic products, the best products for your skin type, and the latest makeup advice.
Related Articles
How To Clean Makeup Brushes With Baby Shampoo
Brilliant Beauty Hacks Every Girl Needs To Know