Do you have a favorite eyeshadow, but find that it doesn't quite show up the way you want it to? Are you looking for ways to make your eyeshadow more pigmented? If so, then read on! In this blog post, we will discuss tips and tricks for how to make eyeshadow more pigmented.
We will also talk about how to choose the right eyeshadow primer and how to use it correctly. By following these tips, you can create beautiful and pigmented eye makeup looks that will amaze everyone!
I do participate in affiliate programs, including Amazon affiliates, and may earn a small commission if items are purchased through links on the site.
How To Make Eyeshadow More Pigmented
If you're like most people, you probably have a few eyeshadows that just don't seem to pack the pigment punch that you want. Fortunately, there are a few simple tricks that can help you make even the lightest shades more intense.
Use Concealer That Is Lighter
One of the best ways to make your eyeshadow color more pigmented is to use a concealer that is lighter in color. By using a lighter concealer, you will be able to see the true color of the eyeshadow to help to make the eyeshadow more vibrant.
Pick Up Tinted Eyeshadow Primer
If you want your eyeshadow to look more pigmented, there are a few things you can do. First, choose an eyeshadow primer that is lighter than your skin tone. This will help to create a smooth, even base for your eyeshadow. The lighter color will have the same effect on eyeshadow pigment that a white eye pencil does! It will instantly make your pale eyeshadows appear more intense.
Try Pigmented Eyeshadow Primer
If you want your eyeshadow to be more pigmented, then you need to try using a primer as an eyeshadow base. A primer will help to 'grab' the eyeshadow and hold it in place so that the color will be more intense. To apply, simply use your finger to apply the primer all over your eyelid. Then, while the primer is still wet, apply your eyeshadow as normal. You'll notice that the color is much more vibrant and long-lasting!
Use Makeup Setting Spray When Applying Eyeshadow
Making your eyeshadow more pigmented is easy when you use a setting spray. Just apply the setting spray to your eyeshadow brush before applying the eyeshadow. Then, use the damp eyeshadow brush to apply your shadow. The setting spray will help the eyeshadow adhere to your entire eyelid and make it more intense.
Our Picks
Urban Decay Original All-Nighter Setting Spray at Macy's ($36)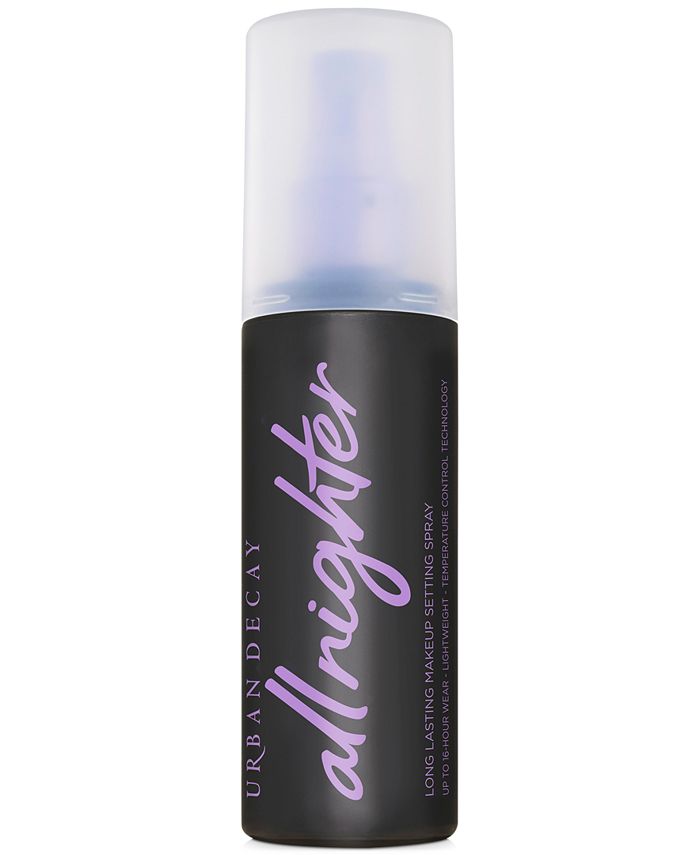 This All-Nighter Setting Spray is made with an all-natural vegan formula and can keep your makeup fresh and intact for up to sixteen hours. It's a lightweight mist that is also smudge-proof and water-resistant, keeping your makeup in place without fading or settling into fine lines on your face.
Highlights
What You'll Love
Prevents fading
Cruelty-free
Oil-free
Waterproof
Easily applicable
Matte Setting Spray by NYX $9.50
This setting spray by NYX offers a matte finish, reducing shine and fine lines altogether. It can hold your makeup intact for up to sixteen hours without flaking or fading off. Its formula is entirely vegan and cruelty-free, and with it being a water-based spray, it keeps your skin looking hydrated and fresh. It reduces the shine of your skin with its complete matte finish and absorbs any oil left in your skin.
Highlights
Long-lasting
Matte finish
What You'll Love
Vegan
Absorbent
Water-based
Reduces shine
Oil-free
High-Performance All Day Setting Spray by CoverFX ($31)
This High-Performance setting spray is rich in antioxidants and fermented algae extract to keep out environmental stressors and your skin fresh and moisturized. This product is free of oils, fragrances, parabens, and sulfates, making it just as healthy as effective. Lasting up to 24 hours, this professional setting spray lasts twice as long as other sprays.
Highlights
What You'll Love
Oil-free
Fragrance-free
Moisturizing
It contains antioxidants and minerals
Layer Makeup Products
If you've ever gone to put on eyeshadow only to find that it's barely visible, then you know the frustration of dealing with non-pigmented makeup. Fortunately, you can use a few easy tricks to make your eyeshadow more pigmented and long-lasting.
The first step is to apply a primer, which will help to create a smooth canvas for your eyeshadow. Next, use a dense brush to apply the eyeshadow in layers. Start with a light color and then build up to a darker shade. Finally, finish with a setting spray to help keep your makeup in place all day. With these simple tips, you'll surely achieve beautiful, long-lasting eyeshadow looks.
Try Liquid Eyeshadow
One way to make your eyeshadow more pigmented is to try liquid eyeshadow. Liquid eyeshadow is usually more concentrated than powder, so a little goes a long way. Plus, it's easy to apply and blend.
Make sure to use a primer before applying the shadow; otherwise, it might not last as long.
If you want an even more pigmented look, you can try using an eyeshadow base or muting your eyelid color with a concealer before applying the shadow. You can also use a dampened brush to apply the shadow, which will help intensify the color. Whatever method you choose, enjoy your bold and beautiful look!
Give Cream Eyeshadow A Chance
If you want your eyeshadow to be more pigmented, give the cream shadow a chance. Cream eyeshadow is more dense and more concentrated than powder, so it takes less to get the desired effect.
Plus, it's easy to blend and build up. Just use your fingers to apply the shadow directly to your lid, then use a brush to blend it out.
You can also experiment with different techniques, like wetting your brush before dipping it into the shadow for an even more intense look. So don't be afraid to try something new – cream eyeshadow might become your new go-to!
Use White Eyeliner
Every makeup lover should know one tip: how to make eyeshadow more pigmented. Using white eye pencils as a base, you can help intensify the color of your shadow and make it pop. Simply apply a thin layer of white liner to your lid, and then top it with your favorite shadow shade.
The white will act as a primer, giving the shadow something to adhere to and helping it to appear more vibrant.
When applied dry, you can also use this trick if your shadow is not very pigmented. Just wet your brush before dipping it into the shadow, and follow the above instructions. The moisture will help to bring out the color, resulting in a more intense finish.
Using a white eyeliner along your lash line can make any color appear more vibrant. Simply apply your white eyeliner as you normally would!
If you don't have a white eye pencil, try using white eyeshadow as a base for intense eyeshadow pigmentation.
Put Highlighter In The Corner Of Your Eyes
All you need is a highlighter for intense pigmentation. That's right, by adding a touch of highlighter to the corner of your eyes, you can instantly make your shadow more pigmented. The highlighter reflects light, which makes the shadow appear more vibrant. Plus, it also helps to create the illusion of bigger eyes. So if you're looking for a way to make your eyeshadow pop, reach for a highlighter next time you're doing your makeup.
FAQ
Does cheap makeup ruin your skin
We all love a good bargain, but when it comes to makeup, is it really worth skimping on quality? In the short term, it may seem like a great idea to save a few bucks by picking up some cheap makeup at the drugstore.
However, there are a few things you should know before you stock up on budget-friendly beauty products.
First of all, cheap makeup is often made with lower-quality ingredients, which can be harsh on your skin. Cheaper products are more likely to be packaged in flimsy containers that are more likely to break or leak, wasting product and leaving you at risk for infection.
So, while you may be tempted to go for the cheapest option when buying makeup, it's important to consider the potential risks. Your skin will thank you in the long run!
Why does my eyeshadow look cakey
One of the most common complaints about eyeshadow is that it can look cakey. There are a few reasons why this might be the case.
First, if you're using too much shadow, it can start to look heavy and uneven.
Second, if you're not using the right brush, you might be packing on too much product.
Third, if your shadow isn't well-milled, it can look dry and crumbly.
Finally, if you have oily eyelids, your shadow is more likely to slip and slide around, creating an unwanted cakey effect.
The good news is that there are a few easy fixes for avoiding cakey eyeshadow. First, make sure to use a light hand when applying shadow – a little goes a long way. Second, opt for a fluffy brush instead of a dense one – this will help to distribute the product more evenly.
Third, choose shadows with a creamy or wet formula – these are less likely to look cakey when applied. And finally, if you have oily lids, use an eyeshadow primer to help keep your shadow in place all day long.
Following these simple tips, you can say goodbye to cakey eyeshadow for good.
Can eyeshadow be used as eyeliner
Sure, you could use regular ol' eyeliner to line your eyes. But where's the fun in that? If you want to add a little extra pizzazz to your look, why not switch things up and use eyeshadow as an eyeliner instead? It's easy to do and will give your eyes a new lease on life. Here's how:
1. Pick out the eyeshadow shade of your choice. If you're unsure what color to choose, a neutral brown or black will always be a safe bet.
2. Using an angled brush, apply the shadow along your upper lash line, working outward from the inner corner of your eye.
3. For a more dramatic effect, you can smudge the shadow along your lower lash line.
4. Use a cotton swab or makeup remover to clean up any stray shadow pigment. And that's it! You've now got beautiful, stand-out eyes guaranteed to turn heads.
In Conclusion
So there you have it, everything you need to know in order to make your eyeshadow more pigmented. Be sure to check out the rest of our blog for more great beauty tips and tricks!
Related Articles
Iconic London Sunset To Sunrise Eyeshadow Palette Review